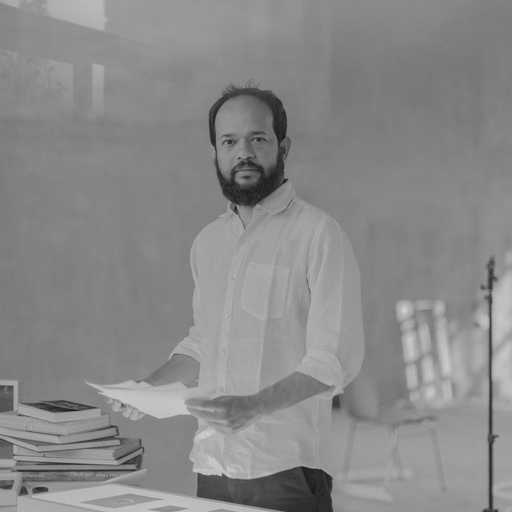 The burnished metal chains travel in slow motion. But in this factory setting, the cogs have gone to sleep. The hushed sounds that embody the moving images in Munem Wasif's Machine Matter, (2017) echo in the dimly lit heritage house that was one of the settings for the 14th Sharjah Biennial in 2019. A slow pan becomes a painterly image, an archaeological relic of a past time.
The tranquil soundtrack unexpectedly begins to take force: a wind chime, over the sound of a human breath ascending, a synth? Wrinkled crevices appear before us, resembling a mutating landscape. The sound of a heartbeat enters the sonic frame. The specks of hair within this torrid landscape reveal this image to be that of a metamorphosing human body, captured somewhere between life and death.
Munem Wasif – Machine Matter, 2017; courtesy the artist and Project 88
Machine Matter propels the viewer one inch into the future, while holding a steady mirror to the past. Filmed in sumptuous black and white, the artist creates an interplay between the physical apparatus of industry—the machine—and the disembodied membrane of the mortal form. He conjures the interdependent relationship of human and machine, the cyborg, and philosopher Arthur Koestler's concept of the "ghost in the machine," from his foundational 1967 text that purports that we are all hurtling toward a form of self-destruction.
The setting in Munem's work relates to the vanishing history and trade of jute, known as "the golden fiber," which forms a major production and export business in his native Bangladesh. Before the birth of artificial materials, it was common for coffee and sugar to be transported and distributed across the globe in bags made of the material. Here, the artist's expressionistic portrait captures the lives of exploited laborers, whose disembodied figures occupy the screen and whose materials and image accompany the work in installation form. 
Munem Wasif – Seeds Shall Set Us Free II, 2016–17; courtesy the artist and Project 88
Much of Munem's artwork is motivated by an impetus to showcase the social inequities in contested geographies, in many cases the social, economic, and political tensions between Bangladesh and India—the scars of a colonial era, which saw Bangladesh become a battleground state, claiming its independence in the Liberation War of 1971.
In the ongoing project Seeds Shall Set Us Free, begun in 2016, Wasif resuscitates the age-old photographic cyanotype technique, a low-cost process that produces cyan-blue copies. In this work, dripping seeds in diverse sizes form animate constellations resembling celestial spheres. These kernels, which are often used in various ceremonial celebrations, including weddings in Bangladesh, are presented here as artifacts, as their production has become increasingly genetically engineered—a metaphor for a bygone era.
Munem Wasif – Spring Song, 2017–19; courtesy the artist and Project 88
Wasif is one of over a hundred contemporary artists to be featured in Prime: Art's Next Generation,  Phaidon's new survey of promising contemporary artists. We asked him a few questions about his life and art. When you've read the story take a look at Wasif's artist page on Artspace.
How would you describe what you do? I am an artist, image-maker, educator, curator, and father. I navigate through these roles, juggle and play. I try to respond to the lives and situations around me and breathe.
What's the most exciting thing about where you are in your career right now? I have been working as an artist for more than 20 years. Now I am at a stage where I am rediscovering and recalibrating my practice. I ask myself often what does art do? It makes me feel vulnerable and also pushes me to think beyond my limits.
What's on your mind right now? Right now, I am concerned with the idea of invisibility. How as an image-maker I visualize something that is not visible. What sort of vocabulary, rhetoric, strategy does one adopt to deal with the notion?
What do you think of when you think of the word 'prime'? There are certain moments in life, where different energies align at the same time and create a spark. In Hindustani classical music, there is the form Jugalbandi where two musicians respond to each other. At some point, musicians don't have control over what they are playing, they reach the next level and play intuitively. I consider it prime when an artist can let the energy flow, spill, turn and give birth to new works, without any effort.
In an Instagram age do art books still matter to artists? I think we are living in an age where multiple things can coexist and help each other grow. I think art books have a very special role in this age. For me, the question is how we can distribute the book and find creative ways to reach a new audience. Instagram and other social media platforms can play a role in this. 
To see more of Wasif's work, and that of the art world's most gifted next generation, order a copy of Prime: Art's Next Generation here.