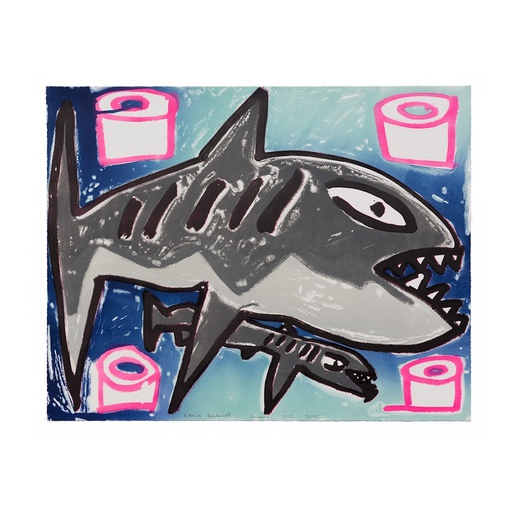 Some artists are a little shy when it comes to offering interpretations of their work and the motivations behind it. Not Katherine Bernhardt. "It's thrilling to be Greenpeace's Art Ambassador, helping celebrate fifty years of environmental victories," says the American painter. "For Greenpeace I chose to paint a pair of sharks framed by rolls of toilet paper," she goes on. "I've been painting sharks  But now they–and us–are all at risk.
"Once near the island of Culebra I swam next to a lemon shark," she explains, adding, "I've swum with sea turtles, and I've seen dolphins and whales while on various excursions.  It must be an amazing experience to swim freely out at sea–and these two sharks in my print also represent my son and me swimming in nature while we have to dodge trash (like all other swimming creatures) while at it."
This is not the first time Bernhardt has used her art to benefit the environment; in the past she's created prints to aid preservation of the Amazon rainforest; nevertheless, it is the first time the artist has worked with Greenpeace. Her depiction of a pair of sharks framed by rolls of toilet paper is a celebration of 50 years of Greenpeace victories, and joins specially created works by fellow artists Peter Saul, Stanley Whitney, Tracey Emin, Billy Childish, Jonas Wood, Eddie Martinez and Cassi Namoda, which form part of a charity print box set, created in conjunction with Counter Editions. You can purchase the prints as single works, or buy all eight together as a box set. Each edition measures 76 x 60 cm (29.9 x 23.6 in), and is signed, dated, titled, and numbered by the respective artists. Whichever option you choose, a third of the profits from the sale of each print will be donated to Greenpeace.
Katherine Bernhardt – Swimmers (2022)
Peter Saul has created one of his signature, bulbous works, riffing on our overloaded car culture, in a work entitled Traffic Jam.
Peter Saul – Traffic Jam, 2022


Stanley Whitney's Peace Be Still is, by contrast, a deeply contemplative, abstract work, with gestural swatches of color gridded part (or perhaps patchworked together) in a work that brings to mind both De Stijl and American quilting traditions.
Stanley Whitney – Peace Be Still, 2022
Billy Childish turns to the natural world for his work, volcano, a 22 color screenprint landscape with lithographic elements, that bears some resemblance to the vivid views of the natural world executed by this British painter's friend and collaborator, Peter Doig.
Billy Childish – volcano, 2022
There are natural elements to Eddie Martinez's work GPBF, though like Bernhardt, he marries these with poppy, contemporary elements and gestural vigor. The butterfly in his image doesn't look as if it's fresh out of the chrysalis, but more as if it's been pawed by Philip Guston, R. B. Kitaj, or one or two of the neo-expressionists.
The young Mozambican-born, US-based artist, Cassi Namoda, meanwhile, offers a momentary – or is it a fairytale?– glimpse into everyday life. Her work, Ernesto finds potential on the other side, seems to reference art history, with echoes of Matisse, while simultaneously bringing to mind vernacular, mystical traditions and colonial legacies.
Cassi Namoda –  Ernesto finds potential on the other side, 2022 
"It's crucial that we all do something positive for the environment these days, and I hope that the sale of this box set of eight wonderful prints by artist friends of mine will have an impact on our natural world," Bernhardt tells Artspace.  "I also hope that the prints themselves will inspire viewers to think more about nature and help us conscientiously save it.  Please buy this set of prints or purchase an individual print of your choice–or please consider making a donation to Greenpeace. Passionate Greenpeace activists are working on behalf of plants and animals and us as people–and we all need their help."
To offer your help, and to acquire a work by this important artist, take a look at Bernhardt's print here, and to see more of the Greenpeace works go here.