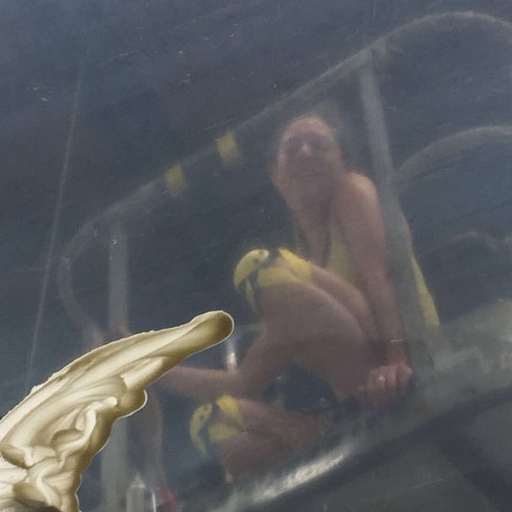 "It's scary how complicated we've made things," Samara Scott told Artspace back in June of 2022. "We are so good at telling ourselves stories; delusions that allow us to move through the world smoothly."
We featured this important British-born artist this year, partly because she is one of the few artists able to express the difficulties and complexities of our current moment, while offering viewers a little beauty too.
"In her sculptures and site-specific installations, foraged trash and supermarket-shelf miscellany come together in spontaneous petri dish–like tableaux," wrote the New Museum's Curatorial Assistant Madeline Weisburg in Prime: Art's Next Generation (published by Phaidon earlier this year).
Her works are, the entry reads, "sometimes shown pooled in iridescent outdoor fountains, cut into the floors of galleries, stuck on gleaming glass windows, or stretched into vast suspended ceilings,"
The New Museum saw in 2022 by showing one of Scott's most extensive and impressive installations, Gargoyle (Lonely Planet) as part of Soft Water Hard Stone, the Manhattan institution's fifth Triennial.
The huge piece was made by slathering layers of liquid latex and silicone onto the museum's tall glass, ground-floor windows; into this mixture, Scott inserted her signature artist's signature array of flotsam and jetsam, to create a profane, latter-day stained-glass window for our late great, age.
You could read this signal work of 2022 as a simple capitalist critique, but it's more complicated than that.
"For me it's more interesting to make work from a position of immersion, of complicity in this system of exploitation and exchange—a system we know is not sustainable, is killing the planet, yet we continue," the artist told the Irish writer Gwen Burlington in a lengthy profile for Bomb Magazine.
"I am seduced by this world, engaged with it, all hooked up. I can critique it, but I can't stop. I see clearly, but I can't solve. I'm a cog, or perhaps a lubricant, or even a parasite. This confusion, frustration, paralysis is a kind of tide: a whirlpool of seduction and squeamishness, a churning; and I think this is where the work comes from—from this seasick point inside."
Luckily, some of us got to share in that sickness, as Scott issued a limited-edition print of Gargoyle. To find out more about and buy that work, take a look at Scott's page on Artspace, here.