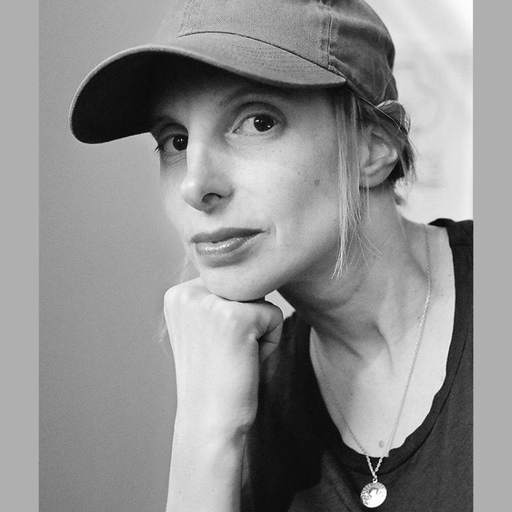 Camille Henrot began 2022 on a high, having just joined the prestigious, Hauser & Wirth gallery, some weeks earlier. 
The French-born artist was welcomed to the gallery by its president, Marc Payot, who said, "Camille is a pioneer," before adding, "she is fearless in her effort to get to the bottom of what makes us all tick in the 21st Century and in her ability to locate connections between technology and our deepest humanity, an imperative that places her alongside such greats as the late Nam June Paik, Pierre Huyghe, and Pipilotti Rist."
Hauser & Wirth honored this new partnership by dedicating its Frieze LA booth to a series of new works by Henrot, entitled Dos and Don'ts. These were inspired by old etiquettes the artist found in her mother's house during the pandemic. 
"I like the ambivalence of etiquette—that it is both an authoritative voice that is disrupting, suffocating at times, but also perhaps a manual to access other people's customs and behaviours," Henrot told the Art Newspaper; contrasting these old titles with modern, self-help books, she added, that the older, outdated volumes could be seen "as a sort of tool to learn how to engage and live with others in a less self-focused way".
Henrot still retained her Parisian gallery, Kamel Mennour, which in April and May of 2022 showed the artist's exhibition. This consisted of a series of new paintings and bronzes, each grappling with the conflicts posed by the interplay between the interior life, our social roles, and non-verbal and pre-lingual expression.
She followed this up with an outdoor exhibition, Art in the Park XX at Baur au Lac in Zurich, Switzerland, which opened in June. Consisting of five, fecund bronze sculptures, the artist described the show as addressing "different strategies man has invented to deal with desire, frustration, fear of death, and exhaustion," the artist said. "It's very much about life on earth".
In the US, Hauser & Wirth hosted a similar summer show for Henrot at its Southampton, NY gallery, placing bronze figures by the artist in its gardens, while, inside the gallery itself, it showed paintings from her series, Bread & Butter, which combine digital techniques with gestural brushstrokes to explore abstract expressionist styles.


CAMILLE HENROT – Mother Tongue, 2021/22
This summer also saw Henrot's first show open in Belgium. Entitled Wet Job, the exhibition at the Middelheim Museum in Antwerp, is also the first of its kind to focus on the artist's sculptures, bringing together 40 works produced over the last decade, to show them  in another outdoor setting.
As with many of Henrot's titles, the words take on multiple meanings. Wet Job "refers to the labor of breastfeeding and breast pumping (think 'wet nurse') at the same time as it evokes the end of life ('wet work')," explained the museum, "the fluidity of identity, and the sometimes-messy nature of human relations."
You could detect similar wordplay in her Norwegian exhibition, Mouth to Mouth, which opened at the Munch Museum, in Oslo in September and remains on view until 22 February 2023.
Made up of paintings, sculptures and drawings, the exhibition centres around the push and pull of intimacy – between lovers, adults and children, humans and animals, living and non-living things.
"There's the idea of resuscitation but also of embracing, kissing, devouring and being devoured, of breastfeeding and being fed, of the roots of sexuality," Henrot told Frieze back in October. "Kissing comes from the mammalian instinct to suckle: it's the first thing we do when we're born. We kiss because we used to suck. And kissing is as primal as survival or as essential as breathing. The title also carries the idea of gossip, which I love."
The Munch show is a particularly apt example of that 21st century sense of humanity that Hauser & Wirth saw in Henrot.
 
The show features images from the artist's Mother Tongue series which, as Henrot told Frieze" is a series of seven drawings that repeats the same figures as if to exhaust the possibility of this archetype." She adds, "to avoid becoming bored by the repetitive nature of caregiving, mothers must seek to replicate their child's excitement at the discovery of all things new. I see meaning in insignificance all the time."
To see some of that significance for yourself (without heading over to Oslo), take a look at Henrot's edition Mother Tongue, 2021/22, released in collaboration with MOCA and Artspace.