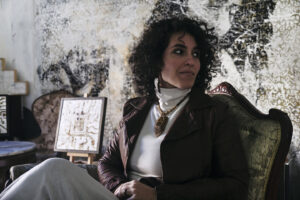 Ana Dévora is an artist based in Madrid and has a BA in Fine Arts from the Complutense University of Madrid. Ana is an established visual artist who has worked in cinematography, photography, and painting. Her fine art paintings are rooted in a fascination with what the human eye does not usually see—that which is hidden in a person's psyche. She has exhibited her work internationally, including at the White Box in New York and the Independent Art Fair in Madrid.
Tell us about who you are and what you do. What's your background?
I am a multidisciplinary artist based in Madrid, Spain. I use a variety of mediums and techniques, such as painting, sculpture, video, and photography, that match the storytelling of each project. I create the specific piece of art, and later I connect it all to build site-specific installations, even if every single piece also works alone. As a child, I remember drawing and painting while I watched cartoons on TV. I earned a bachelor's degree in fine arts from UCM Madrid; while studying, I began working as an artist assistant to Marinella Senatore. After some years abroad in NY, I started a master's degree in cinematography at the Shotaccademy in Rome and a postgraduate course at the Global Cinematography Institute in LA. I worked as a cinematographer, camera operator, editor, and production designer for some films and shorts.
But something inside me knew it was time to continue my artistic projects, so I took on art residencies and projects in Brazil, Peru, Italy, and Argentina. My work has been exhibited in Museum La Neomudejar, Madrid, Conde Duque Madrid, Cerquone Gallery, White Box NY, La Casa Encendida Madrid, LACDA Los Angeles, LIFE FRAMER, and Officine Fotografiche Rome.
What does your work aim to say? What are the major themes you pursue in your work? Can you share an example of a work that demonstrates this?
I use imagery from the digital world to create visual metaphors and tell stories that concern the human experience and our relationship with nature and technology. My art projects speak to how we receive and process information through our brain—how we create habits and inspire motivation in a time oversaturated by screens, data, news, and images.
How do you hope viewers respond to your works? What do you want them to feel?
My purpose as an artist is to invite the viewer to look further, through the free interpretation of my works, to provoke questions that could allow viewers to liberate themselves from the various installed beliefs that limit us.
To be able to do that, I use a variety of mediums and techniques such as painting, sculpture, video, photography, sound, and 3D to later create experiences through immersive installations, in which the individual works, their entire ensemble, and the space itself communicate with the public. The glitch effect, the microchips, and the noisy vertical blackboards are all part of my creative imagination.
How does your work comment on current social and political issues?
My work is situated in the present moment, a time of over-saturation of apparent accurate information increased by the social media and TV commercials that compete to capture our attention, creating unrealistic desires and aspirations, encouraging competition and comparison with others instead of personal and emotional growth that promotes self-development and improving connection with others. In short, the world surrounding us shapes our reality and thoughts, even unconsciously creating our personalities and desires. In this case, political positions don't matter; the information arrives biased according to our tastes in the same way as our phones.
Can you walk us through your process for creating a work from beginning to end?
In the case of my paintings, I come up with my ideas, typically in dreams. Then I start with a sketch in photoshop, where I design it proportionately to the canvas. Once I have the image clear, I print the drawing using it as a reference and add layers to the canvas. My process is divided into multiple layers of acrylic painting—each canvas could have 4 to 8 layers. I use tape to cover the parts I like in each layer, and after all these processes, I pull off all the tape to reveal the final image. Some paintings are abstract, simulating chips or blackboards, and some have figurative imagery distorted by glitch effects.
Even if I create each canvas separately, I always think about how I'd display them all in the space—which lights and colors would make the most immersive experience for the viewer.
Who are your biggest influences, and why?
My biggest influences are life experiences and the world that surrounds me. That means it could be a trip, a sunset, a conversation, or a specific situation that inspires me to create. I like the movies of David Lynch and Emir Kusturica, and I like the artists Olafur Eliasson, Zóbel, Pollock, Tacita Dean, and Paul McCarthy. An influence could even be a random video clip or a commercial…I love a well-illuminated environment in films, bars, or in museums. Materiality and light are so important to me.
What are some of your favorite experiences as an artist?
One of the best moments as an artist is when you are alone in front of the piece and feel totally finished and happy with how it is. Other memorable moments happen when I curate how the artworks will be displayed in the space for an installation. I put the specific lights to illuminate all the pieces together, and I can observe the conversation between them and within the space. That moment is so special that I can feel it in my bones. That means the project is finally ready to be visited by the public.
What was the best advice given to you as an artist?
The best advice given to me is not to compare myself with others; compare myself with my previous version of myself and observe the personal and professional growth from there because each of us has our own time.
Love reading about all things art? You can have articles from Canvas, curated collections, and stories about emerging artists delivered straight to your inbox. Sign up for the Saatchi Art Newsletter.