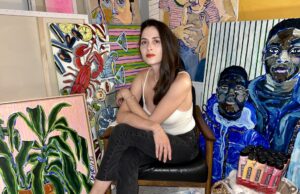 Brooklyn-based artist Devon Grimes creates illustrations and paintings focusing on the intersection of fine art and graphic design. After working in auction houses and art galleries in New York City, Devon strived for a more creative outlet and started to paint in her off time, producing floral still life paintings rendered in oil pastels, oil paints, and acrylic. Devon hopes to have art for everyone, from light and uplifting subjects like florals and friendly portraits to more political "wearable art" from her "Where Are the Women?" sweatshirt line that addresses problems surrounding women's representation in US politics.
Often complete with simple and sleek wooden frames, Devon's affectionately named "little guy" paintings and graphic prints offer multiple ways to enjoy her warm and engaging artwork. Devon received her BFA in painting from the University of Virginia and has exhibited at The Other Art Fair, Brooklyn, and will be showing her work at The Other Art Fair, London, in March 2023. Her recent paintings are on view at Danny Meyer's iconic Union Square Cafe in Manhattan.
Tell us about who you are and what you do. What's your background?
My name is Devon Grimes, and I am a Brooklyn-based painter. I was born and raised in Virginia. I have a degree in Oil Painting (focusing on portraiture) from the University of Virginia. I moved up to NYC for a sales internship at David Zwirner with the intention of working in galleries (to the dismay of my painting professors). After two art internships and about two years working at a startup outside of the arts, I moved back into the creative world when I started working in floral design. From there, I worked on floral installations and set styling for about eight years before returning to painting full-time during the pandemic. A lot of my work over the past decade has been floral-based, influenced by my career at the time.
What does your work aim to say? What are the major themes you pursue in your work? Can you share an example of a work that demonstrates this?
My work is based on everyday observations and interactions. I've always been heavily moved by human faces and bright, playful colors. To me, there is nothing more fascinating than the people we surround ourselves with, which is why I gravitate toward painting portraits. When people haven't been readily available, I've found floral arrangements and food make for interesting alternatives. One of my favorite recent portraits is that of my stepmom's sister and her 6-month-old baby, "Kathryn and Liam" (36 x 48 inches, acrylic on canvas).
Can you walk us through your process for creating a work from beginning to end?
I've always worked very fast. I've never had a lot of interest in mulling over a work. I typically have an idea of what or who I want to paint and what colors I want to use first. Then I let the idea sit in my head for a while, where I visualize it until I feel like I have to get it out of my system. I then complete the painting in one or two goes- typically within a few days. I have, in the past, gone back and reworked paintings but only after letting them sit for a year or more. For commissions, it's a longer process that includes a round of mockup paintings and sometimes a revision of the final work, which is a much longer and more involved process.
Who are your biggest influences, and why?
My biggest influence is Alice Neel. When I was learning to paint in college, my advisor sat me down and told me that I have a strong liking for Neel's works, of which I was unfamiliar. He gave me a number of print-outs of her paintings, and for the first time, I felt like my work was not "wrong" or "weird" but that it was naturally and instinctively grounded in a broader context that established and successful artists (like Neel) explored. I find other inspiration in works by Lucian Freud, Egon Schiele, Henri Matisse's still-lifes, and living contemporary artists like Jordan Casteel and Karyn Lyons.
How does your work comment on current social and political issues?
My work reflects my everyday interests and what is immediately in front of me. I would not say my works make explicit political or social commentary- rather, I look at my work as mirrors of my somewhat-ordinary reality. Throughout history, studies of the every day have acted as important accounts of the time they were made. I hope that when I'm 90 and looking back, my works reflect the changes in the world I lived in, all undoubtedly impacted by societal, political, and cultural issues throughout my lifetime.
How do you hope viewers respond to your works? What do you want them to feel?
The most common feedback I receive from the public is that my work makes them happy- that the colors, shapes, and looseness of the paintings bring a lot of lightness to those viewing them. I think my greatest wish for my works is that they make the viewer feel a strong sensation in their gut, whether it's happiness or otherwise. I want my works to spark a feeling that stays with the viewer indefinitely (which is a big ask as, on average, people move on from viewing a work after approximately 17 seconds). I would like my paintings to be overwhelmingly evocative, even if the emotion that arises is unpleasant. It's less important for me to have people love my works than it is for me to know that my paintings make a strong and lasting impression- that they strike a conversation that viewers want to engage with.
If you couldn't be an artist, what would you do?
If I couldn't be an artist, I would be a doctor. I'm completely fascinated by medical discoveries and how the human body works. I feel like doctors are artistic by nature- to be a doctor, you have to see both the minute and whole details of a person to address their ailments, both inquisitive and discerning.
What was the best advice given to you as an artist?
When I was 21 years old and interning at David Zwirner, I ran an errand for the artist Christopher Williams who, upon my return, said to me, "What are you doing here, behind a desk? Quit the gallery world as soon as possible and never look back. You'll never ever be happy in a traditional job. You're an artist. Go do it."
Love reading about all things art? You can have articles from Canvas, curated collections, and stories about emerging artists delivered straight to your inbox. Sign up for the Saatchi Art Newsletter.