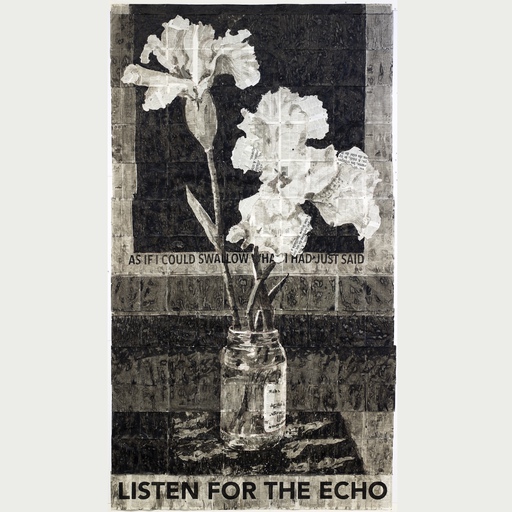 South African multi-disciplinary artist William Kentridge has been making large-scale drawings of flowers for many years. Regularly created using Chinese brushes and Indian ink, these are often very personal and reflect the domestic setting of his home, sometimes featuring flower arrangements sent to the artist or his family to commemorate special events.
Sometimes Kentridge uses quotations from historical, philosophical or even medical texts, advocating the health benefits of certain plants. And in his current show at the Royal Academy, in London, these pithy sayings sometimes reference Mao-era maxims exhorting the people to make ever greater sacrifices in the collective interest of the nation. 
Kentridge's studio practice is collaborative and expansive: spanning drawing, filmmaking, printmaking, sculpture, theater, opera, and installation. The artist grew up in Apartheid-era Johannesburg, and he has continued to live there throughout his life.
William Kentridge, 2017 – photo by Stella Olivier 
Kentridge is about to open an exhibition at The Broad, Los Angeles called In Praise of Shadows. It features, among its 130 works, a  number of his flower prints and paintings (in common with the Royal Academy show in London).
Surveying 35 years of the celebrated South African artist's practice, this landmark exhibition includes all 18 works from the Broad collection with substantial loans from across the United States and South Africa. Curated by Ed Schad, the exhibition is organized both thematically and chronologically.
  WILLIAM KENTRIDGE – Listen for the Echo, 2015/2022
Photography by Jared Buckhiester  
To mark the occasion, Artspace has collaborated with The Broad, and William Kentridge, to produce a limited edition print, Listen for the Echo, 2015/2022. Each print is individually hand-embellished by Kentridge with Indian Ink washes, resulting in unique finishes. The edition is limited to 40 + 6 APs and 1 PP signed and numbered prints, and is produced on on Hahnemühle Hemp 290 paper with Kentridge's signature on the front. The edition is large scale – 42 x 24 1/2 inches (106.68 x 62.23 cm) and is priced $4,000.
Here, Ed Schad, curator of the William Kentridge exhibition at The Broad, tells us how Kentridge's new Artspace edition was inspired by his home life, Tang Dynasty poetry and ancient parables, along with one of his own acclaimed video installations. 
William Kentridge, 2017 – photo by Stella Olivier   
Ed Schad on how the work fits in to William's practice 'Kentridge has been making large scale images of flowers for many years. Often the flower arrangements that are drawn are personal to Kentridge, given to the artist during specific events and displayed in his home.'
Ed Schad on William Kentridge's use of text in general and in the case of the phrases and collaged words in this piece in particular 'The texts are from a series of phrases, which Kentridge calls his rubrics. As he reads, the artist keeps notebooks titled "Words." As he works, he sources from the notebooks, trying out different collages of text in relationship to his images. The rubrics appear throughout his work – on his prints and in his drawings and films. Listen for the Echo was made in relation to a video installation called Notes for a Model Opera, which reflected on China's Cultural Revolution. In the work, Kentridge uses phrases taken from parables, Tang Dynasty poetry, as well as the revolution's slogans.'  
 WILLIAM KENTRIDGE – Listen for the Echo, 2015/2022
 Photography by Jared Buckhiester 
Ed Schad on the interesting, intriguing title of this work – Listen for the Echo 'The title speaks to so much in Kentridge's practice. There is a focus on finding the evidence of lost histories or under-told stories in narratives, in images, and in landscapes. For instance, the landscape of Johannesburg, his home, echoes the mining industry and the injustices of colonialism and apartheid.'
'The fabric of daily life in societies that exist in the aftermath of utopian visions and revolutions – like China and Russia – echo the promises and the disappointments of those revolutions. Some echoes can be heard, and some echoes are lost or so part of the grain of our existence that they are impossible or difficult to parse.'
'However, the echoes are also of a material and imagistic nature. Kentridge follows echoes in his work and these echoes can be found throughout his career as they are transformed and translated across topics, across mediums, and across cultures.' 
WILLIAM KENTRIDGE – Listen for the Echo, 2015/2022 
 Photography by Jared Buckhiester 
Ed Schad on William Kentridge's decision to hand-color each print of the edition 'Kentridge believes in physically intervening in mediums as they develop. As a film or sculpture or print is made, Kentridge will inject himself into the process, changing the logic of how a work is progressing. He wants to stay open to random thoughts and unexpected moments of resonance. He invites the uncertainty and unexpected nature of being alive into the work.'
If you would like to own a unique work by one of most important artists of the age, William Kentridge's Artspace edition in conjunction with The Broad, Listen for the Echo 2015/2022, can be purchased here. 
 WILLIAM KENTRIDGE – Listen for the Echo, 2015/2022
 Photography by Jared Buckhiester