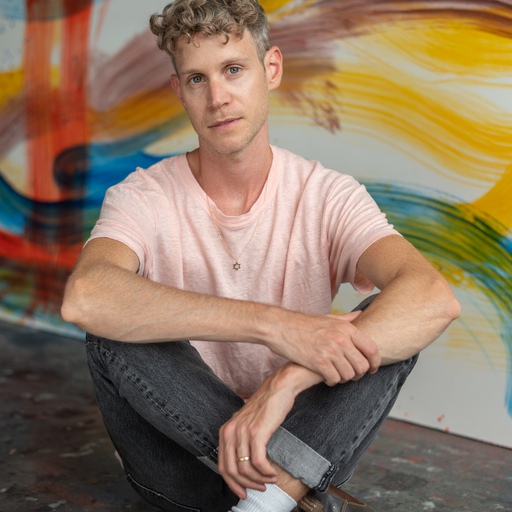 In the mid-to-late '90s, when Doron Langberg was about 11 or 12 years old, he visited a Lucian Freud exhibition. The young Israeli had already been painting for some time. His rendering of the Little Mermaid, created in oils in 1991 when he was aged just six, is the first post on the artist's Instagram account.
However, it was that Freud exhibition, he told Hyperallergic in 2019, that affirmed Langberg's ambitions. "I remember thinking, 'This is what I want to do with my life,'" he said. "I wanted to make emotional, empathic work."
Two decades later, Langberg's mission seems complete. The artist, who was born in Yokneam Moshava, Israel, in 1985, and who now lives and works in New York, has been praised by numerous outlets, including frieze, ArtForum and the New York Times. He received the 2019 John Koch Award in Art from the American Academy of Arts and Letters; he is represented by Victoria Miro; and just a few days ago, on 3 March, he set a new auction record at Phillips in London when his 2017 painting, Amy in Her Studio, more than tripled its high estimate, to sell for £163,800 ($216,390).
Doron Langberg – Amy in Her Studio. Signed with the artist's initials and dated 'DL 17' on the overlap oil on linen 152.2 x 127.1 cm (59 7/8 x 50 in.) Painted in 2017
How can one account for such sustained interest? Langberg is clearly at the forefront of a new movement of figurative painting; he likes and admires many of his closest contemporaries, such as Jennifer Packer, Louis Fratino and Salman Toor.
Langberg also is also deeply bedded into the history of painting. In an interview with Metal magazine, he describes Vincent van Gogh as his first love; and how he was obsessed with late 19th century and early 20th century painters Pierre Bonnard and Édouard Vuillard after seeing their work upon relocating to the US to take his undergraduate degree.
Yet, Langberg isn't just a creator of beautiful images; he's also committed to bringing a sense of humanity and intimacy to queer imagery. Many of his paintings depict the kind of queer sexual activity and imagery we might not expect to find in gallery settings. In making his pictures, the artist hopes to change those expectations.
"I want even the most explicit of my paintings to feel very everyday, because that's the role they have in my life," Langberg told Jewish Currents in 2019. "I see what I'm doing as an act of humanizing queerness—not making it sensational or 'other,' but making it casual, and making queerness a nexus for other meanings as well."
Care to make the leap with him? Then take a look at Langberg's work here. And look out for a very special Artspace edition with the artist in the near future.