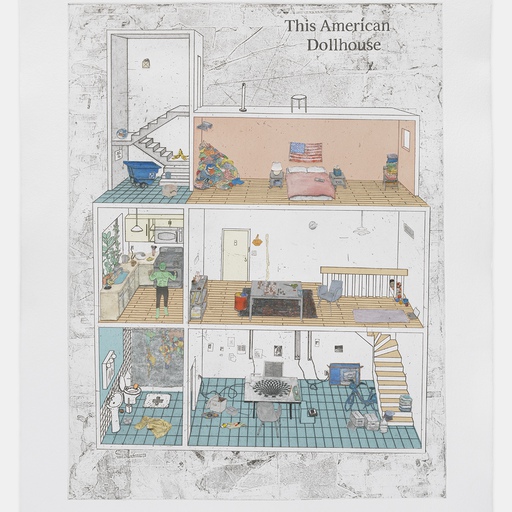 "Life imitates Art far more than Art imitates Life" Oscar Wilde famously opined in his often-misquoted 1889 essay,  The Decay of Lying. However, the sharpness of that line becomes blurred when it's drawn by the artistic hands of Simon Evans™, the artistic collaboration between Simon Evans and Sarah Lannan.
Together, the New York-based artists create dense text-based collages brimming with poetic handwritten phrases, drawings, and images.
Their new edition, This American Dollhouse, 2023, depicts a cross-section of the artists' Brooklyn apartment as part theater, part real-life dollhouse. As one moves from the top floor to the lower levels, the veneer of cleanliness and order progressively erodes.
The single figure in this scene–simultaneously villainous and heroic–stands in the kitchen alone with arms outstretched, crying out expressively. While certain objects point to the artists specifically- for instance the artworks reproduced in their basement studio, and the chess set in the living room–these spaces represent a universal experience: the daily and habitual patterns of life and domesticity, city living, and our fraught relationship with material belongings.
To coincide with the launch of the edition which you can buy here; we sent Simon and Sarah a handful of questions about the work. Below are the answers they sent us back.
SIMON EVANS™ – This American Dollhouse, 2023
Copperplate intaglio printed in graphite ink with silkscreen, chine collé, and hand-drawn and painted additions on paper. 
Paper size: 28 1/2 x 22 in; 72.4 x 55.9 cm Edition of 35 plus 5 artist's proofs
What does this image mean to you and what should people look for in it? It's an artistic rendering of a toy of an actual home in America. 
What were the themes and elements that went into the original work the edition springs from? Lockdown Richard Hamilton but not locked in by it.
We hear you've enhanced elements for the edition with collage, can you tell us a little about that? We tried to deal with certain problems of printmaking concerning the image in our learnt ways which made sense physically, visually and conceptually to us. 
Sarah Lannan and Simon Evans with four-legged friend – photograph by Kristine Larsen
Can you tell us about some of the 'high' and 'middle' brow culture items scattered around the house, and is it a representation of your living space or is there something else going on? Props from a play called This American Life (like the radio show) Louis Poulsen lights, Alvar Aalto stool 'Victor Vasarely/ Bridget Riley-style' table); the banana peel on the stairs for the Velvet Underground and John Peel and universal slapstick;the Amazon delivery box for billionaires in outer space; the Hulk Halloween costume from the DC multiverse; futurist incense holder for fascist thoughts; a small jewelry box which contains Jimi Hendrix's actual fingerpick; a brief history of time by Stephen Hawking on the bedside table; the rainbow flag as a stack of folded clothes; classic American flag bed backdrop for fucking with; yoga mat and laptop for yoga classes; Adderall pill and aspirin on bathroom floor; good luck golden Yoda; security camera in the bedroom; stolen ball collection for Tom Friedman; New York Citi Bike in the basement with Great Gatsby and a laser disc; and a flat earth against a wall, and a Tutankhamun death mask print out.
How do you view editions, do they play a part in your wider practice? No but yes please.
Where is your work going and what are you working towards at the moment? Right now we are making two Barbie Silver Dream Corvettes so we can get away from here. We are going to unknown locations, hopefully better ones.
Do you collect art or editions yourself, if so, what have you acquired recently? We have things by friends in our home. We still enjoy the portable museum of art books.
Read more about and purchase the Simon Evans™ American Dollhouse edition here.