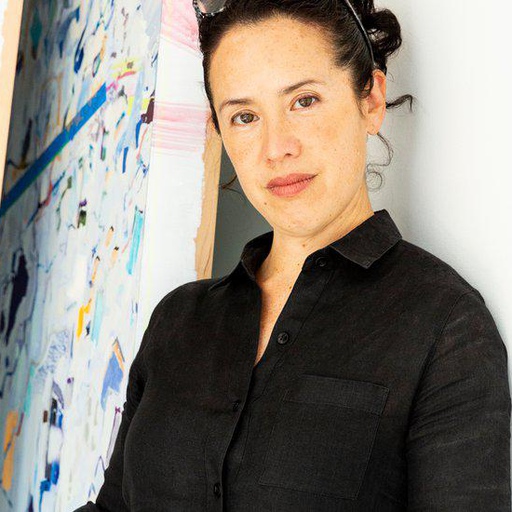 Just a few years ago, Sarah Sze noticed her students were losing quite a bit of sleep. The sculptor and painter, who represented the United States at the 2013 Venice Biennale, is also a professor of visual arts at Columbia University School of the Arts. In her 2016 Phaidon monograph, she told the curator Okwui Enwezor how she had "graduate students who suffer from a phenomenon of deep-sleep deprivation because someone wakes up at 4:00 in the morning, goes online to find out if anyone else is up, finds a few friends, and they have a gathering.
"The next day, other people hear about it, don't want to miss out, and more people wake up to meet again at 4:00 in the morning, and this goes on with large groups waking to meet in this newly created space and time," she went on.
However, it wasn't the lack of sleep time that truly interested the artist, it was more the associated problems of locating oneself in time and space. Sculpture, in Sze's view, is a medium that occupies three dimensions, and so can "cultivate the value of a concrete experience in space, in real time," she explains. Over the past three decades the artist has been cultivating those spatial and temporal experiences in gallery-goers across the world. 
Sarah Sze – Installation view at Tanya Bonakdar Gallery, New York, 2015
Born in Boston in 1969, the artist received her BA in Architecture and Painting from Yale University in 1991, before studying at New York's School of Visual Arts, where Sze was tutored by the post-minimalist sculptor Jackie Winsor. She graduated with an MFA in 1997. Sze became a MacArthur Fellow in 2003, with the Foundation praising her use of everyday materials, such as packaged food, desk fans, fake plants and pharmaceuticals, which she arranges into "exuberant installations that provide the viewer with a sense of wonder, visual pleasure, and a novel way to look at familiar space." 
Sarah Sze – Images in Debris, 2016
Her 2010 sculpture, 360 (Portable Planetarium), later acquired by the National Gallery of Canada, brought together wood, paper, string, jeans, and rocks, among other materials, into a dizzying array which raises simple consumer durables up to the status of eternal heavenly bodies.
Sze's 2011 installation on the High Line in New York, entitled Still Life with Landscape (Model for a Habitat) consisted of a dynamic array of wooden architectural models (which also serve the linear park's bird and insect population), which Sze set on onto a stainless-steel frame on either side of the High Line's main walkway. Far from being a piece of 'drive-by sculpture' (something Sze wanted to avoid), park promenaders "see the work in the distance, approach, enter, and let it disappear behind".
For her 2013 series of works for the American Pavilion at the Venice Biennale, she gathered together projectors, fans, salt water, rocks, photographs alongside other items to create a startling work of interlocking appropriated objects, which deeply impressed the curator Laura Hoptman.
"When an individual object is removed from its use in the world to participate in a Sze environment, it leaves its previous function aside in order to participate in an entirely different universe," Hoptman observed. "This reassignment of something familiar, whether a bottle cap or a smooth stone, doesn't change its intrinsic meaning; rather, it is Sze's intention to absorb that intact meaning into a larger, more open-ended inquiry. Despite the factuality of each object, Sze's sculptures are organized towards search, as opposed to the discovery. This suggests that her oeuvre can be viewed through both a scientific and a philosophical lens, in addition to a purely aesthetic one."
Sze is quite aware of how, by including a packet of painkillers or a page from a newspaper in her work, she calls on us to rethink the object's newfound value. "I think that's a good question if we're making contemporary art," she said. "How do we define what a piece of art is? How does something become valuable? What does it say about our culture?"
Sarah Sze – Triple Point (Planetarium), 2013.  Wood, steel, plastic, stone, string, fans, overhead projectors, photograph of rock printed on Tyvek. 632 x 549 x 503 cm. Installation view at the United States Pavilion, Venice Biennale, 2013.  © Sarah Sze
Indeed, Sze takes these questions with her when she creates her paintings. Since 2018, she has placed greater emphasis on two-dimensional works, layering a wide range of printed, collaged and painted elements onto her canvases (or more accurately, substrate of aluminium, dibond and wood), to create works that serve as peepholes into past, future and alternative realities.
"She often repeats the same image – photographs of hands, a flock of birds or rural American highways, as seen in this work – between her canvases, each time reappearing in slightly altered form, manifesting how images morph, evolve and degrade over space and time," explains the text beside Sze's entry in the new Phaidon book Great Women Painters. "With paint applied in daubs, drips, sweeping brushstrokes and frenetic forking channels, these dynamic landscape paintings expand traditional definitions of the medium."
Sarah Sze – Triple Point (Observatory), 2013. Mirrors, photograph of rock printed on Tyvek, wood, aluminium, metal. 216 x 897 x 653 cm. Installation view at the United States Pavilion, Venice Biennale, 2013. © Sarah Sze
Glance at one of her works, and we might remember a sunset, a moment on the road, a day in the office, or some other memory (cherished or otherwise); truly engage with her art, and we can perhaps piece together that maelstrom of fragmented associations and experiences into something a little more grounded, enabling us to make sense of our contemporary experience.