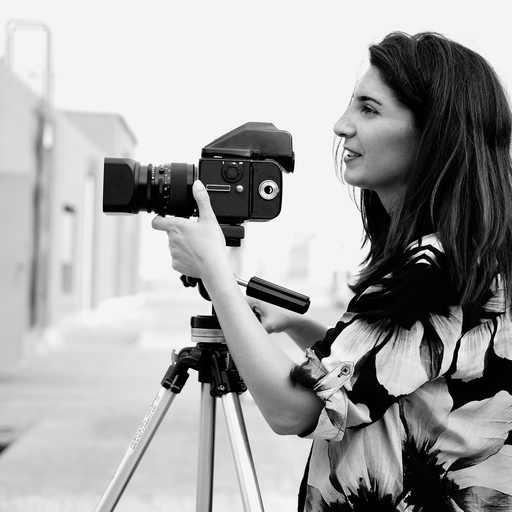 How would you describe your work to someone who has never seen it? I would say it's somehow investigative and sculptural, responsive to the zeitgeist of the world. A constant expression of the depths of the psychic space both personal and collective. Visually it's bold and colorful, or soft and dreamy depending on the subject.  
What's currently inspiring you? I love to see more open doors for diversity and color in art space. More tools and support that are shifting the notion of a starving artist. This shift in the visual world, and not only that, is breaking many boundaries that haven't been questioned before. While looking at the AI space where mostly unaware content is produced (not to call it all art) it makes me think of the definition of art itself. Crafting objects has been the earliest expression of art, that literally translates as 'skill' from Latin. Today, the skill is expressed using countless technological mediums. But the AI generated expression for example is questionable for me, mostly because of the lack of human touch to it. I deeply respect and admire craftsmanship. 
 LIA BEKYAN – Star Sketches, #5 Untitled, above the Island of Hawaii, 2023
I'm outraged when an AI generated image is titled as 'artwork' or "photography series"; no matter how skilfully you are able to put your imagination into key words for the machine to produce something from existing data, if it doesn't have your soul in it, it's not artistic. At the same time it's also fascinating how this will be refined in time and what will emerge out of it as something of an artistic value. Established art and photography platforms and artists start to give it a voice as something unavoidable, romanticize it, but it's clumsy, like the photography medium when it started. 
In the beginning it's always dark, but my prayer is to still have a common sense and awareness when bringing anything into this precious world, because art has an immense power, and usually good stuff has a piece of your soul in it. So all this 'ARTtificial' chaos is actually inspiring me to trust even more in my own process of creation while embracing the constant change.
LIA BEKYAN – Window to Eternity, 2019 
What made you want to become an artist? As a kid I loved my older sister's watercolors. Every time she was away I would grab a brush and paint bold color rainbows at our kitchen table. I loved colors! I was 4-years-old. My love for it was just there. When they asked what I wanted to become when I grew up, I always said a painter. At an early age I also discovered the medium of photography, thanks to my father who was an artist himself and would set up his darkroom in the bathroom, and we had many photographs at home. As an adult I was never confident enough to pursue a career as a painter having  this strict taboo in my head around the word artist itself that was equal to poor, selfish, not serious. 
That's how I was raised, how it was seen in my society at that time. So painting remained as a passion rather than a career, but my artistic expressions never stopped manifesting themselves through design, music, writing and lastly photography. In that sense I've always been an artist who has endless passion in crafting beautiful things, greatly influenced by my mother who can make almost anything with her hands, and currently making her own fashion clothing for women. 
Only recently when I put together the "Window to Eternity" series as purely an expression of my senses and observations about life through my own spiritual experience I felt that yes, I am an artist and there can be no doubt about it. Yet it's still uncomfortable sometimes to say it out loud, partially because I also do many other things. Maybe I'll end my life as a painter!
LIA BEKYAN – Double Vision, 2019
What was your earliest art creation? As I remember it was a rainbow painting with bold, yellow, orange and green circular stripes and a tiny flower growing right from the bottom of the paper into the rainbow. My father framed it and that was the first time I felt proud that what I made was truly loved.
Where do you fit in, who do you think you belong alongside? The primal belonging I experience is when I'm in nature, in the water. That's home. It reminds me where I come from, and that all humans are just one big family. In that sense I'm self-sufficient and have always been like that. In the present moment it's my community of like-minded, artistic and progressive people, soul friends, where I find most connections, inspiration and feedback. And my family is where my heart belongs no matter how challenging it can be.
 LIA BEKYAN – Star Sketches, #6 Untitled, above the Island of Hawaii, 2023
What do you think about when you're creating? I don't think much in the act of creation but rather feeling it. Most thinking happens after I photograph or paint, sort of a reflection on what happened and what I felt. This is when the original thing can get complete or too distorted once I start to make sense of it with words. I'm very conscious about that. Often work statements say it all, leaving nothing to the actual visuals to tell, and that delicate balance of visuals and words completing each other is what I hope to achieve when thinking.
LIA BEKYAN – Double Vision, 2019
Can you control where the process takes you? Yes, only after photographing I have a better visual understanding of what it is about and start to put it together on a sensory level on how this should look and feel like, what are the words I want to also express, and then I get into the technicality of it. I did a collaborative work in May 2022 with writer artist Ikenna when we just went to the beach in Fort Tilden to create, not much verbalizing on what exactly we are going to do but surely both of us had this inner urge to express something that wants to come out, that pain of growth. 
This was challenging as the truth was divided into two life storylines and artistic visions. The desire to control the narrative was strong for both of us. This is when I let go of the control and let it be as is. Looking back now I see the beauty of it and how one informed another. It's an ongoing project about the "Freedom of Movement" that is also a link in the journey.
LIA BEKYAN – Star Sketches, #4 Untitled, above the Island of Hawaii, 2023
Could you describe your process, or a typical working day? Recently it starts with meditation, a cup of cacao and prayer, ideally before 6am. Then I focus more on priority tasks to have peace of mind later in the day and to let it flow more freely, especially in the beginning of a project. It's never typical, and the 'aha!' moments can come anytime, even when I'm asleep. If not photographing I then get out of the house and go to my neighborhood cafe and work on creative tasks like researching, brainstorming, writing or working on photo selections that, later that evening, I get to edit in my home studio. I also prioritize a yoga class almost daily to move and detach from unhealthy obsessions when needed. My favorite part is when I get to go to my local print shop to test some print variations. My ideal process I strive for will have only 2-3 hours of computer time and more analog work experiments in a bigger space where I can move unrestricted. 
LIA BEKYAN – Window To Eternity, 2020
How does your work fit together – is there a journey you can see? Yes, it's definitely one mysterious journey and I never know what's next. I think the underlying force of it all for me is liberation, unlocking a higher consciousness, and using my art as storytelling. Starting from portraits when I photographed people a lot and was deeply interested in human essence as I was also learning about self. Eventually it shifted more towards nature, landscapes and documentary, as I was going through a major awakening phase, processing traumas and more and more experiencing life in the present moment and didn't have much desire in human interaction or staged photographs. 
LIA BEKYAN – Star Sketches, #3 Untitled, above the Island of Hawaii, 2023
"DoubleVision" followed by the "Window to Eternity" series is the reflection of this phase in my life. Sometimes, when I'm feeling stagnant for a prolonged period of time it makes me think that maybe I'm done with this medium, maybe I should let go for now and pick up something new. And then suddenly something emerges – like the recent series "Star Sketches" as a continuation of this mysterious journey. I'm learning to surrender to this process and not to force myself to create. Sometimes I create something and don't understand it, like if I'm ahead of time and then this work resurfaces and makes perfect sense in its right time. 
What should people look for in your work and what do you hope they might get out of your art? Beauty, peace, inspiration, and healing.
LIA BEKYAN – Window to Eternity, 2019
What are the bits of being a fine artist you struggle with? Oh this question is big. It's something I've been reflecting upon so much lately. I think personally it is the acceptance of being one, then to have a belief that what I create actually matters to someone. It's been easy to say I'm a photographer, designer, producer, art director as those have been more "down to earth" or normal and have an immediate feedback from the other side. I still love creating in these capacities, and over the past 14 years it has helped me to gain many skills and explore my artistic style. 
But to say I'm a fine artist puts a greater pressure on me as it has to be completely sincere, whatever it is. While you may still create with freedom and heart for a commercial work there will always be a distortion of your truth. I think when people connect to and appreciate that truth, that extreme vulnerability is when you are a true fine artist. 
Anything from the simplest admiration of nature to more complex psychic expressions – that exchange is absolutely important, and the struggle comes with the lack of it or invulnerability; that in its place comes from the fear of rejection. Probably the most common one for artists.
LIA BEKYAN – Double Vision, 2019
Can you tell us a little about three of your works on Artspace?
The photograph of overlapping rocks at the beach from the "Double Vision" series is taken when I began to ask myself the bigger existential questions. I had been taking double exposure images quite often at that time and felt that it reflects my inner and collective state.  
This was in the middle of 2019 and some sort of inner crisis was arising. When this series came together later in 2020, I was dealing with post-traumatic existence, identity dismantling, together with the entire shift that came with the pandemic. That made this work so relevant. As it says in "Thus Spoke Zarathustra" by Nietzsche, "Keep your highest hope holy". That was my underlying prayer in this process.
LIA BEKYAN – Double Vision, 2019
This photograph taken at Santa Monica Pier in 2019 was an even grey day. While the overcrowded scenes felt bitter and overwhelming as I was thinking about the regardless exploitation of our nature and the polluted environment humans create with it; the moment I look through the camera lens is the moment of absolute acceptance of all as is. 
"All things are in process, rising and returning. Returning to the root is like seeking tranquillity; it is moving towards destiny. To move towards destiny is like eternity. To know eternity is enlightenment, and not to recognize eternity brings disorder and evil."(text fragment about Tao by Lao Tzu). Thus the title "Window to Eternity".
LIA BEKYAN – Window to Eternity, 2019
"When gazing at the stars long enough, put those senses into writing or contain it in art." This message came into my dream so clear that it woke me up and immediately made me think about the stars I photographed in Hawaii just recently. The series is called "Star Sketches" which is a simple exploration of the night sky as part of me and all the way around. As the long exposure 'extends time' I used those seconds to move slowly like a dance and created these traces that I like to think of as those 80,000 years or so of a distance. I wanted to capture this sense of unity in a way that it doesn't come out as a classic long exposure night sky photo but to get closer, more intimate.
LIA BEKYAN – Window to Eternity, 2019
Do you collect art yourself or something that you consider art? If so, what have you bought lately? Lately I bought this small maybe 8×8 black and white print of three tiny flowers on a branch from an analog photographer, Dawa Norbu who has set up his shop on the streets in my neighborhood. It greets me when I enter and exit home and reminds me of the beauty of simplicity and radiates a gentle spirit. I love it so much. 
It happens rarely though, as I don't like to own too many things and have a pretty minimal space, but I'm very passionate about discovering new artists and watching their work develop as well as supporting my artist friends. It comes to me intuitively that I immediately recognize a piece that contains something beyond the creator herself, crafted with a spirit. Eventually I wish to have these works as a one big collection not on my walls but on the spaces that need it the most.
See more of Lia Bekyan's work on her artist page on Artspace.