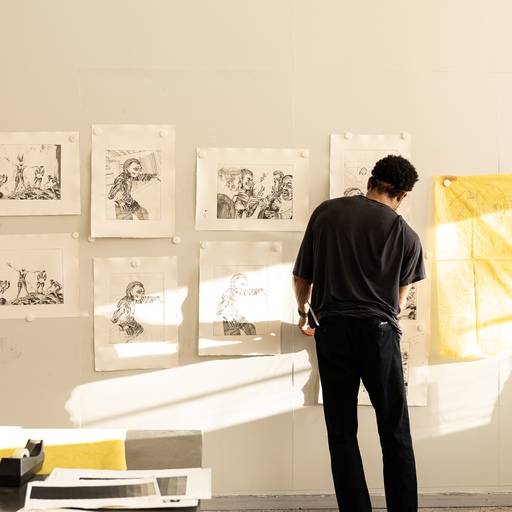 At The IFPDA Print Fair, you can see art history, framed and hanging on the wall. The annual fair, which is held this year from Thursday 27 to Sunday 30 October at New York City's Javits Center, 429 11th Avenue, draws together a global selection of carefully chosen galleries, dealers and presses, offering fine art prints and editions from pretty much every period, continent, school and style.
Wander among the booths and you'll see works from the earliest days of mechanical reproduction, through to prints upon which the ink has only just dried. Careful observers may even be able to grasp the recent history of this medium via the examples on display at IFPDA. 
Many chart the 20th century American resurgence in fine art prints back to 1940, when the acclaimed English printmaker Stanley William Hayter fled Paris and established his Atelier 17 in New York. Though Hayter only remained in New York for a few years, his considerable talents enabled him to work with some of the finest artists of the day, and, by so doing, inspire a post-war print renaissance in America.
WARDELL MILAN – Our Lives to Live, 2022
That wave of American innovation in turn impressed Niels Borch Jensen, an ambitious young Danish printmaker, who opened his own BORCH Editions Copenhagen in 1979. Under the guidance of Jensen, BORCH Editions has equalled many of the finest North American printmakers, and today is known across the world for its ability to produce large-scale prints, as well as its exacting and innovative technical capabilities.
Numbering Bruce Nauman, Tacita Dean, Huma Bhabha, Olafur Eliasson, Keith Haring, and Julie Mehretu among the storied artists it has produced print collaborations with, BORCH has earned its own place within the history of modern and contemporary printmaking. 
To mark its participation in this year's fair we spoke with BORCH Director Lone Weigelt about BORCH's achievements, ambitions, and some of the important works – from past and present – that it offers to collectors from its Copenhagen and Berlin HQs. When you've read the interview check out the BORCH Editions partner page on Artspace here.
 WARDELL MILAN – The World Rarely Goes Under: Civilians during a lull in fighting, 2022
Can you tell us who you are, what you do, and a little of your history? BORCH Editions has been printing and publishing original prints since 1979. It was founded by master printer Niels Borch Jensen who is still running the studio, together with his team of master printers. All print projects are done in-house at our Copenhagen facilities in close collaboration with both emerging young artists and leading contemporary artists.
STANLEY WHITNEY – Untitled, 2016
Do you have a prime focus as a studio? We have a long-standing experience in printing and publishing large-scale prints, which early on became one of the studio's trademarks. We work with a wide range of classical printing techniques: classic etchings, photogravure on photopolymer plates, and relief printing.

Who are the artists you have print editions with at IFPDA and what should we know about them? We are participating in the print fair online with etchings by American artist Wardell Milan.
 His series The Balcony alludes to the relationship between performer and spectator in a theater setting; inspired by a 1956 play of the same title by Jean Genet.
 WARDELL MILAN – The most dangerous thing about being a Black woman in America. Is being a Black woman in America, 2022
Genet's play is set inside a brothel while a revolution takes place on the streets outside. In Milan's work, human bodies become stages on which questions of gender, race, sexuality, and power are being negotiated. 
Wardell Milan first created a suite of eight etchings in 2019. In 2022, he extends the portfolio through a second series of eight etchings entitled The Balcony: The World is Made of Eggs.
BORIS MIKHAILOV – Untitled, 2005
What do you feel that you bring to the print process that makes you special, or perhaps different to, other print makers? Experimenting and testing limits. The ambition right from the beginning was to set up a studio like the American studios that lead the print revival in the 1960s, where any technical process was available, and the artists were encouraged to experiment. This innovative approach and challenging the medium as well as the artists have always been our focus.
JOHN ZURIER – October 4 (Blue), 2017
 
Print editions are increasingly being seen more as artworks in their own right once again, what do you think has brought about this re-appraisal? I like to believe it is first and foremost artist driven. In recent years a growing interest in all kinds of analogue printmaking has been developing. Many younger artists and printers are experimenting with classic handmade techniques, the focus is less on producing larger editions of technically perfect prints, and more on the process. The artists clearly appreciate the craftsmanship combined with the imminent slowness and chance to be absorbed in the process. And the clients value the results, fortunately. 
Take a look at many more excellent prints by BORCH Editions on their partner page on Artspace here.