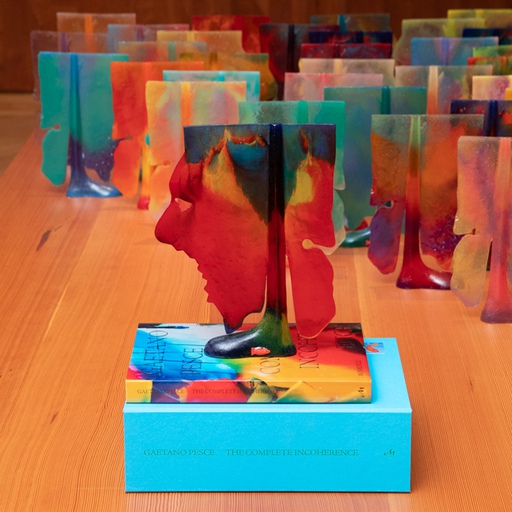 Salon 94 Design has hosted many great exhibitions over the years by the Italian architect, designer and artist Gaetano Pesce. 
So it was only fitting that the gallery–re-located in the Ogden Codman-designed, Rafael Viñoly-renovated, building at 3 East 89th Street–should host the New York book launch for Monacelli's new book on Pesce, Gaetano Pesce The Complete Incoherence. 
In this long overdue summary, written by renowned design curator and critic, friend, and long time collaborator, Glenn Adamson, Pesce looks back at his incomparable and wildly inventive career, recounting his life and practice.
Bridging numerous key art and design movements, while never belonging to any of them, Pesce's singular practice has remained steadfastly provocative, defying convention, utility, and good taste over the years. 
"My visual language is meant to create pleasure," Gaetano has said. "And it's always a response to what's happening in the world. I must do something, if possible, to make people laugh or smile."
There were plenty of smiles in evidence at Salon 94, and, indeed,  a lot of visual pleasure; not least in the colorful array of a Gaetano Pesce edition, which Artspace will be launching later this month. 
The edition, Gaetano Pesce The Complete Incoherence, is characteristic of Pesce's fearless, freeform style. The artist and architect was tutored by the great Venetian architect, Carlo Scarpa, and was a participant in Gruppo N, an early collective concerned with programmed art, patterned after the Bauhaus. Following his graduation, he expanded his practice out to a wide variety of fields, including kinetic art, silk-screens, films, interior design and city planning.  
Unwilling to accept the overriding design consensus, the conventional hierarchy of material, or the tyranny of the ordered, clean lines of architectural modernity, Pesce has, over the past six decades, created colorful, figurative, charming and often gelatinous creations that remind us all that, at times, it's worth abandoning the spirit level and the set square, in favor of figurative forms and frivolity.
Pesce's work is contained within 30 permanent museum collections around the world, including: MoMa New York and San Francisco, The Met New York, Vitra Germany, V&A London, the Pompidou and Musee des Arts Décoratifs, Paris.
You can find out more about his fascinating works in the new Monacelli book The Complete Incoherence.  
Below are some of the photos from the book signing event with Glenn Adamson–a curator and writer who works at the intersection of craft, design history, and contemporary art. Adamson was previously director of the Museum of Arts and Design, New York, head of research at the V&A, London, and curator at the Chipstone Foundation, Milwaukee. 
Look our for the launch of the edition and enjoy our sneak preview of it below. 
The edition and copies of Gaetano Pesce The Complete Incoherence at the event
Gaetano Pesce The Complete Incoherence 
Gaetano Pesce The Complete Incoherence alongside the edition at the event
Glenn Adamson signing copies of The Complete Inchoherence for event guests
Glenn Adamson with copies of The Complete Incoherence
Glenn Adamson with Gaetano Pesce at his exhibition Working Gallery, 2019 at Salon 94 New York