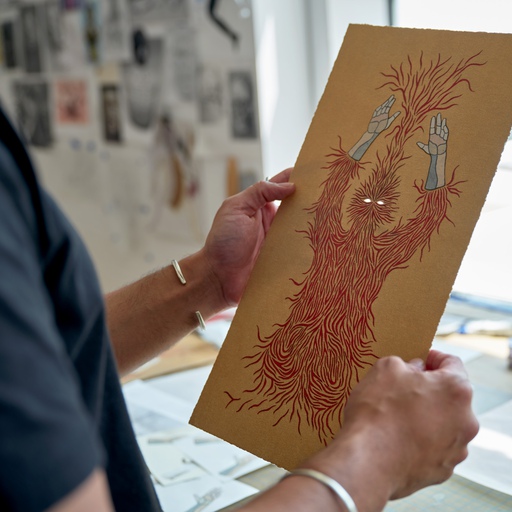 Visitors to Felipe Baeza's show in New York last fall were greeted by a relatively small, but incredibly powerful, work entitled,  A shadow that won't materialize. In it, an undefinable figure, dissected and fragmented, eyes fixed ahead, held its arms aloft, pointing towards the sky.
Like so much of Baeza's work, the image would reveal itself over time to the dedicated viewer. In the exhibition notes, the critic and scholar Tavia Nyong'o described it like this. "There is no sangre pura in the materials list of the piece titled A shadow that won't materialize. There is only a flayed man whose nervous system splays out as above, so below, like roots and branches of a burning tree."
Now, Felipe Baeza has chosen that painting as the basis of a new Artspace edition. Created with multiple layers of silkscreen and collage, each print within the edition of 40 contains multi-dimensional variations and hand-torn deckled edges. Proceeds from the sale of this series will be donated to support Visual AIDS, a New York-based nonprofit that utilizes art to fight AIDS by provoking dialogue, supporting HIV+ artists, and preserving a legacy.
 FELIPE BAEZA – Desviación, 2023
Photography Brica Wilcox 
"The print is from a painting titled A shadow that won't materialize, 2022 that I made for my show Made Into Being, at Fortnight Institute in New York last fall," Baeza tells Artspace.
"I chose to make a print of this particular work because it is a work that deals with the body and questions fixed notions of being, as well as norms around gender, sexuality, legality, and state-imposed boundaries; all of which I feel are close themes to the work Visual AIDS engages in." For the edition, Felipe has renamed the work, Desviación, 2023.

 
"The word translates to 'deviate' or 'deviation' and speaks to ideas of moving or pushing away from the norm or state of being that people are conditioned to," he tells Artspace. "I am also thinking about creating forms that are free from being fixed with limitless possibilities."
Trained as a print maker, Guanajuato, Mexico-born Baeza uses collage, carving, and other techniques to create works on paper and wood panels to highlight the ways power structures shape people.The materials are treated with a variety of materials to create densely textured and layered surfaces.
These surfaces are then carved, sanded, and other printmaking techniques applied. "This process creates an experience whereby the figures gradually reveal themselves before disappearing again as the viewer engages with the work," Baeza says. 
Felipe Baeza photographed by Brica Wilcox 
His half-man, half-tree vine-entangled figures are born from Mesoamerican mythologies, and, in part, the notion that one truly starts living after one has died, when our bodies begin thriving in multiple different forms. "I see the body as a landscape because that's the only landscape some of us have," he says. "It's about how to thrive when the landscape isn't there."
These "fugitive bodies" as Baeza describes them, often mirror the life experiences of those subject to enforced migration; often marginalized, queer or non-conforming, compelled to keep moving. Baeza's own migration story has proved pivotal to the work he now creates.
He immigrated to the US across the border with his sister when he was just seven-years-old, but was unable to join his parents, in Chicago's predominantly Mexican Pilsen district, for another year. "In a sense, it was a sort of Mexican hybridity; you leave Mexico, and you try to recreate Mexico with what you remember," he says. 
Photography Brica Wilcox
He began making photographs, then sculpture and was eventually accepted to Cooper Union, New York, receiving his BFA there and an MFA from Yale University.
Baeza's prominence has grown steadily in recent years with exhibitions at Maureen Paley in London and The Mistake Room in Los Angeles, among others. His inclusion in the 2022 Venice Biennale international exhibition, The Milk of Dreams, curated by Cecilia Alemani, catapulted him into the upper echelon of artists working today. Baeza recently completed a residency as a Guest Scholar at the Getty Research Institute in Los Angeles.
Throughout his rise, the artist has been a supporter of the work of Visual AIDS, often donating postcards to its Postcards from the Edge campaigns.
Felipe Baeza photographed by Brica Wilcox 
"It feels like a full circle now supporting their print benefit," he says. "I try my best whenever possible to participate in benefits like this one, and I'm excited to be in a position where my work can generate funds to support critical organizations like Visual AIDS."
See more of the edition and learn about the work of Visual AIDS here.