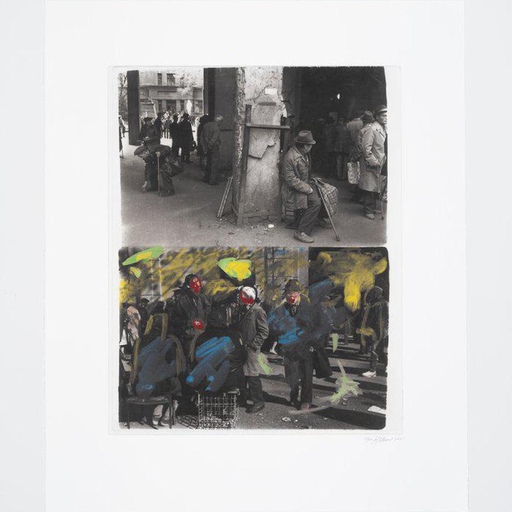 Ukraine is not just the cradle of Eastern-Slavic culture; its painters, sculptors and photographers have made important contributions to every modern and contemporary art movement. While the fate of the nation lies in the balance, its place within the art world remains assured, as can be gathered from this group show.
Louise Nevelson – Aquatint IV, 1973
Born Leah Berliawsky near Kyiv in 1899, Louise Nevelson's family emigrated to the United States in 1905. Nevelson was inspired to study art a few years later, aged nine, when she came across a sculpture of Joan of Arc at the public library in Rockland, Maine. Her best-known works are monumental, monochromatic sculptures made from wood, aluminium and steel, much of which was scavenged from the street, which seemed to reference her complicated past and her uncertain future. However, Nevelson (one of the few women acknowledged as being associated with the Abstract Expressionist movement), also worked in other mediums. This beautiful aquatint and etching in colors with collage on C. M. Fabriano paper dates from 1973, and certainly possesses some of her signature, fragmented style.
Sonia Delaunay – Composition, 1969
Sonia Delaunay was born Sophia Stern in 1885 in Ukraine, raised in St Petersburg and studied in both Germany and France, before marrying the French artist Robert Delaunay. Husband and wife were both pioneers of modernist painting, though Sonia also branched out into fabric, interiors and clothing design, as well as ballet costumes. This abstract work, dating from 1969, is a fine example of Delaunay's oeuvre – sometimes known as Orphism – as it combines distinct colors and geometric shapes to produce an image with a sense of rhythm and movement.
Boris Mikhailov – Untitled, 2005
A fine-art photographer with an eye for both the everyday and the abstract, Boris Mikhailov was well positioned to both document and critique the Soviet Union. Hailing from Ukraine's second city, Kharkiv, Mikhailov found worldwide acclaim following the fall of the Soviet Union. He won the prestigious Hasselblad award in 2000 and published the acclaimed photobook, Yesterday's Sandwich, in 2007. This 2005 photogravure is typical of his style, juxtaposing, as it does, the mundane with the dream-like.
For a taste of contemporary Ukrainian art, take a look at this young Kharkiv artist. Yuliya Golovina was born in 1989, the year the Berlin Wall fell, and seems to have something in common with contemporary American artists such as Katherine Bernhardt.  She studied psychology as an undergraduate, and also makes a little EDM on the side, though we really singled her out for her expressive, bright, acrylic on fiberboard works.
Alexander Chekmenev – Passport Lugansk, Ukraine, 1994-1995
The acclaimed documentary photographer Alexander Chekmenev was born in Luhansk, Eastern Ukraine, in 1969, and has gone on to have his work featured in such outlets as Time, the New Yorker and the New York Times.
Following Ukraine's independence in 1990, its national government set about replacing old Soviet passports with new Ukrainian ones. In 1994, social services in Lugansk, a city in south-western Ukraine, recruited photographers to take free I.D. photos of the elderly, sick or infirm citizens.
Chekmenev accepted this assignment, going door-to-door during this passport-nationalization campaign. He accompanied social workers, whose job was to provide those needy people with free medicine and groceries. In so doing, he created an impressive body of work, focussing on rural Ukraine and its hardships.