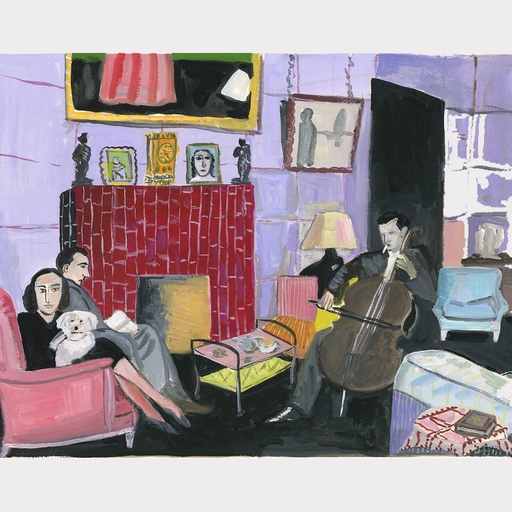 Some might overlook interiors, in favor of more familiar subjects such as portraits and landscapes, when establishing an art collection. But artistically, the world of interiors has much to offer, from historical studies to surrealist masterpieces, disquieting photos to important social documents. In this piece we'll guide readers around eight great Artspace works and hopefully convince budding collectors out there, at some point or another, to get a room. 
An accomplished painter and illustrator, Bearen also worked in textiles, composed music, and played baseball at a professional level. However, the artist is best remembered for his collages, many of which depicted life as it was lived by African-American people during the 20th century. Bearen studied under German artist George Grosz in New York, and was instrumental in the founding of The Studio Museum in Harlem, yet he never forgot his roots in Charlotte, North Carolina, as you can gather from this detailed depiction of a domestic interior in that part of the US. 
Many of us know Price's bright, fecund, sculptural ceramics works. However, his drawings and illustrations are equally strong. The artist, who was born and raised in Los Angeles, featured his hometown in many of his works, including this 1993 print. It's unclear whether the work's title refers to the sun sinking on the city's western edges, or the westerly stretch of the city's most famous boulevard. Both make for a great view.
The title of the photograph by this Boston-based artist seems to raise more questions than it answers. Why is this shot not taken during the daytime? Why are the artist's parents sleeping in twin single beds, rather than in a double? Is this neat room even a bedroom at home, or is it in a hotel? That high degree of unknowing appears to be deliberate. Thurber's delicate, highly calibrated images show quotidian scenes, filled with unnerving possibilities. 
Just whose memories are held in this afternoon interior? Samson, a New York-based artist, acknowledges Pop, Op and Patten & Decoration influences in his work, but also draws on wider sources of inspiration, including vintage interior design books and magazines.
It's easy enough to make out those influences in the lower portions of this print, but as the interior rises, so abstraction shades in. This might be a faithfully remembered room, a hazy recollection, or a place brought together from myriad sources, some recollected, others simply found.
If any one painter can impose exterior items in the domestic space, it's Magritte, the surrealist master of the misplaced object. La Durée poignardée translates literally as Ongoing Time Stabbed by a Dagger, though the more conventional English title, Time Transfixed, is a bit easier on the tongue. The Belgian artist painted the work for the British arts patron and poet Edward James, and included a British locomotive in the work. Those steam engines have long since ceased to run, yet over 70 years on from the work's creation, the peculiarity of seeing one emerge into a living room remains.
Maria Kalman, Marie-Laure de Noailles in Her Paris Salon, 2019
The interiors of pre-war Paris had a huge influence on the wider artworld, as anyone who has read Gertrude Stein's book, The Autobiography of Alice B. Toklas, will know. The Israeli-born, New York-based artist and author Maria Kalman created this work and others for a newly illustrated version of the book in 2020. This particular image shows the Paris salon of the influential artist and art benefactor, Marie-Laure de Noailles. Kalman's work, based on a late 1930s photograph by Cecil Beaton, shows Marie-Laure alongside the French cellist Maurice Gendron, and the British novelist Philip Toynbee, father of the journalist, Polly Toynbee; the painting, partially in view, above the fireplace, is by Balthus.
 CELESTE DUPUY-SPENCER – When you've eaten everything below you, you'll devour yourself/except in dreams you're never really free, 2020/2021
Celeste Dupuy-Spencer depicts quite a different salon hang in her 21st century rendering of a wealthy New York apartment. Works by George Bellows, Géricault, Rubens and Tinterello, appear on the walls of this well-appointed place, high above the city's streets of Manhattan. The men in the picture are far less noteworthy (you can read Dupuy-Spencer's full explanation here), yet their assault disrupts the serene, moneyed tranquility so often found in a setting such as this.
Wood might be the only artist credited in this painting, but you could view this as a collaborative work. The print was produced to mark a joint show in the Netherlands by the acclaimed American painter and his wife, the Japanese-born ceramicist Shio Kusaka. Pots by Kusaka dot this interior study, which is as rich with plants as Wood's own verdant studio space, in Los Angeles. Large Shelf Still Life is both a detailed colorful study, and a testament to a shared, personal life.