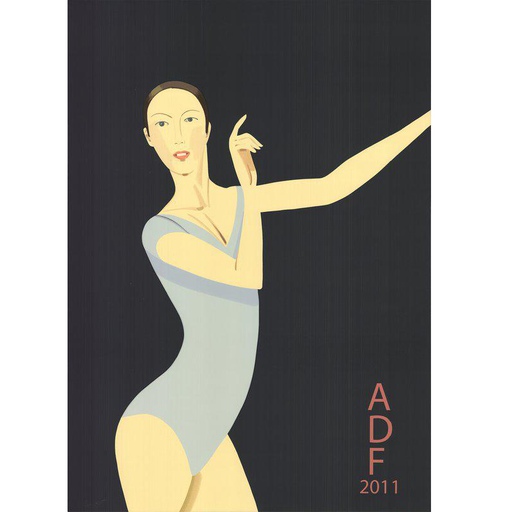 Is dance the missing medium when it comes to our appreciation of modern and contemporary art? From Warhol to John Cage, Bowie to Alex Katz, Picasso to Marina Abramović, choreography has played its part in the development of artists' work.
Looking back on the New York downtown scene of the mid-to-late 1960s, the sculptor Richard Serra singled out its dance community as the leaders of the avant-garde. "The dancers were the real radicals," Serra told the Guardian newspaper in 2008. "They taught me more about space and movement and gravity than anyone else."
In honor of that pioneering work and the medium's continued influence over others, we've put together this group show, celebrating fancy footwork within the fine arts.
Eric Fischl – Crouching Dancer, 2021
Fischl might be known for his scenes of suburban intrigue (and more recently, for his depictions of art-fair crowds), but the American painter has depicted dancers for decades. This work was created to benefit the New York Academy of Art, and is an image, as the artist puts it, filled with tension. "There is nothing more compelling than a woman in a moment of coiled readiness about to spring," Fischl explained when the print was first made available, last year.
Larry Rivers – Fred and Ginger, 1999

Neither wholly an abstract expressionist nor dedicated pop artist, Rivers occupied a chimeric position within mid-century American art. Though this tribute to Fred Astaire and Ginger Rogers dates from 1999, Rivers' interest in dancers goes back to at least the mid-eighties, when he produced his Make Believe Ballroom series, based originally on Astaire, Rodgers, and Rita Hayworth.
Marco Bulgarelli – Dancing in the snow, Milan, 2006

Not every great dancing image features a skilled professional. Rome-born photographer Marco Bulgarelli took this image as part of his project – developed in collaboration with National Geographic – to document the integration of the Chinese community in Italy. This image, shot in Milan's Paolo Sarpi neighborhood, captures some of the exuberance the very young best express physically.
Bruce Nauman – New York City Ballet 1988


No one but Bruce Nauman could put lab rats together with ballet dancers. This poster was one of 10 the New York City Ballet commissioned in 1988, for its American Music Festival. That same year, Nauman produced his work, Learned Helplessness in Rats (Rock and Roll Drummer). That video installation put together rodents caught in a Plexiglass maze with the booming sound of a young drummer. Clearly, the artist felt the lab rats were equally at home among the pirouettes and fouettés as they were surrounded by crashing cymbals and tom-toms.
Salvador Dalí – The Dance, 1980

Though best known for his painting, this arch surrealist understood the importance of dance. He worked on a number of ballets throughout his career, including his 1939 New York production, Bacchanale, for which Dali wrote the libretto and created the decor. The artist also collaborated with Les Ballets Russes de Monte Carlo, and regarded dance as an evergreen artistic influence. This late work comes from Dali's 1980 lithographic series, The Arts, which places dance alongside other classical forms, including acting, poetry, sculpture and painting.
Olafur Eliasson – Mirrorstage for Merce (From Merce Cunningham Dance Company: 50th Anniversary), 2004

It's a little known fact that this Danish-Icelandic artist first found fame as a champion breakdancer. He still uses dance in his art workshops, and believes it helped him to gain a sense of embodiment. This 2004 work is more in keeping with Eliasson's landscape work, and was produced to mark the 50th anniversary of the Merce Cunningham Dance Company, the dance troupe founded by the great US choreographer.
Alex Katz – Sarah-American Dance Festival, 2011
Katz has been painting dancers since 1960, and appreciates how both figurative painting and choreography can both be gestural. "The gestures interest me, which go right to the heart of dance," the New York artist explained in 2019. "In general a camera captures something but it doesn't have a real sense of motion. You can only convey real motion when you manipulate it, such as the way Rubens brings motion in his figures." Katz is on the advisory committee of the American Dance Festival, and produced this print for its 2011 season.