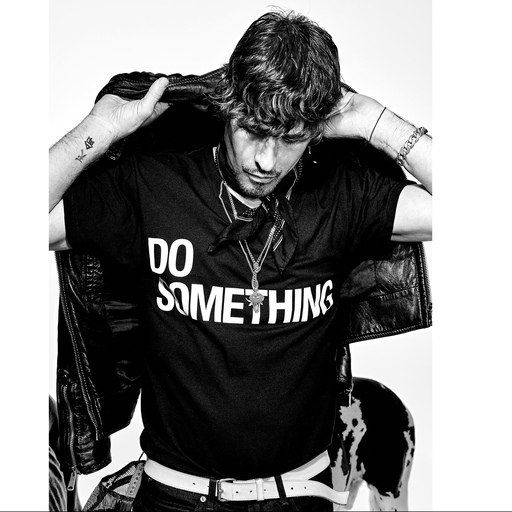 During the Covid pandemic, Steven Klein couldn't work in his usual manner. Over the previous three decades, the acclaimed American photographer had developed a novel type of fashion and portraiture photography. Collaborating with famous figures, such as Madonna, Lady Gaga, Kim Kardashian and Kanye West, as well as prominent models, including Kate Moss, Naomi Campbell and Linda Evangelista, while working for such titles as American Vogue, i-D and Harper's Bazaar, as well as global brands including Nike, Alexander McQueen and Balenciaga, Klein had created his own heavily sexualised style of image making.
 Steven Klein. Brad Pitt #36, New York City, 2004. © Steven Klein. All Rights Reserved
Commenting on Klein's 1999 portraits of Brad Pitt for W Magazine –taken to publicize Pitt's role in Fight Club – the photo critic Vince Aletti wrote that Klein "introduced a new sort of celebrity portraiture: fierce, fearless, just this side of disturbing."
But as lockdowns took hold in New York, putting production teams, models and stars beyond even his reach, Klein shrank his practice, using his iPhone to shoot small assemblages of unnerving objects, including a lipstick, a condom, a ridden saddle, a partially burned cigarette, and a photograph of a bloodied knife, resting in some grass.
These recent images, which begin and end Klein's new Phaidon monograph, are both beautifully precise and wonderfully defiant; even while sheltering in place, the photographer could conjure up a wild, dangerous tension.
Where did this drive to create such imagery originate? The artist's childhood offers some clues. Klein was born in Cranston, Rhode Island, in 1965. The second child and only son of middle-class parents, Klein can recall digging holes in his family's backyard, in an attempt to find modelling clay. Encouraged by his interest, his parents bought him a potter's wheel. An interest in ceramics developed into broader artistic ambitions. He started taking photos at the age of ten, and soon decided his main subject area would be other people. 
Steven Klein. Madonna, Hotel Glória, Rio de Janeiro, 2008. © Steven Klein. All Rights Reserved
In a profile published in the Observer newspaper, Klein is quoted as saying he fell in love with an older girl. "I became obsessed with her and photographed her for many years,' he explained. "She had a kind of American Indian look. And she had a really distinctive fashion sense."
Yet she wasn't the only subject to draw his attention. In 1979, at the age of 13, on a family holiday to Miami Beach, Klein borrowed his father's Instamatic camera, snuck into a bar, and took a portrait of an exotic dancer. That early act of photographic transgression is reproduced in his new book. The girl is in her work outfit, and speaking into a yellow, wall-mounted telephone; she's wearing cat-eye make-up and her hair is up in a beehive. Tellingly, she, like so many of Klein's later subjects, appears to be charmed by his presence.
Initially studying painting at Rhode Island School of Design, the artist turned to photography, in part out of desperation. "I was a loser, a bad kid," he told the Observer, "I wasn't really into anything and then someone gave me a camera and I found that this was the thing I wanted to do."
He pursued this newfound calling with vigor. His first commercial job was an assignment for Christian Dior in 1985. He moved to New York the following year, developing a close relationship with its stars, fashion brands and publications.
Steven Klein. "Super Linda," Image No. 11, Linda Evangelista, New York, 2012. © Steven Klein. All Rights Reserved
In 2001, when Justin Timberlake was beginning to outline ambitions beyond his boyband confines, he worked with Klein to create a violent, burnt and bloodied portrait for Arena Homme + magazine. The recording artist's chosen t-shirt, which featured the stars from the American flag, proved a touch too provocative. When the magazine dropped – just after 9/11 – it was withdrawn from sale. These days, surviving copies sell for high figures.
In 2002, when Madonna was undergoing another of her chameleon-like stylistic shifts, she collaborated with the photographer on X-STaTIC PRO=CeSS, a series of unnerving images, in which the singer hid her face with detailed masks and contorted her body into challenging positions.
In 2005, when Brad Pitt and Angelina Jolie revealed their romantic relationship to the world, they partnered with Klein for a shoot that parodied mid-century, suburban tranquillity, in the grounds of a modernist, Case Study house.
Steven Klein. Horse Pool, Guinevere Van Seenus, Windsor, CT, 2005. © Steven Klein. All Rights Reserved
In 2007, when David and Victoria Beckham chose to launch their careers in the US in 2007, they picked Klein to shoot the key imagery; posing together in a shoot that made them look more like quintessential American runaways.
And in 2010, when Lady Gaga sought to turn up the heat on her album The Fame Monster, she enlisted Klein to create the video for Alejandro, pairing blasphemous, Catholic imagery, with phallic symbolism to great effect.
Alongside these high-profile jobs, Steven Klein has continued to create exquisitely executed, perfectly unsettling campaign images for the world's leading fashion houses. His 2022 moving-image for Tom Ford fragrances, appears to be shot from a voyeuristic point of view. Klein's camera tracks model Geron McKinley through a glass-box home in the dark of night, as he enters and embraces fellow model Cynthia Arrebola.  
Phaidon's new Steven Klein monograph
It's a beautiful, but slightly chilling, piece of footage – even if it is not Klein's most shocking work. That accolade probably goes to his Cut Throat series, a set of photographs featuring models with slashed necks.
"People always say that portraits are like windows into your soul, which I think is the biggest lie," Klein has said of the images. "So, to me, this is going beyond that phrase and literally cutting into the flesh." Souls may be something Klein keeps out of the picture; fortunately however, he shows us much, much more.
Take a look at Phaidon's forthcoming Steven Klein monograph here.