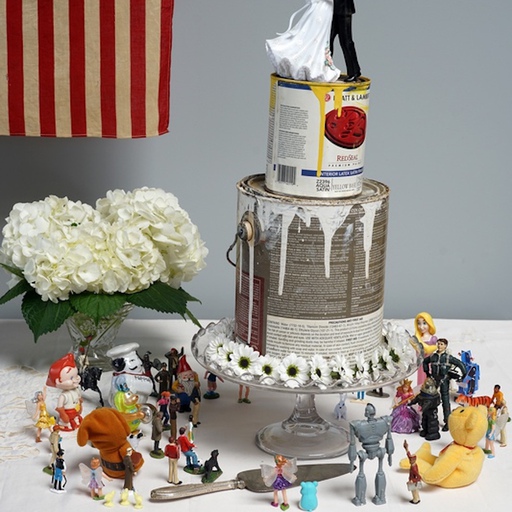 In 2007, Ross Craig read an article by Anthony Lane in The New Yorker about Leica cameras. The story intrigued him; Craig, a Californian artist and artisan (he's also a furniture and cabinet maker) had inherited a Leica M3. Craig's father had also been a professional photographer, and Ross himself had dabbled in the medium earlier in his career. Taking this family heritage, he combined it with a number of other passions: the Spanish Baroque, the Northern Renaissance Bay Area figurative art, John Waters, and found objects, to produce exquisitely executed still lifes that recall Old Masters, as well as the contemporary moment.
Ross has also responded to our current era by circumventing the conventional gallery system and offering his work directly via Artspace, as part of our Artist Direct program. In this interview he discusses his influences, career to date, as well as his own art collection, and the sensation he experiences when he sells a work to a collector.
When did you start working in photography? I had taken photographs a long time ago, but I left it, then started again, after I read an article in the the New Yorker by Anthony Lane, about Leica cameras being the ultimate gadget. I had a Leica M3 which I inherited from an aunt, who was a missionary in what was then the Belgian Congo. After reading the article I dug the camera out. I lived half a block away from the best camera shop in the East Bay, Looking Glass, so I went and bought a roll of black-and-white film and started taking pictures. I started taking street photography. Then I found threads of things that I followed after that. I started seeing still lifes I wanted to photograph, objects I would call found art; it might be a pile of stuff out in the middle of the street. I was shooting on film and Looking Glass had a dark room, so  I would spend time there. I loved it. I just loved it. I could be there for hours.
How do you describe what you do today? I create still life photographs, and they're very much composed. It's unlike street photography, which is very unpremeditated and spur of the moment. The still lifes start with an idea, or perhaps even an object. Take Wedding Reception (above). The idea began with the bride and groom model on the cake. Then it's composed and put together. A lot of thought goes into setting up. Taking the picture is almost an anticlimax.
How do you know when a still life composition is finished? I have an idea of what I want the composition to be within the space. As I'm doing it, my idea gets clearer and clearer in my head and I'm seeing what I want to see.
Do you still shoot on that old Leica? Occasionally. Though I haven't been using film very much recently. These days I use a Sony A7R IV, which is their full-frame camera, but I use the Leica lenses. I also used old vintage lenses on some of the photography I've done. I would find old cameras with Zeiss lenses, old Tessar lenses, and mount them on my camera. They're very high quality, and they make all the photographs look old.
Where do you get your still life materials from? All sorts of places. Sometimes I go looking for a specific thing in thrift stores. Here in Berkeley, where I live, we have this wonderful place called Urban Ore, which is a huge warehouse full of recycled stuff. Sometimes I build the sets. I built part of a fireplace for one that I took, and I've built walls with aged wainscot on them.
Ross Craig – Homage to Paul Wonner, 2019
Building those sets is no great challenge for you, as you're also a furniture and cabinet maker. Do these two interests complement each other? With the still lifes I'm making, yes. Both require a certain sort of temperament, a certain involvement with the process and details. You're looking ahead, thinking 'I need to do this, I need to do that'. It's quite unlike street photography, where, boom, you take a picture.
Your father was also a photographer, wasn't he?  Yes. He did specialized motion-picture photography; he did time lapse, high speed, and microscope photography. He first worked for a company which did educational films, then he worked independently with them, and then worked as a freelancer. I grew up around that; I would watch him work, help him, and I was introduced to photography through him. He gave me the idea of looking at the details of things to examine things more carefully.
He would build the motors to drive the cameras and the microscopic stuff; he would do the mounts for the cameras also. He did a couple of studies for Walt Disney animators, at high speed; one was of a baseball breaking a window. Disney wanted to see it at high speed, so they could animate it. So he built a baseball cannon that would fire the ball into a window, which was triggered by a high-speed camera that was shooting something like three thousand frames per second.
Could you describe the fine-art influences in your work? I've seen many still life paintings in museums in Europe. I was amazed by how detailed they were. There would be a table laden down with food or a huge bouquet of flowers; there was so much going on. Then, a couple of years ago, I returned from Europe and I thought 'oh well, I could do that'. And before long I was building the table and building the wall behind, and that initial idea that the idea would be easy to do kinda went out the window. But that was great, of course. It's been challenging to me. I'd have this idea, then I think 'well, how can I pull that off?'
Ross Craig –  After Cotán #1, 2019
Many of your works directly reference artists, don't they?  Yes. One of the still life painters that I was really struck by was Juan Sánchez Cotán. His paintings show a traditional niche in a kitchen where you store food; they'd hang food from strings to prevent it from rotting. I liked that idea. I built a little niche and used it several times to put in different objects. Another references Jan Brueghel the Elder's flower paintings. I had been talking to my brother about those pictures, and he suggested we go to the dollar store and buy these artificial flowers. I put them together in this bouquet, like Brueghel's bouquet, albeit one on the cheap side!
And there's one styled after a Bay Area painter, Paul Wonner. He's a contemporary of Richard Diebenkorn and David Park. He would lay his still lifes out on a plane; that was a whole different idea from the classical ones I had been looking at, but I liked his paintings.
Ross Craig – Memento Mori, 2021
You also include a John Waters quote in one of your pictures, Memento Mori. It's a rather racy aphorism about books. Do you stand by those words?  Well, I think it's a good motto. If people don't have books, I think 'where is their mind'? Again, books are a common element in still lifes; my idea was to load that picture up with books. At the time I did that, someone was moving out of the building where I was, and he had 20 or 30 boxes of books. There's a skull in the picture too, which is an element that's in a lot of still lifes. And the John Waters quote I thought was just really cool too.
Could you tell us something about a couple of the other works available via Artspace? There's Cornucopia. I was intrigued by that myth of the horn of plenty; they're often depicted in still lifes. This idea that you had a ram's horn and all the food you ever hoped for came out of it? I liked that. In our case it's Amazon shipping of course, and the food is all heavily packaged. The figure of Zeus is played by my friend Wilbur, who just looks the part.
There's also Apple Pie. I was inspired by the idea of apple pie as a symbolic food. It symbolizes the idea that everything is going to be OK. It's dessert too, which is often the best part of the meal. But I wanted to put the apple pie in a very shabby context. So, there's a dirty wall behind the pie, and everything is shabby; the vase has a thistle in it, and then on the table is a bible on top of an old Playboy magazine, which is sort of a contradiction. And there are lines on the exercise book, the school punishment?
What do you hang these works alongside in your home?  I have one big painting by Jen-Ann Kirchmeier. I've had it for years; it's a very impressionistic picture of a corner store in San Francisco. The glass on the store reflects the building out on the street. And I have one of Richard Misrach's bridge photographs, and then I have a bunch of stuff by my brother, Steve Ross, who is also an artist. He makes collages or assemblages of metal sculpture. I like what he does; It would be unfortunate if I didn't!
How does you feel when you sell your work to a collector? I love it. I want people to see the work; the fact that someone is going to put it up on their wall is great. It's great to feel that somebody is looking at your picture. There's a sort of affirmation when someone picks your image. It's not just me that likes it, it's other people.
What do you think people see in your photographs? Perhaps they share a sense of humor. Or the same sensibility, more broadly. Take that John Waters quote – he's not for everybody. I suppose we're on the same page, we're seeing things the same way, and maybe looking at the photograph with the same sorts of interests.
To see more of Ross's art take a look at Ross Craig's artist page on Artspace.