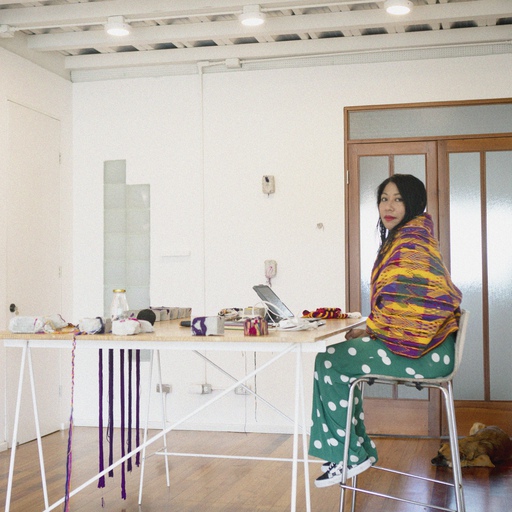 In August 2018, Marilyn Boror Bor legally changed her Mayan Kaqchikel surname to Castillo Novella—names of Spanish origin, associated with two of Guatemala's richest lineages. Described by the artist as an "embodied durational performance" entitled Edicto cambio de nombre [Edict change of name], the work culminated in 2021 with a mourning procession to a cemetery in Neukölln, Berlin, with a granite tombstone engraved with both of Boror Bor's names. What the artist demonstrated through this symbolic action was the painful loss of identity that migrants around the world experience, specifically the widespread practice of "whitewashing" by adopting Western names—an attempt to assimilate that, in effect, erases centuries of family history. In other works, Boror Bor demonstrates how racism and Western dominance are disseminated through semiotics, reminding the viewer—through objects, performances, installations, photographs, and paintings—that verbal and nonverbal language are powerful forms of control.
Memory of Indigenous Bodies, 2020–21, clay from the Lacandón Jungle on wood, each 78 3/4 x 78 3/4 in. (200 x 200 cm)
Words also contain the essence of a culture and convey knowledge. In a series of linguistic interventions in cities in Guatemala, Canada, and Costa Rica, Boror Bor labeled objects in public spaces in Indigenous languages (Kaqchikel, her native tongue and one of twenty-three Indigenous languages spoken in Guatemala; Cabécar, native to Costa Rica; and Nahuatl, native to Nicaragua) alongside their Spanish or English translations, prompting passersby to consider how written language might influence our perception of the world around us and our understanding of our place within it.
Key to Boror Bor's practice is a process of preservation. Her Dictionary of Forgotten Objects (2016–17) is a record of fifty-three significant Mayan cultural objects, ranging from domestic items to musical instruments, photographed to mimic colonial exhibits of artifacts and printed in an informational book. Each item represents an important aspect of Mayan heritage, a way of life that is under threat today; to signify this, Boror Bor gradually faded the tone of the paper used for the publication, a reminder of how easily memory can fade and be forgotten. By exhibiting the objects as photographs rather than in the glass vitrines typically found in Western museums, the work also reclaims those objects for the Indigenous, offering outside viewers only reproductions, with interpretations given on the artist's own terms.
Preservation of the past is one form of resistance, but Boror Bor also imagines ways perceptions can shift. For her evocative series ¡Ni parece Guatemala! [It doesn't seem like Guatemala!] (2019), she created postcards that contest stereotyped images of Guatemala and Central America in general and, equally, the utopian Disneylands of manufactured happiness marketed to the wealthy elite in the West—a masquerade for what Boror Bor refers to in her artist statement about the work as "postmodern misery." She proposes a different view of the ideal, made for a different kind of viewer.
Boror Bor is one of over a hundred contemporary artists to be featured in Prime: Art's Next Generation, Phaidon's new survey of promising contemporary artists. We asked her a few questions about her life and art.
¡Ni parece Guatemala! [It doesn't seem like Guatemala!], 2019, digital printed postcard,  6 1/8 x 4 in. (15.5 x 10 cm) 
How would you describe what you do?
Within the native people of Guatemala the word 'Art' does not exist; we translate it and understand it as a life-giving midwife, a doer, a creator, or even as a feeling. Based on that I work with interlocking images, concepts or thoughts inherited from my Mayan ancestors, and translate them into visual experiences.
 
What is the most exciting thing about where you are right now in your career?
The most exciting thing about this moment is the feeling of communication with my Mayan ancestry and contemporaneity – being able to move between different worlds from which I constantly learn.
 
What's on your mind right now?
Not to get lost; to be consistent with my work and answer to my community, my grandmother and the women in my family. I try to fight, so that my community will have a decent life.
How do you get these things out?
From inside to Outside. With the accompaniment of my Ajq'ij (Spiritual Guide), the temazcal (a therapy for physical and spiritual illness, in some ceremonies the use of medicinal plants is also used), my communication with fire and water, dancing, wine, friends. I am interested in just learning how to listen.
What do you think defines your artistic generation?
Constant search and investigation – from the inside out.
 
What do you think of when you think of the word prime?
A mature and precise moment. Emotion, commitment and gratitude to my community and to the women who have fought for me to be here today.
 
What is a typical work day like for you?
There is no specific recipe! I work as an art teacher and that occupies a large part of my time, but it also keeps me awake researching, and interacting with different generations. I relax with talks with my mother, my aunts, my sisters, my friends and that feeds my production and my ideas. San Juan Sacatepéquez, the town where I live, is my inspiration (although it is a love hate relationship), I like to experiment with new materials, so I look for threads, cement, oils, earth, etc. to work with. Lastly, I lock myself in with a glass of wine to paint or work in my studio, since a lot of my work explodes at night.
What are the hardest things to get 'right' and what are your unique challenges?
I am very scattered, so I need a lot of concentration to immerse myself in my investigations, which are exhaustive and long. My research projects question the classist, patriarchal and colonized society of my everyday context and that is a constant struggle that wears me down emotionally and physically. For me it is urgent to speak to new generations about the importance of looking back to the past to grow and look to the future.
In an Instagram age do art books still matter to artists?
Printed books are always important to me.
To see more of Boror Bor's work, and that of a great many other artists, order a copy of Prime: Art's Next Generation here. You'll also find her website here, and her Instagram here.