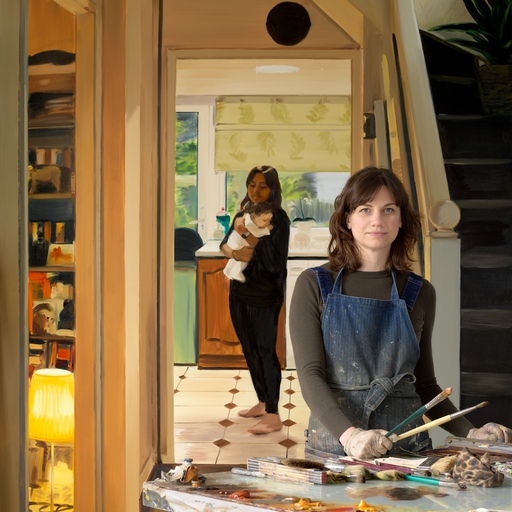 Caroline Walker's oil paintings depict the quotidian activities of contemporary women, typically at work or engaged in other forms of labor. Her artistic approach to source material is more akin to documentary, working from photographs captured from everyday life to make preparatory pencil drawings and oil sketches before starting on the final canvas. Walker's observational images have ranged from anonymous housekeeping and hospitality staff to the familiar and friendly shop assistants in her local area—such as the women running the bakery or working at the pharmacy—as well as her mother engaged in her daily routine, including cleaning the house and gardening. In other series she has recorded kitchen staff, waitresses, tailors, office employees, nail artists, and laboratory scientists.
Walker's paintings also focus on the intersections between gender, class, and structural inequalities. The figures in her work are usually employed in retail or service industries; typically unseen or taken for granted by society, these jobs have been undervalued despite their essential nature. Her choice of subjects therefore challenges our assumptions about which types of women are worthy of being represented in portrait painting.
Caroline Walker – Three Maids, 2018; courtesy the artist and GRIMM Amsterdam | New York
While their thoughts and experiences might remain unknown to the viewer, the snapshots Walker offers us are nonetheless tender and empathic. In Making Fishcakes, Late Afternoon, December (2019), from the Janet series, depicting the artist's mother in the family home, Walker records Janet preparing an evening meal. With Walker watching through the kitchen window, Janet is illuminated by the glowing electric light of the kitchen, in contrast to the cool dusk settling outside. However, in the smaller canvas Bathroom Sink Cleaning, Mid-Morning, March (2019), she appears to meet Walker's gaze, breaking the fourth wall with a palpable sense of familial intimacy, bringing a glimpse of the artist into the picture frame.
 Caroline Walker – Making Fishcakes, Late Afternoon, December, 2019; courtesy the artist, GRIMM Amsterdam | New York, and Ingleby Gallery, Edinburgh
Walker is one of over a hundred contemporary artists to be featured in Prime: Art's Next Generation,  Phaidon's new survey of promising contemporary artists. We asked her a few questions about her life and art.
 How would you describe what you do?  I make paintings that depict contemporary women's everyday lives and experiences, in public and private, in the workplace and at home. 
What's the most exciting thing about where you are in your career right now?  The most exciting thing for me about where I am in my career now is that I have the freedom to take my work in whichever direction I choose and that this is going hand in hand with interesting opportunities to exhibit. 
I've been working in a small studio in London for the last 12 years which definitely has its limitations, but next year work will begin on a barn conversion in Scotland which will give me a very large studio to paint in – I can't wait to see how this helps my work expand further, in every sense.
 Caroline Walker – Atrium, 4th Floor, 2018; courtesy the artist and GRIMM Amsterdam | New York
What is a typical working day for you? I usually start by answering emails and attending to admin, but I like to begin painting by around 10am. A perfect day for me is one where I can paint all day without interruption, but that rarely happens! Meetings, phone calls, emails and more admin always inevitably eat into the day. On the days I don't need to pick up my daughter from nursery, I like to paint until 6 or 7pm.
What are the hardest things for you to get 'right' and what are your unique challenges?My work most often starts with spending time shadowing and photographing women as they go about their work. I use these photographs as reference when I'm back in the studio – this documentation mixes with my own memory and sense of being in a particular place with certain people. I think the biggest challenge when I start the paintings is one of how to recreate the atmosphere of that place and a 'portrait' of those people that they themselves would recognise as a faithful depiction of their experience.
In an Instagram age do art books still matter to artists?  Yes definitely. There's no substitute for the tactile experience of flicking through a book, and when you're in the studio working, it's books of the artists you admire that lie open for reference, not an Instagram account on your phone.
To see more of Walker's work, and that of the art world's most gifted next generation, order a copy of Prime: Art's Next Generation here.