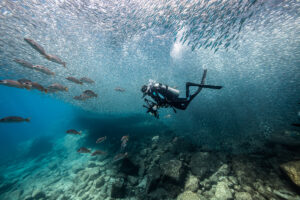 From the remote islands of the Pacific to the far reaches of the Arctic, photographer Joanna Lentini treks—and dives—across the globe, coming face to face with nature at its most harrowing and awe-inspiring. Her award-winning photographs bring the far-flung closer to home, but Joanna is just as inspired by the wildlife in her own backyard in rural New York. This global and local ethos has led Joanna to photograph, research, and write on topics as varied as sea lion search and rescue missions and the benefits of backyard camping. Ultimately, Joanna is an openhanded storyteller, relaying each of her subjects with infectious curiosity. With photographs ranging from cinematic and abstract to documentarian, Joanna succeeds in spreading a sense of wonderment at nature both near and far. After spending time with her stories, both written and visual, we cannot help but feel renewed excitement for nature and reverence for our place in it.
Tell us about who you are and what you do. What's your background? 
I am an American photographer, writer, and conservationist based in Warwick, New York. I developed a passion for scuba diving and underwater photography during my six-year stint living overseas. While underwater photography began as a personal endeavor, it eventually became what I am most well-known for. However, with the shutdown of the world for two years, my focus shifted to local subjects and stories, such as migrating amphibians, rewilding our outdoor spaces, and the magic in our own backyards. While I still photograph underwater, I now strive to highlight our planet's biodiversity both above and beneath the waves, whether that is a backlit meadow down the road or a windswept landscape in the Arctic.
What does your work aim to say? What are the major themes you pursue in your work? 
My work tends to focus on the beauty, fragility, and interconnectedness of our natural world; and, of course, my own fears, curiosities, and hopes for our planet. My work has been published in magazines such as Audubon, Smithsonian, and Hakai, as well as by The Orvis Company. It has traveled across the world with the Wildlife Photographer of the Year and Elysium exhibitions. Most recently, an image I made of a double-crested cormorant hunting for sardines underwater received the grand prize at the 2020 Audubon Photography Awards. In 2021, my photographs in the sea lion search and rescue story for Hakai magazine received the Best Photojournalism Award by the Canadian Online Publishing Awards. 
Can you share an example of a work that demonstrates those themes? 
One of my most well-known photographs, Floe of Life—which was awarded in the Wildlife Photographer of the Year competition—is a somewhat abstract image created in the high European Arctic. The image is of an ice sheet, a turquoise lead, polar bear footprints, and a trail of seal blood. It is devoid of wildlife, yet their struggle for survival is very present in the image. It highlights the beauty of our polar regions, the interconnectedness and importance ice sheets play for both predator and prey, and of course, their vulnerability. 
Another image that received recognition is one of a double-crested cormorant hunting for sardines underwater. This image is made from a more straightforward perspective and highlights the raw beauty of our oceans and the delicate dance between predator and prey. 
Can you walk us through your process for creating a work from beginning to end? 
A lot of the work I create oftentimes reflects a very visceral response to a situation. Still, leading up to those moments, I do spend a lot of time studying my subjects and surroundings, asking questions, and allowing myself the space to be curious.
Who are your biggest influences and why?
The wild plants and animals we share the planet with and all their ambassadors around the world that work tirelessly to protect them.  
How does your work comment on current social and political issues? 
I don't seek to address social or political issues directly in my work, but I do, of course, hope it might help to inspire people to love and respect our planet and all its biodiversity with greater passion and potentially spark action for positive change.
How do you hope viewers respond to your works? What do you want them to feel? 
Despite the proven benefits that time in nature has on our mental and physical health, Americans still spend 90 percent of their lives indoors. While I try to encourage others to get outside with some of my work, I also create imagery that brings nature and some of its positive benefits indoors.
As it has been well documented that we respond better to stress in a natural environment, I hope my work inspires others to rethink how they design indoor spaces. Moving away from that old way of designing that tells people our social status and wealth, but instead focuses more on how our indoor spaces make us feel—how creative, productive, and at peace it can help us become. In fact, the evidence-based interior design ethos, biophilic design—which focuses on bringing nature inside—totally fascinates me.
Who are your favorite writers? 
Aldo Leopold and Delia Owens both write about the natural world in different, but beautiful ways. 
If you could not be an artist, what would you do?  
Currently, most American backyards are biological deserts or consist of plants that provide no value to local wildlife and require immense resources (and pollutants) to maintain. As much as I love the idea of biophilic design and even daydreamed a few times about creating indoor spaces that evoke those positive feelings we have when we are out in nature, I think the world needs more wildscapers. 
Wildscaping would entail helping others rewild their backyard spaces to support native plant and animal life. Through a personal project, I came to realize helping the planet starts in my own backyard. If we genuinely want to make a difference in the brief time we have here, we need to take a closer look at what we are doing on our own little patch and why. 
Love reading about all things art? You can have articles from Canvas, curated collections, and stories about emerging artists delivered straight to your inbox. Sign up for the Saatchi Art Newsletter.