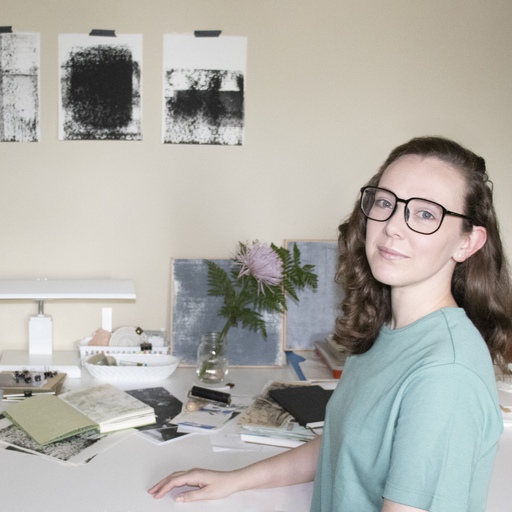 When Nicole Gelinas was in high school she had two career paths in mind – doctor or artist. Ultimately, being an artist was the clear choice. The amount of reading required in med school "would have sent me over the edge" she says.
The Bremerton, Washington-based artist works in a variety of mediums including, but not limited to, oil, graphite, charcoal as well as film, digital, and alternative photographic processes. She is inspired by abstraction and minimalism, but focuses primarily on the process, experimentation, and implementation of art making. Her works are usually created in series, each with its own concept and technique. She is initially inspired by certain colors, techniques, movement, nature, emotions, and then she "runs with these". 
"When I work abstractly I tend to use unconventional "brushes" that may come from the kitchen, a tool box, or nature itself. I experiment by making marks with these gadgets until I find a notation that intrigues me. I then attempt to replicate those marks in finished pieces."
Examples of concepts include exploring the beauty of decomposition and the changing of objects over time. One such series attempts to visually reveal  the feeling of seasonal depression through daily paintings reflecting the artists mood in relation to the weather. Some works are abstract explorations in mark making, while others examine the line between art and photography.
Gelinas has shown her work at Bainbridge Arts & Crafts, Bainbridge Island, WA, Long Shot, Seattle, WA, The Real Change Portrait Project, Poulsbo, WA, Black Box Gallery, Portland, OR, LightBox Photographic Gallery, Emergence, Astoria, OR, Photo Center Northwest, Long Shot, Seattle, WA.
We asked her a few questions about her work including her new 2022 series Spring Obsidian. When you've read the story take a look at her artist page on Artspace to invest in some of the work. 
Nicole Gelinas – Spring Obsidian no. 4, 2022
How would you describe your work to someone who has never seen it?  I create series-based mixed media works where concept and execution are tied together. I would probably have to describe a specific series instead of a general, overarching visual, but here are a couple of examples: Melancholy Winter: minimalistic, grey, fog-like paintings that are ethereal, dreamy, and cold. Spring Obsidian: small abstract expressionist monotypes with notes of spring colors wildly emerging out of the darkness around it. A true embodiment of spring emerging from winter.
The paintings on Artspace are almost like ambient pieces of music – what attracts you to this style? With the constant bombardment of visuals we see every second, minute, hour, daily it's nice to have something easy to view that allows you time to ponder and wonder.
Nicole Gelinas – Spring Obsidian no. 3, 2022 
Do you build them up and up and up, layer upon layer, or is there a different method? Each series tends to have its own technique. Melancholy Winter was made using only rollers with very few layers of paint, maybe two layers max on any given piece. I wanted to keep the layers very thin and veil-like. Some almost have a translucent look.
For Atomic Age Revisited I used a combination of rollers and my hands. These works had three to four different layers and were much more textural than the previous series.
Spring Obsidian was made using a printing plate coated using a roller and/or a brush, probably three layers of paint at most, but only one pull from the plate. Through each series, I develop a better grasp on moving the media across the surface.
What is it about working in series that interests you? I work in series because I feel like there is a definite endpoint. I say what I need to say until I feel satisfied with the result, or I feel like I have exhausted the idea, and then I move on. I don't like recreating the same thing over and over again or dwelling on one concept for too long. I need to move on and explore the new knowledge each series gives me. I'm intrigued by the chance to try something different, whether it is through mediums, ideas, concepts, expressions, etc.
NICOLE GELINAS – Melancholy Winter – Hail, 2016
Do you exhaust a concept or way of working then move on to the next or do they tend to bleed into each other? Yes, I exhaust a concept and move on to the next thing. I work one series at a time until I am satisfied with the results. I stop when I feel like I have enough pieces to get the concept across. I see threads of ideas stringing together. As I make more work I notice the themes tend to be emotional and nature-driven. Over the course of my art-making journey I will further connect how all of these series overlap on a greater scale. Until then, I just make art in response to what I feel and see. 
What do you see when you look into a finished painting? Is it similar to the thoughts you started with, or has it ended up in completely different place? I see, and feel, a great relief on my part. I try my hardest to not think too much while I am creating and just let my hands work. I tend to attach meaning much later in the process. I ask myself, where do these marks come from? Is there anything in my life that I'm reflecting on or referencing? Most of the time I can pinpoint where the idea came from just through everyday life be it emotions, weather, nature, or season of life.
NICOLE GELINAS – Spring Obsidian no. 6, 2022
If I buy one of your pieces, what should I say to friends about it? I hope you, or your friends, resonate with the energy of the work. I want it to remind you of something: a place, a headspace, or a feeling that you have experienced in the past.
How does your work fit together – is there a journey you can see? I think the journey is just my journey. To me, it's a journal of what I'm thinking about or experiencing at the time I'm making the pieces. It becomes a release to get these ideas and feeling down. Like a force that needs to come out to find peace and be able to move on to the next thing. 
NICOLE GELINAS – Melancholy Winter – Snowfall, 2015
What do you think about when you're creating? I try not to think as much as possible. I will listen to music to drown out my thoughts. The more I think when I am creating, the harder it is for me to make without constant comparison and self-criticism.
Where do your titles come from? Each series has a title that is dedicated to the overall concept, as well as each piece within the series. Generally, each piece ties back into the theme of the overall work.
What are you working on at the moment? I am making small-scale abstract monotypes on paper, and working in various personal sketchbooks to devise my next series. I am also experimenting with alternative photographic processes, specifically anthotypes. I hope to fill up a book with various emulsion experiments by the end of summer. 
To see more work by Nicole Gelinas take a look at her artist page on Artspace here.