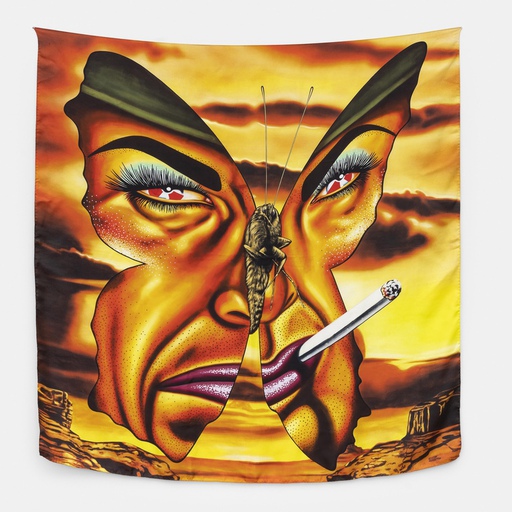 The American painter Tessa Perutz may have been born in Chicago, and might divide her time between New York and Brussels, yet some of her creative fealty lies in the mountains of southern France.
Perutz is not only an acclaimed artist, who has shown her vivid landscapes on both sides of the Atlantic; she is also the founder of Massif Central, a New York-based brand that produces silk and silk-blend scarves featuring the works of contemporary artists.
As Perutz explains in this interview, she named her company after the rocky region in central southern France which has long been the home of European silk production; in 1540, the Massif Central city of Lyon was granted a monopoly on silk production by royal proclamation.
Perutz's company pays tribute to that heritage, while producing limited edition works by some of the most impressive artists at work today; her latest piece, featuring the painting Up So Long It Looks Like Down (2019) by holty tipped Californian painter Henry Gunderson, is currently available on Artspace.
Gunderson, born in San Francisco in 1990 is known for his oversize, hyperrealistic paintings, using an acrylic cut-and-paste aesthetic of layering to obtain synchronicity between mixed subjects. His works incorporate unusual characters, diagrams, common household objects, text, patterning, all within settings akin to American post-industrial pop landscapes. 
For him, the butterfly motif functions as a "symbol of transformation and beauty with imagery from pulp western illustrations; once rough and masculine cowboys are rendered in garish make up and drag."
In this interview, Perutz describes how she came across this beautiful, arresting Gunderson work, why she's had to grasp the chemistry of textile production, and how silk scarves wound their way into her practice.
The scarf measures 51.00 x 51.00 inches, is made of 100% silk twill, and comes in an edition of just 100 pieces. This work comes with a silk-screened signature and hand-written edition number and comes in a unique linocut printed box. Go here for the opportunity to buy one.
What first attracted you to the work of Henry Gunderson? I have always been a huge fan of Henry's work, since we became friends around 2010.  I find him to be an incredibly diligent and dedicated artist. Very hardworking, with a huge imagination. In a wide sense – his work imbues a certain essence of the metropolis, teeming with varied but unlinked references with this sort of wild Ed Paschke-esque pop flatness.
He really brings it all together in a cool and confident, seemingly effortless but well-developed, unique aesthetic. 
 
Tell us about the title – it seems like an inversion of the old Lee Hazlewood and Nancy Sinatra song. Right? Here are the notes from the exhibition press release where he exhibited the work: ""It conjures up a taste of fantasy," sang Nancy Sinatra and Lee Hazlewood, "I've been down so long, it looks like up to me." The 60s tune that traces the complexities of perception is also the title of a book, and more recently, the title of a painting by artist, Henry Gunderson. Along with its partner painting, Up So Long It Looks Like Down, the diptych plays an important part in contextualizing the greater overarching narrative of Gunderson's solo exhibition, It's a Great Time to be Alive, at Derek Eller Gallery in New York. https://www.derekeller.com/exhibitions/henry-gunderson/press-release
Massif Central founder Tessa Perutz in the backyard at Henry's in Red Hook, Brooklyn. 
Photograph by Henry Gunderson
 
How did this particular collaboration come about? In the past 12 years, I visited his studio often in this natural sort of way of keeping up-to-date on his practice. Henry uses a lot of automotive emblems and iconography, which brought us originally to discussing a bandana around 2016.  But we didn't really have an immediate solution on which image to use, so it took a little while to find the right motif.  When I saw this butterfly painting from his Derek Eller show in 2020, I knew it was the perfect match. 
 
Was it hard to finally decide on an image? The Red Butterfly painting that we chose seemed so spot on, so powerful, it seemed like an obvious choice.  When folded it has this blazing animal print effect. The ombre red-to-orange-to-yellow punctuated by brown, pink, and turquoise – it really sings as a scarf. 
Does each selection process differ from artist to artist? Oh yes, absolutely.  I have worked with 23 different artists and I swear each working situation is specific to each artist.  There are some artists who know exactly which image they want to use, and it's decided in a matter of hours.  There are others who need a longer period of time to create a new work for the scarf.  Sometimes we make 5-10 different samples to choose the right image, other times it is more straightforward and immediate. It really varies and I am rather laid back so it is generally very fun. 
 
What's the tricky thing to get right when transferring an art image to a fabric or textile – particularly one where you are bound by the shape of the item? One of the parts I love is sourcing the right material for each image. I keep in close contact with my weavers and printers in Italy, and it's hugely interesting working on the blends – it's like chemistry. I spend a lot of time looking, feeling, testing fabrics, such as modal, cotton, silk, linen, cashmere, wool, etc. Knowing what type of fabric suits what type of image is a big part of what I do. 
 
Is the Gunderson scarf part of a new series? If so, who else is on the horizon and why did you choose them?  It's funny because our next scarf actually also features a butterfly. Totally coincidental, with a more established artist, in a very different style. It's quite splendid, this image of various silk butterflies floating in the wind. 
Is there a company aesthetic you could define? Our aesthetic is very wide ranging but generally involves huge swathes of color in high contrast.  I'd like to do more with photographic or film imagery. 
Tell us a little about Massif Central and what you do? Is there a story behind the choice of name? We are known for working with popular artists at a variety of points in their careers, making limited edition high-end silk and silk blend scarves.  The editions are generally small in size and come in beautiful linocut printed boxes.  All aspects of the brand were grown organically from the roots until now.  The name 'Massif Central' is derived from the region in central France, surrounding Lyon, where the artform originated.  
Visit Massif Central's partner page here and go here to buy one of the 100 limited edition Up So Long It Looks Like Down (2019) Henry Gunderson scarves.