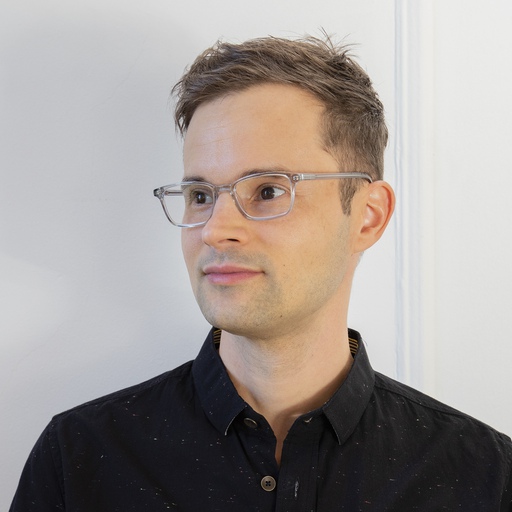 When it comes to illumination, Matthew López-Jensen prefers natural sources. This US artist was born in 1980 in Killingly, Connecticut, and so wouldn't have had the chance to see the American landscape without the illumination of street lamps, car headlights or the ambient glow of towns and cities. Nevertheless, López-Jensen remains a true nature lover, and appreciates the role sun and moonlight once played in our lives, as well as the unexpected interventions these rays make in our lives today.
The artist received his MFA from the University of Connecticut and BA from Rice University; he is a Guggenheim Fellow in photography and has his work in the collections of the Metropolitan Museum of Art, The National Gallery of Art and the Brooklyn Museum, among other institutions. He also teaches art and photography at Parsons School of Design at The New School and at Fordham University.
López-Jensen is one of many artists choosing to sell their works directly via Artspace, as part of our Artist Direct program. Read on to discover how walking, stamps, photography, moonlight, postcards, embroidery and rooftop gardens have all found their way into his work.
Your work often seems to focus on the impact of light on the landscape, be it moonlight or sunlight. What intrigues you about this? What do you experience when you encounter it first hand, and how does it change once committed to paper (or card, or photo paper)? On a personal level, art making aside, I've always had a very immediate and physical reaction to sunlight. It is definitely something I need to function, maybe more so than others. I often joke that I am part plant.
And with moonlight, I pay special attention when it appears. It has to fight to be noticed in urban settings. But I love when it finds its way into the apartment and casts shadows on the wall or happens to peek in through the bathroom window and light up the water coming out of the showerhead.
And I love how the apartment becomes a complex calendar of light and shadow; certain spaces get direct light at certain times. A few days a year at dawn the sun scrapes in through the back windows and lights up the wall in pink. The sun is more direct and brilliant in winter. Once or twice a year sunlight will bounce off a nearby building, hit the bedroom mirror, then bounce into the hall, where there are no windows, and appear like a surprise visitor.
I suppose photography heightened my sensitivity to light at a really young age. Now when I'm walking in the landscape I can see the way the light is moving, see variations in clarity, and compose pictures in something that feels closer to a dream state.
And, of course, once committed to paper, so much is lost but light can still be the subject. We've all seen a photograph and commented on the light before noticing any other subject. The rules of photography have often been dictated by light and technology. With many of my works I like to shoot directly into the sun, partly because the results can be unpredictable. But now, thanks to certain technologies, you can shoot into the sun and not lose everything around you to shadow.
Matthew López-Jensen – Moonlight on Rice Lake, 2018
How did the natural world find a place in your work? Was an interest in nature in you from childhood or did it come via photography? I grew up in a rural town and before I knew what photography was I'd already been given the nickname "Nature Boy." It was lucky that our high school had a photography program. None of the area schools did and the teacher had to fight every year to keep the program funded. The first time I took an elective I took photography. I think I was 14. We were all given Pentax loaners and I was frustrated that I had to give it back after a few days. So I pulled some of my savings and had my mom drive me to the mall where there was a camera store. I'd never been in the store but knew it was there. I couldn't afford much but the 35mm Ricoh worked beautifully and I was thrilled to be able to shoot whenever and wherever.
I still have the negatives from the first rolls of film I ever shot. And they have a few really great images. I shot what was around me, and that was abandoned mills, farms, barns, rivers, and the woods.

Matthew López-Jensen – Moonlight on the Pacific (with one dollar bill), 2018
Tell us a little about the works on Artspace – Remember Moonlight. Is there an element or moment where cataloguing/obsession takes over in a project such as this? Or is it mainly about the process? What are the significance of the dollars and the stamps? Remember Moonlight is a project with many layers. With The 49 States, I had done work with Google Street View, looking directly into the sun. Light as a symbol for knowledge is an ancient trope. Google as an extension of knowledge is our current reality.
About ten years ago I bought a postcard of moonlight on the Delaware River and it kept coming back into my mind. When I started looking for more postcards of moonlight I started to realize that there was a connection between the invention and proliferation of electric light and the cultural status of moonlight. Between 1905 and 1925 light bulbs became a "thing" and we no longer needed a clear night and a bright moon to find our way home or navigate safely. I think the postcards are a manifestation of nostalgia for moonlight. If you bought a moonlight postcard in 1910 you probably had memories of being in a landscape at night and walking or boating by the light of the moon.
So I decided to build a collection of postcards of moonlight on bodies of water. I used websites like Ebay and Delcampe. At first I thought it was just going to be a collection of postcards. However, the first cards arrived in envelopes with stamps dating back to the 1930s and 1940s. Almost every card arrived with something curious going on. There were cut up food boxes used to protect the card, old stamps, plastic wrap, and vintage stationary. I started buying the cards with the hopes that they would arrive with this idiosyncratic packaging. The "mail art" aspect of what I was getting became as interesting as the postcards and moonlight ideas. 
Soon I had several hundred cards, each stored with the envelope and ephemera used to send them. I then created compositions using only the cards, envelopes, cardboard, or whatever came in the envelopes. For example, in Moonlight on the Pacific (with one dollar bill), the postcard is beautiful and has a handwritten New Year's greeting from 1907. The cardboard in the photograph is the cardboard inserted in the envelope to protect the card. The random dollar bill was included in the envelope because the Ebay seller thought he overcharged me on shipping. And he used these great old stamps, a seven cent Woodrow Wilson stamp from 1956, and the two 20 cent state-bird stamps from 1981. All of these vendors selling old postcards seem to have old stamps lying around and they use them because stamps never expire.
Matthew López-Jensen – Moonlight on the Coast of Maine (Peace), 2018
The compositions reveal poetic connections between landscapes, histories, and ideas. Some feel really personal. Some feel political. And they are all collisions of time and landscape and people communicating. Moonlight on Rice Lake is something of an accidental self-portrait: a boy under a tree by a lake (like me for most of my childhood), a rainbow hidden in the body of a diver above two butterflies (wonderfully queer symbols), and a Benjamin West stamp that also reads "American Artist."
Another good example is Moonlight on the coast of Maine (Peace). I was excited to find the unique real photo postcard (RPPC) of moonlight with the word "Peace" written in ink. Then it arrived with three stamps: a flag, a sunflower, and Bessie Coleman. It all seemed like a poem and the phrase "DO NOT BEND" stamped across the bottom had an added resonance. And stamps have a very Fluxus feel so I love the idea that the Postal Service is contributing to the project.
The postcard element is all the more interesting when it is blown up to a size not normally associated with the medium. What excites you about that treatment?  Scaling these works up changes them dramatically. I love that the various printing processes, the defects, the paper fibers, they all become visible. But really the landscapes become more accessible. They are no longer just palm-sized objects; they are somehow almost landscapes again. And even the stamps have landscapes or nature hidden in their designs and these are more apparent at a larger scale. They also become more like collages or paintings and lines and plains become more important.
How has the work you create evolved or changed over the years and why do you think it has changed like that? Most of my projects take me outside. They require lots of time and miles and miles of walking. I design physicality into the projects, partly because I love to be outside and walk, but mostly to cultivate deeper connections with the places I am working. By returning to a place over and over, sitting there, eating there, looking at the dirt, watching animals, other understandings begin to emerge about the landscapes. This works its way into the final compositions or collections or maps that I create.  

Matthew López-Jensen – Untitled (from Every Tree in Town), Set of 30, 2011
Your Every Tree in Town series documented 2187 trees in Willimantic, Connecticut. Are you definitely sure you caught every single one? Actually it was 1,017 photographs of 3,128 spruce trees! I might have missed a bunch growing in people's backyards but I think I photographed almost all of them. I made the work in early spring when it was easier to spot anything green. I carried a paper map with me and as I walked down a street I would mark it off and put dots for each tree, large or small.
What are you working on currently? At the moment I am in the middle of some exciting, socially engaged, landscape projects. I created a virtual walk of Tibbetts Brook in the Northwest Bronx and that piece led to an expansive embroidery project. Yes, embroidery.The Tibbetts Estuary Tapestry is about climate change and flooding in our neighborhood. We have over 100 volunteers embroidering gardens onto empty rooftops. I'm also developing a rooftop farm and garden with a group of high school students in the South Bronx. And I am working on a forest restoration project on Mosholu Parkway. These are all landscape art projects of a sort, but obviously not just pictures on a wall, although there will be plenty of photographs!

Where do you hang the works in your own home? I have a live/work situation and I try my best to sequester my work to my studio but I have two large Remember Moonlight pieces in the living room and foyer. However, I try to use most of the wall space for other artists.
Take a look at Matthew López-Jensen's artist page on Artspace where you'll see a wide range of his work.