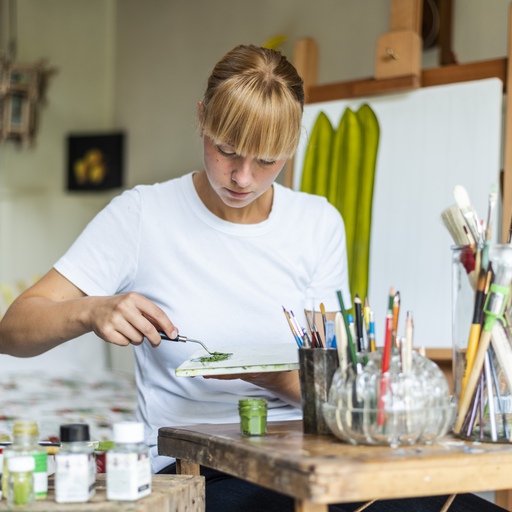 Marianne Hendriks shares her wonderment of nature in a painting practice informed by her background in architecture and design. With each distillation of a leaf into a simple abstraction, the Netherlands-based artist attempts to make sense of the world by categorically manipulating geometry and form.
Her botanical paintings are intended to be instantly recognisable yet have a naive appearance. The compositions and geometric shapes show structures and rhythm and appear to have grown within the canvas. There is a constant switching between the two dimensional and the three-dimensional representation within the paintings. Georgia O'Keeffe, Hieronymus Bosh, Frida Kahlo, and Vincent van Gogh are big inspirations on her work.
Marianne graduated with a BA in Architecture & Spatial Design with Honors at Central St. Martins in London, England.  The Artspace Artist Direct artist's paintings have been exhibited in Amsterdam, New York, London, and Italy and have been featured in newspapers and magazines around the world including the New York Times, Vogue Living NL, Saatchi Art Catalogue and BOOOOOOM!. We caught up with her and asked her a few questions about how, why, when and where she does what she does. 
 MARIANNE HENDRIKS – Nos Folia, 2019

How would you describe your work to someone who has never seen it?  I would describe my botanical paintings as paintings where the plant is my inspiration and muse. I want to capture something about them. When I paint a plant, I think of making a portrait of a plant like a person, with a soul, and a history, and emotions, and desires. The artworks also have a dreamlike otherworldliness and appear surreal, showing vulnerability and fragility.  The Botanicus collection is painted in oil paint and the collection reflects a diverse spectrum of techniques from different ages. The paintings are painted in impasto technique, this means that my hand and my intention are very present. I intentionally use this direct painting technique as it allows me to record  time and motion.  
 MARIANNE HENDRIKS – Mater, 2017
What are the current things going on that are inspiring you? I currently follow what efforts are being made to protect nature by governments, institutions and individuals, I find this really inspiring. I also feel responsible. At the moment it is more evident than ever before that species are becoming extinct. We all need to make efforts and sacrifices. We have not been protecting our environments enough. I fear we might lose it all. Species have to work incredibly hard to survive, it is a constant battle. I hope we learn more about our nature, to get to understand it better. And I also hope we can allow nature more space to exist in our cities. 
 
Where do you fit in, who do you think you belong alongside? I feel connected to so many artists from different ages and art movements. Who I feel I belong aside to I find almost impossible to answer. I observe and study art from the Egyptian era to the early 19th century Japonism movement and everywhere where nature is portrayed, in medicine and biblical representations. I practise and study the Dutch Masters techniques from the 18th century to understand their world view and techniques.
 
I also admire botanical artists such as Giovanna Garzoni, Marianne North, Georgia O'Keeffe and Rachel Ruysch. Rachel Ruysch was the daughter of a botanist and scientist, and she had an extensive knowledge and developed incredible techniques and was even higher prized then Rembrandt in the day. Marianne North is just wondrous; she explored the whole world and recorded it at a time where it was not only unusual for a woman but the places she went to were also in the wilderness and not without risk of catching diseases or being eaten. 
 
I also feel very influenced by Hieronymus Bosh. He portrays ideologies and images that are both incredibly powerful and very dangerous at the same time. He understood this as a creator, he reminds the viewer constantly that we as humans are capable of going in two directions, we are capable of doing good or bad as humans, it is of course very biblical. It feels more relevant than ever today. 
 
Vincent van Gogh had a strong connection and empathy for nature, he was a man of faith but actually ended up worshipping nature. He spent hours going on endless walks, he therefore spent a lot of time with the subjects he painted. He writes in his letters how overwhelmed he is with emotion; you simply feel what love he felt when you are looking at his paintings. I think you can also see in the work that he is battling with all sorts of things, there is a huge amount of friction and conflict within each painting. Seeing his paintings is like watching a great storm happening right in front of you. 
 
I did not instantly connect with Frida Kahlo's work, but now she is so important and powerful for me. She simply painted what was happening around her and in her life with honesty and, at times, rather brutally. Her life was also very dramatic, and this certainly reflected in her paintings. Her later self-portraits show a self-image that to me is incredibly powerful. She shows ownership, she tells the world who she is and not the other way around. I find her and her work incredibly inspirational.
MARIANNE HENDRIKS – Lusus Conspicuum, 2019

 
What do you think about when you're creating? When I am creating, I think of a lot of things. I firstly feel sort of in love, I feel very absorbed and spend a lot of time observing and learning everything about it. I think I am a highly sensitive person, so I not only think, but I respond very much to my emotions. I then start off with a lot of preparation, a large proportion I dedicate to observation. I gather a lot of material and knowledge. I sketch, make notes, write stories and take photographs. I study what I want to paint carefully before I get to the canvas.
 
One of my favourite places is Kew gardens in London. The Palm House has over 5000 species and the more I spend time there the crazier the plants appear to be to me. Apart from doing general studies and observation, I also like to really get to have a good idea of what the plants are like. What their textures of the leaves are, is it hard and spiky or delicate and soft or even hairy. I carefully touch them with caution as a lot of them are poisonous. I look at the space they occupy; are they low to the ground and in what climate do they exist? I also make a lot of visual references in my mind. It is like you try to capture something so intensely and with a huge amount of frequency that it imprints on my lens and my mind. 
I then start off with a very clear idea and that is the beginning of the many directions I can take it. I focus on what is in front of me and make a lot of decisions as I am creating. I see my work as a dialogue and reflection, that is the moment where I take it somewhere else.  
 
Where do your titles come from? There are clues to what the subjects are within the titles that I give the paintings. My work refers to mythology, symbolism and art history. The Botanicus collection is based on existing plant species, because I alter their appearance, I alter their original species names. 
 
The species names are in Latin. It is easily presumed that they are the original species names, but they have been altered by me. The titles are also a homage to the Swedish botanist Carl Linnaeus who created the modern system of naming organisms in the year 1753 called 'Systema naturae'.
 
Could you describe your process, or a typical working day? My typical working day I would describe as varied. I work on multiple projects at the same time. I have projects with different clients that have often strict timelines, my schedule is also determined by this a lot. 
 
I have in my studio several paintings that I work on at the same time. This is due to drying times, especially when I am working in multiple layers. I actually have a rack from a bakery where my canvases are going in and out in rotation, the shelves are always stacked with drying canvases.  I also tend to extend the research and work on art pieces, I often have multiple ideas for each painting. 
A lot of my day-to-day work is also very similar to running any other business. I have lists, with notes consisting of information on applications, shipping, ordering materials, finances and book keeping, client emails, production logistics. I have record keeping systems so I can access my database both online and in folders on the shelf.
 
I do a lot in house in the studio. I build my own frames and canvases and shipping crates. I do this because I really enjoy this part and it allows me to make sure that I get to present my work the way I like, and I really get  to think about what really works. I also find it important to make sure that I use materials that are sustainable and that no chemicals are used in the production. This has been important to me right from the start.
 
I also keep track of what the art world and industry is doing and the rest of the world around me. I really like to study and understand what I can do to develop myself further. I take courses to learn techniques. For the past five years I have taken two classes a week mastering the painting techniques and recipes of the Dutch masters, studying alongside art historians and art restorers in Amsterdam.
 
Last year I did the Royal Academy summer course London in contemporary arts. I also have my own library, and I make sure I have all the right books. I keep track of publications and new research papers that are being published by universities. I find this exciting, there is so much new research being done. 
 
 MARIANNE HENDRIKS – Monstera Magnum, 2019

 
What made you want to become an artist? I always felt that I was an artist in the sense that I was always observing my surroundings and capturing them. I have always drawn all the time from a very young age and worked in watercolour. I also liked going to museums from a young age. I actually started to create oil paintings seven years ago and decided to actually start selling my work six years ago. The self-directory aspect of being an artist is also something that is greatly appealing to me. I was already doing loads of self-initiated projects. Dreaming about something is wonderful but executing an idea will lead you in completely different directions and is even more exciting, also you focus on what you have in front of you. 
 
I always had a dream that I would be an artist one day, it was always just a fantasy and it felt out of reach and the industry felt unlikely to sustain an income from. I also did not feel confident, and I was exploring a lot of other creative paths. I graduated in architecture at St.Martins in London. After that I worked in the creative fields as an assistant art director and producer and illustrator/ graphic designer and costume designer and set builder. I was obviously finding my way and I was working hard and learning from great people. The career path of an artist comes with uncertainties and risks, you have to anticipate multiple outcomes.
What was your earliest art creation? My parents tell me it's a picture that got framed and still hangs proudly on their wall. It's an artwork that I did in watercolour on paper of a jungle with a giant tiger jumping into the painting and a man running and smiling. I remember making this artwork very well, I was very excited about it and also very proud. I was nine-years-old at the time.
 
What should people look for in your work and what do you hope they might get out of your art? I think what people would see in my work is my observations of nature and my attempts to understand the world. I hope people can see that I try to portray something about myself and nature that words simply would not be able to capture. I hope that people can see that my work is reflective of what is happening around us. My work is also about our heritage and our belonging and it is about freedom. I hope people can see that in my artwork.
 

If I buy one of your works, what should I say to friends about it? When collectors purchase my work, they tell me that I have captured beauty, that is to me a great compliment because beauty is so complex and important.  One time a family with two young children all decided to buy a small painting of mine together. They described it like they were adopting a small puppy, a new member of the family.
How does your work fit together – is there a journey you can see? My journey is about how I can make a portrait of nature, our worldview and to understand our heritage. I do a lot of historical research on what other painters have done in the past. They tell us about our understanding of the world. Most importantly what their values were, because that really helps us understand who we are today. I am educating myself to understand our past better and also myself. I am currently developing a new collection alongside the Botanicus collection called  'All that is unknown'. It is also about the story of nature but with a completely different approach to telling the story of nature then I have done so with the Botanicus collection. I am exploring mental health and identity and referring to ancient philosophies. This subject is also very personal and important to me.
Can you control where the process takes you? I do control the process; it is however a process that is non-linear. I go back and forth with ideas. The initial idea tends to change and that is where it becomes interesting to be a creator. I am always aware that I am communicating my inner dialogue to others. I see my work as creating a performance. My intention is to be sincere and reveal and hide things. When I am in front of my canvas, I am very focussed on what I am doing. I make constant decisions with what is happening at that very moment in front of me.   
 
What are the bits of being a fine artist you struggle with? I struggle at times with having to deal with a lot on my own at times. As an artist you are automatically set on your own directive path and have this outsider existence. I think it is also necessary to be objective and critical and to create work that is reflective. The art industry is also rather complex to navigate. When I started five years ago, I had no idea about how the art world operates. I asked artists that I admired and were doing well in the arts industry. I came across incredibly kind artists Daniel Mullen, and his wife Lucy Cordes, who is also an artist. Also the artist Georgie Mason has given me so much, and is such an inspiration. I am grateful for their generosity and kindness.
 
 MARIANNE HENDRIKS – Incrementum Dytich, 2020

Can you tell us a little about three of your works on Artspace?
Mater, painting Oil on cradled birch wood. This large painting is named Mater, she resembles strength to me. She is the ginormous sun in the sky and mother of the Botanicus collection. She has rays that appear very structural, like a shield of armour, showing strength as if she is going into battle. The rays are also moving outward giving this all-embracing effect, like a mother. 
 
Nos Folia, painting Oil on cradled birch wood. These two diptych paintings are about vastness. Putting two paintings together also does this to our cognitive response, we instinctively just want to compare all the time, it is instantly about movement. Your eyes are directed to move back and forth within the composition. The two leaves have movement within them, the lines move inward and outward like waves. 
Incrementum Diptych, painting, Oil on cradled birch wood. This pair of diptych paintings is inspired by the skyscrapers I saw during my first exhibition in New York. The towers of New York showed to me the human desire to grow. The structure is numeric and has an interlocking pattern in an upward direction. The painting was also selected by the New York Times during art week the following year when I was exhibiting the artwork.
Do you collect art yourself or something that you consider art? I collect art, the most recent piece is a limited edition of a friend of mine and talented artist Kay Gasei. I exchange artworks with other artists. I have also planned an exchange with the wonderful artist and friend Nadia Attura. I constantly look at what other contemporary artists are creating. I am aiming to cover every inch of my walls with art that I love. 
I also have a lot of objects that feel like they should be considered art. I like craftsmanship, I like materials, and objects with a history and I like looking after them. It feels like a responsibility, like you are the keeper of treasures. I have books, lamps, furniture, vintage ball gowns. I have a lot of wonderful things that I find amazing and inspiring. I like roaming car boots and antique markets.  
  
What are you working on at the moment? I always work on multiple pieces at the same time. I create a lot of sketches to work out ideas. Especially with the new 'All that is unknown' collection that I am doing, it is very time consuming. I work in multiple layers in oil paint with drying times. I work up to sixteen glazes. I develop my own recipes and techniques from the Old Masters and the renaissance and write a logbook for each painting. I am in the process at the moment preparing for exhibitions in the summer and the fall.