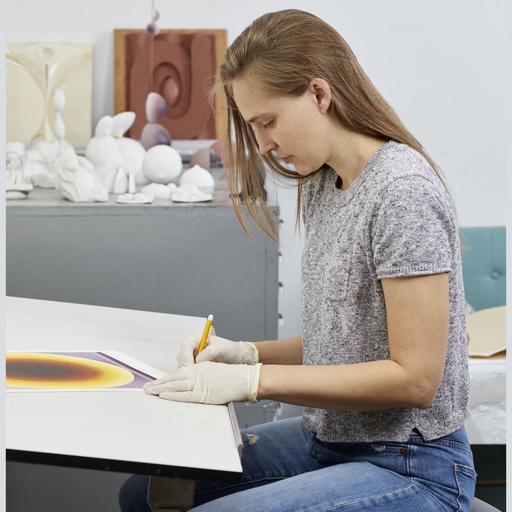 The Californian artist began her year in a stark, starry manner, by presenting her 2019 work, Mandorla Squeeze as an alternative cover for Lady Gaga's Fame Monster, in a show at LA County Museum of Art, as part of the show Artists Inspired by Music: Interscope Reimagined.
The exhibition invited visual artists, including Cecily Brown, Rashid Johnson, Takashi Murakami, and Ed Ruscha, to select albums and songs from the LA record label Interscope's catalog, and match the recordings with their own works.
Loie's choice for Lady Gaga's 2009 album may look abstract, but it was filled with salty symbolism. "The mandorla is a symbol I employ as a representation of the vagina," she explained. "Here in particular, experiencing the pressures of sexuality, and the extra scrutiny put on us as women, while at the same time being honored and highlighted as a powerful jewel-like emblem. A fitting and special match for the excess, sexualization, and underbelly of notoriety in Lady Gaga's Fame Monster."
The LA artist's work also featured at the Los Angeles Frieze art fair, which was held in Beverly Hills  in February. Hollowell's gallery, Pace, placed a selection of her new works on paper beside paintings by Paulina Olowska and Nigel Cooke, as well as a Gazing Ball sculpture by Jeff Koons; drawings by David Byrne; and sculptures by Sonia Gomes, Fred Wilson, and Louise Nevelson.
The following month, Pace staged a solo exhibition for the artist in Palm Beach, showing a series of her sculptural, mandala-like paintings. The show was entitled Contractions, and was inspired by childbirth.
"These works are an extension of an idea that I first explored in a ​nine-part painting series, where each split opening was representative of the nine centimeters of dilation the cervix must undergo in preparation to push out a baby," the artist said at the time. "I see the consecutive nature as a kind of meditation, with each opening capturing the sensation of that moment of dilation. So, when the works are viewed in totality, you're moving through the act of giving birth in time and space. You step from one to the other, from one contraction to the next."
March also saw Hollowell break her US auction record, when the Clars Auction Gallery in California sold her 2017 work Point of Entry (Blood-Orange Moon Over Orange Sac), for $1,050,000. This did not breach her global record, which still stands at $2,126,817, set in 2021 at Sotheby's in Hong Kong for her 2018 painting, Linked Lingams (yellow, green, blue, purple, pink). However, it did both set a new US high, and a new record for Clars too; indeed, it was the first lot to surpass the million-dollar mark in the auction house's 50-year history. 
In May, Pace kept that East Asian interest in the artist's work alive with an exhibition at its gallery in Seoul, featuring Hollowell's brain paintings. These semi-abstract paintings were in part inspired by the artist's father, who suffered unexpected and severe traumatic brain injury in 2021, due to a fall from a ladder.
LOIE HOLLOWELL – Yellow Brain, 2022
"Due to the emotional intensity around that event, she began to think about how she could create a formally minimal investigation of the brain while simultaneously engaging with the pure pleasure of color, so as to take her mind from the difficulty of the familial situation," explained Pace.
Summer is the group show season in the art world, and Hollowell's work was featured in not one but two of these exhibitions.
The Manhattan gallery Sperone Westwater hung her work alongside pieces by Corydon Cowansage, Rico Gatson and Dan Perkins, in its June-July offering, Pattern Recognition, which explored the formal qualities of abstraction.
Meanwhile, in London, the US artist Rose Nestler placed Hollowell's art in Now I am a lake, the group show she curated for the Public gallery. Its title came from a Sylvia Plath poem, and it drew works that explore "the literal and metaphorical ins and outs of living amongst a world of reflective surfaces confronting our mortality and exploring its depths."
In September, the Manetti Shrem Museum of Art at the University of California, Davis, hosted the artist's first institutional exhibition, with a show of Hollowell's soft pastel drawings. Entitled Tick Tock Belly Clock, the works, which were created during the pandemic, illustrates the vital role drawing plays within her practice.
In October, as the leaves began to fall, the artist flexed her digital talents, creating a series of NFTs for Pace Verso, her gallery's Web3 arm. Proceeds from these childbirth-inspired works, based on her Contractions series, went to pro-abortion non-profits, Midwest Access Coalition and ARC Southeast.
That same month, Hollowell made a play for female empowerment in real life, when she took part in the show, Earth Seed at White Cube in Paris. The gallery's senior director Susanna Greeves showed the the artist's paintings alongside pieces by Julie Curtiss and Marguerite Humeau, in Earthseed, an exhibition inspired by a matriarchal cult of the same name in the post-apocalyptic fiction of the late Californian writer, Octavia E. Butler.
"The works in this exhibition resonate with the notion of travel to outer space and inner space," explained the gallery, "in different ways considering the female body as a site of transformation as well as a portal for the imagination."
In the US, in November, Hollowell's value climbed even higher, when her 2016-19 painting, Lick, Lick in Purple, maroon yellow, sold for $1,361,000 at Phillips in New York – a new US high.
Not a bad way to round off the year, but Hollowell is already looking forward to 2023, with a speaking engagement at the Hirshhorn next March, when she will discuss art, spirituality, and the female form with curator Betsy Johnson. Can't wait until then? Then why not invest in a beautiful Hollowell print? Her Artspace edition,  Yellow Brain, 2022, is available as an eight-layer embossed screenprint on Somerset 300 gsm paper. Find out more here.