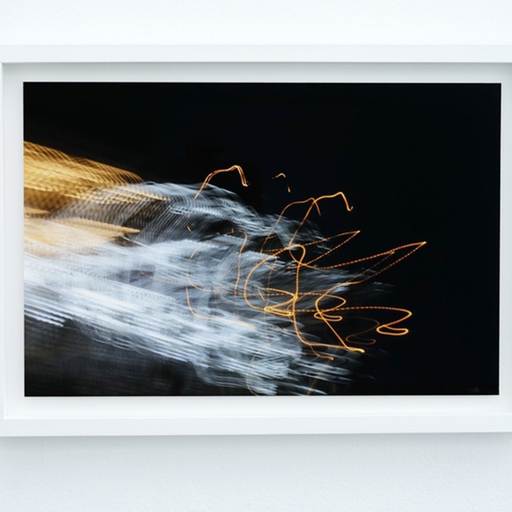 The camera may not lie, but in Lisa Rosenmeier's hands it rarely tells one, solitary truth. This Danish artist has worked in a huge range of media since graduating from the Royal Danish Academy of Fine Arts in the early 1990s. Her sketches, video works and installations have been shown in galleries and exhibition spaces in Europe, North America and East Asia; however Rosenmeier is perhaps best known for her photographic pieces, many of which are altered, or consist of a series of superimpositions, leading the viewer to question whether one simple point of view will suffice.
Rosenmeier certainly discourages the adoption of a single perspective, and instead prefers to draw, among other things, upon French literary culture, which, according to the artist in our interview below, favors no truth but a number of different views, and in between them, something truthful that is also changeable and fluid. 
The artist may owe a debt of creative gratitude to Jean-Paul Sartre and Roland Barthes, but she was also driven to make the kind of work she now produces by a few less well-known European voices. As the artist explains in this interview, published to mark her participation in Artspace's Artist Direct program, she grew up in a household where her parents were largely absent, and her five siblings offered their own, highly distinct takes on the familial realm.
Lisa Rosenmeier – photo courtesy the artist
To those childhood voices, Rosenmeier has added her own fine art influences. An admirer of Sophie Calle,Shirin Neshat, Olafur Eliasson, and Cornelia Parker, Rosenmeier is both a keen collector of contemporary art, as well as a prodigious and acclaimed creator.
Her work has been shown in museums around the world including: Ny Carlsberg Glyptoteket (Denmark), Nordic Arts Centre (Finland) Louisiana Museum of Modern Art (Denmark), Bergen Art Gallery (Norway), Listasafn (Iceland), Hasselblad Center (Sweden), Åbo Art Museum (Finland).
Read on to discover how she develops her multifaceted works; the ways in which she hopes viewers will respond to her pieces; and why she believes the words of one ancient Greek philosopher are still guiding us through the modern world today.
LISA ROSENMEIER – Daybike in the Park, 2018
How would you describe your work to someone who has never seen it? I experiment ways to capture a change or a turning point in life by compressing time and expanding space. There are other ways to capture time than just through the registration of a short part of a second, and to see more than just one thing viewed through a little square or from one angle. So I create compositions of places seen from several angles.
Often my photographs establish one or more relationships with their titles, and often they are a part of a bigger installation or series. I mainly work with photography and sometimes I add various objects and the space (psychologically, architecturally, and functionally) sets the frame for the exhibition.
LISA ROSENMEIER – Sunny Summerday At My Kitchentable, 2018
What are the current things going on that are inspiring you? The moment in which we're living and the fact that a change in reality is just one click away, and how the changing world and the changing conditions of life influence us. I'm a kind of seismograph of what it is like to be a woman in this period of time.
In my work there is not only one reality, but many realities that change and flow into each other. Reality is not something stable. Life, in fact everything, is changing constantly. Each one of us, and still photography itself, are related to the past.
At the moment I'm fascinated by light and movement that create wanderlust. Photography is light captured or digitally drawn into a digital file, that you can materialize by printing it on something. So I'm fascinated by light, and photography is a print created by light . I'm always searching for something, perhaps a magical meeting or experience.
LISA ROSENMEIER – Nighthike, 2018
Where do you fit in? I think my work in some ways is related to French literature; there is no truth but a number of different views and inbetween them, there is something truthful but it is changing and fluid.
I discovered the French artist Sophie Calle who works with existential topics, and she lets the work be a kind of documentation of what happens if you are open to following an idea; this includes magic thinking and coincidences, and she also considers how much to tell the spectator in order to let her build the rest of the story by herself.
She is working more philosophically with basic existence and this strange fact that we are here not knowing why, and with the childish hope of a faith, and the absurdity that there isn't one.
But my work is a little different since I believe in the logic of the visual that comes to me in my photography. My work is based on seeing, sensing and an intuition in the process of exploring life visually.
Wolfgang Tillmans is also an artist whom I feel related to, specifically in our use of bringing different times and types of photography together and in presenting the pictures as fragments of a bigger whole; and with a strong understanding of the proportions of exhibition space. Also he is aware of the photo as a thin surface you can print on different materials or develop in your dark chamber. But our lives and themes are very different. I also relate to the work of Eija-Liisa Ahtila who is inspired by psychological phenomena and this freely floating time we live in, among others.
 LISA ROSENMEIER – Crossing x1., 2018
What do you think about when you're creating? Nothing. And everything. I follow my intuition and thoughts. I have to make logic stand out as clear as possible. At the moment I keep returning to a classical music composition, Metacosmos, by the islandic composer Anna Thorvaldsdottir. I want my next exhibition at Künstlerhaus Bethanien in Berlin (summer 2023) to seduce the viewer with soft nuances of light and also contain light in the darkest darkness to create an installation that is both overwhelming, feels like a symphony, and is a hit to the heart. On one wall there will be large-scale photos of people in the night with flashlights searching for magic stones after the storm. And maybe there will be a room or area where the viewer is blinded by blue light. In Danish, blue light is a word for Fata Morgana or an imaginary dream.
Where do your titles come from? My titles come from both own life experiences and passages that fascinate me in novels. I take them out and reformulate them so they fit with my pictures. Often there is a moment where a psychological change happens. Photos show short flashes of lived life. But in photography, life is always seen as after something that was, and presented on a two-dimensional, flat and vulnerable surface.
Can you control where the process takes you? The most interesting art occurs, when a fixed idea or concept fails, and then the process and material give you something you didn't know before. In creating art I search for something new, a kind of intuitive truth constituted from the bits and pieces and circumstances that create the works.
LISA ROSENMEIER – Passenger x1, from Let Lost be Your Guide, 2005-2012
Is there a typical day for you, or typical work process? My work process is periodically quite varied. In some periods I research, fund, and produce, and in some periods I photograph and in others I work in the studio with the material. If I have an exhibition I always work with the dramatic curve of walking through the exhibition in a model box. The exhibition space is the frame for the art.
What are the bits of being a fine artist you struggle with? Being a woman artist of my generation, we couldn't just perfect traditional photography, but had to build a whole new platform from a female gaze. Even though I have for years been exhibiting at large museums, mainly in Scandinavia, and I get the finest international residencies, it is still difficult to make my art come through. And I'm still a one woman show, beginning anew each time.  
What made you want to become an artist? I grew up in a big family with five very different siblings and absent parents, so there were always many different views on reality and they were fast changing as well. I think I work with art, because it is necessary for me to merge together some of my views on reality, and fix it, and that's why reality in my pictures is always more than just a single view in a very short second.
What was your earliest art creation? When I was around 10-years-old, I found that I was very good at drawing. I began with oil painting when I was around 15-years-old, and found that I was totally absorbed when painting. Strange worlds came out of me. I felt it was healing.
LISA ROSENMEIER- Time Passing serie Q1- 3., 2022
How has your work changed over the course of your career? Well, I worked from cultural investigational contextual projects to big, multifaceted installations and cultural critical investigations on the human condition to a more psychological, philosophical and intuitive existential journey based on an exploration of photography and print as a medium.
For years I've been working with expanding the possibilities of photography and with 'compressing time', and walking or driving at night and, while in movement, creating trembling and shivering compositions of light and space.
What should people look for in your work and what do you hope they might get out of your art? I hope they experience their eyes moving freely on the surface and exploring different elements in the picture. Often a change occurs in the picture or in the series of pictures through a kind of 'walking through them' experience. I hope they get that hit to the heart; they often tell me they do.
Do you collect art yourself? I sometimes buy art. I bought a Sophie Calle, and a painting by a colleague of mine, Dorte Jelstrup, depicting a young beautiful male nude from the point of view of a feminine gaze of longing and desire. And I bought some landscape photos of Olafur Eliasson with whom I studied at The Royal Danish Academy of Fine Arts in Copenhagen years ago. I've bought a Shirin Neshat photo where a boy sees a bleeding woman. It is an important photo, of the patriarchal Islamic culture and the boy learns how women are being treated. It runs through generations. And I own some of Cornelia Parker's prints of (William Fox) Talbot's glasses. I wish I had money to build up a bigger collection, but I put most of my money in my own art. So at the moment I can't buy a lot. 
What are you working on at the moment? I'm working on several projects with photos of light reflections and with colored light. One project is called My Mother Told Me Not To Talk To Strangers, But I Do, which is based on a series of photos of people seen in reflections from New York and a glory hole wall made in transparent soap that is 180 cm high and runs across the room so that viewers look at each other through the soap wall. More specifically, I work with raising the money for producing these things!  
Tell us a little about some of your works on Artspace. Crossing x1 is from the project Dissolves and Hardcuts, where I work with compressing time and expanded space. The print is made by merging several photos, both positive and negative.  There is no central perspective, your eyes can wander around, eventually you see one reality, soon another, you are on a journey.
Time Passing Q1-3 is a kind of 'meta-picture'.  It is a series of negatives (or matrices) of whirlpools. These are constantly changing and moving and things are floating in the ever-moving surface, and photography is a two-dimensional surface. By being 'turned back into negatives' they refer to photographic negatives or X-rays (the inner and original) and to water and whirls of water in movement.
LISA ROSENMEIER – All That Light. My Teacher Told Me Not To Photograph Against The Light But I Do. X1., 2022
All That Light. My Teacher Told Me Not To Photograph Against The Light But I Do. X1 consists of photos of flashes of light reflected in a water surface. These flashes of light do not last long, so changes are visible. 
Passenger x1 is a photo created by long shots taken at night while on the move. It is another abstract way of capturing time and space. It is a compressed time and an expanded space; it shows the photographer's trembling movements in the night. Life is never static.  
 To see more of Rosenmeier's work, go to her artist page, here, on Artpace.