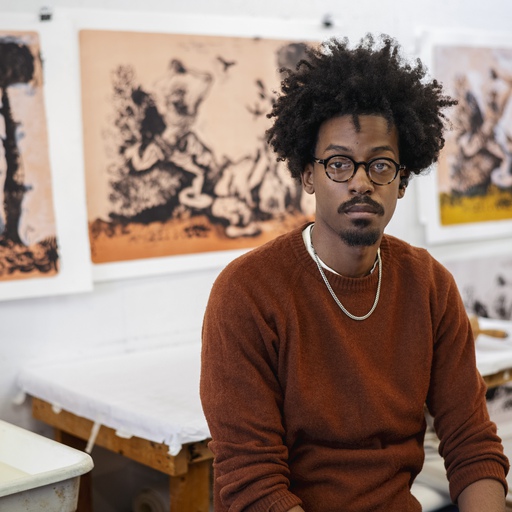 Back in high school,  Jameson Green was given a book on Picasso by a friend. The book came with a challenge. "Just look at what he was able to do at our age!" the classmate exclaimed. 
Most of us would take such an observation as a simple acknowledgement of the modernist master's unassailable brilliance, even at a tender age. Green, however, saw it as a benchmark by which to measure his own progress. 
"I was like, 'all right I really have to tighten up,'" the New Haven-born, New York-based artist tells Artspace. "'I need to take this seriously, and really learn my craft.'"
A couple of decades later, that early challenge has helped earn Jameson Green his position within the top tier of contemporary American painters. Green is represented by Derek Eller Gallery and Almine Rech and revered by gallery goers and critics alike for his vibrant, kinetic canvases. 
HIs works draw on ancient myths and storied figures from art history (look out for references to Goya, Van Gogh, Jacob Lawrence and Philip Guston) as well as more popular sources, such as early 20th century cartoons and the output of illustrators, including Norman Rockwell, Robert Crumb and J.C. Leyendecker, while also expressing real, latter-day societal fears, social injustices and, equally importantly, personal hopes. 
This exciting mix of visual motifs has been ecstatically received both within institutional circles and the wider art market. Green's prices have gone from four to five figures in recent years, and he has had his work placed in a number of public collections including that of the Dallas Museum of Art, Dallas, Texas, the High Museum of Art, Atlanta, Georgia, the Institute of Contemporary Art, Miami, Florida, and the Pérez Museum of Art, Miami, Florida.
Now, Artspace, working in conjunction with Phaidon and the New York art fair Independent, has produced a collection of three new editions by Green, his first printmaking commission. Cain and Abel I, II, III comprise a new body of work, in series, that explores three distinct perspectives on the biblical story of Cain and Abel. The hand-painted lithograph editions include generous embellishments by the artist in variable colorways. Taken together, Cain and Abel I, II, III probe a historical narrative with bold color play, indicative of Green's visual language.   
In the first part of our three-part series of interviews with Jameson Green we focus on his vision for Cain and Abel I, II, III. In later interviews he discusses how his mom and dad; Monet and Freud; Pusha T and Jimi Hendrix; all feed into the inspirations for his paintings. He also tells us about the day he realized Norman Rockwell is not the same as Cezanne; and why, for him, painting is a bit like surfing. For now though, read his thoughts on Abel I, II, III.  
"The timing of the creation of the print is interesting because I was already spending so much of the early part of the year, really experimenting in the studio. I spent a lot of time trying out and experimenting with different approaches to material."
"I was also drawing a lot more, so when this opportunity came along to be able to try it on the stone and apply it like the process of drawing, I really began to understand the ways in which I approach drawing, and the ways in which I approach painting."
"I usually don't think too much about the image when I'm going into it. As I started drawing this one, it came into a tale of Cain and Abel."
"I started thinking about just how, conceptually as a story, the act was something Cain thought he did in private, and God bore witness and saw it, but Cain thought he could hide it from the world. I started to think – whether the story is true or not – but if it were to be a true story, how that action is known by us hundreds of years later. He didn't hide anything; the whole world saw the story happen."
"I thought it was an interesting thing to play around with in the image; to have these other creatures and other animals – the crows and the goat – bear witness to the action. It's almost as if they were the ones to be God's eyes at the time. He thought just because there was no other person there, there would be no other person to witness this jealous act of violence against his brother. For him to be seen."
"Often when I'm working with my paintings, I like the juxtaposition between these almost hyper-stylized, cartoonish and in a sense, caricatures, that parallel a lot of dense and robust moments in our history."  
"I liked the idea of approaching the Cain and Abel thing – even though it was pretty loose – in a very traditional print and then how to have this juxtaposition of these characters – really brought to life and color or, in some cases, just left black and white – would be a pretty jarring juxtaposition as if there is some element of time. I've tried this before in painting and I'm still trying it now."
"I thought it would be an interesting thing to show in the course of three editions. And, as I got more familiar with the printmaking process, I started thinking about how these can change. One of the things I like about print making is the process of change and how that can be witnessed. It just fell in nicely with showing a narrative that has an effect on our time."
"I'm bringing in an action so old, a tale so old, but one that's being experienced and witnessed by people like myself who are in the 'now'; and then having that tie closely into my own universe of characters who are 'now', and to have them be affected by it."
JAMESON GREEN – Cain and Abel I
"The first edition is a black and white print and is the core narrative of Cain and Abel. You have Cain and Abel as the figures on the ground. The two crows aren't really in the original story. They're there for the witnessing. I really just made the crows these first onsite witnesses to an action done in secret, but one that the whole world knows about it."
"The goat is there because of Abel being a shepherd, tending to his flock. It just fell into the narrative that way. And it worked compositionally too, as well."
JAMESON GREEN – Cain and Abel II
Photograph by Garrett Carroll
"The second edition starts to implement some of the extended cast. The focus switches between the guy behind the bush, or the owl or the person peeking through a hole in the tree. The figure behind the bushes is no one in particular, a witness, an onlooker. And that figure goes on to be even more emphasized."
"I've used the symbol of the owl in my work quite a few times – it's foresight. It's looking at this action, this incident, between these two figures as an opportunity to learn from. To learn how to conduct ourselves in the future. But then also as another pair of eyes witnessing this conflict."
"And then the figure in the hole in the tree it's really just another pair of eyes, to emphasize that this is an action that is being witnessed by all."
"Another thing that pops up in the second one is detail; little details like little flowers, that I've done in some of my recent paintings and that I just felt looked good in the print."
JAMESON GREEN – Cain and Abel III
Photograph by Garrett Carroll
"The third edition just pretty much implements all of it. All these figures are here now. It's the crescendo, and you have all of the characters onstage at the same time. Like all of these figures are there now and in a couple of them, even the figure of Adam changes, and is overlapped almost like the figure behind the bush. It's just a person who's sitting there, almost as if nothing's happening."
"I was just thinking about how you walk on the very ground on which history happens and yet life continues, despite those things happening in the past."
"I did those two while thinking about going back and looking at how we have land that was at one point war torn, and completely devastated, and has now turned into neighborhoods and children's playgrounds where people live their lives happily; even though people died there. And those incidents do affect us whether we are conscious of it or not."
"What I want people to take from the edition doesn't necessarily matter too much. But I do hope that, at the very least, people can have a thoughtful experience. They can be captivated by the beauty of it in a lot of ways and following it from left to right with their eyes and experiencing the passage of time; curious enough to engage in what that Cain and Abel story might be."
"I think biblical stories are some of the best stories ever written. And they go well past the bible, they're repeated in various cultures. So I hope it makes people curious to just explore. With a great work of art, that conversation goes on long, long after an artist is gone. The art continues to change and evolve as time changes and evolves."
If you'd like to prolong that conversation a little longer yourself, take a closer look at the various edition offerings here and keep an eye on Artspace for parts two and three with one of the most exciting young painters at work today.