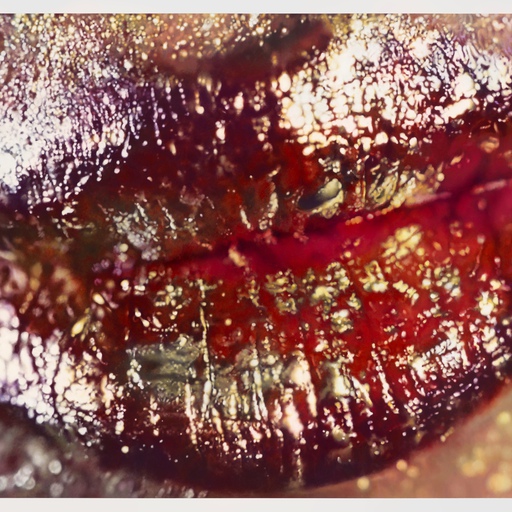 Marilyn Minter pays more than lip service to the paradigms and pitfalls of feminine beauty. For decades, this American painter has scrutinised female desire, fantasy, image-making and the sometimes-knotty problems of aesthetic ideals. In the new book, Great Women Painters, writer and critic Rahel Aima praises the artist for the way she "addresses the commodification of women's bodies, particularly in the worlds of fashion, beauty and pornography."
Born in Shreveport, Louisiana in 1948, Minter grew up in both the Pelican State and Florida. As a teen, she harbored certain poppy, artistic ambitions. "My whole life was about trying to get to New York City so I could go to the Factory and meet Andy Warhol," she would later recall. The artist graduated from the University of Florida in 1970, before taking her MFA in Syracuse, upstate New York. From there, it was  a short leap to NYC itself, where Minter has stayed, developing her sensuous, often explicit works, commonly featuring extreme close-ups of her subjects' mouths, feet, nipples and other body parts.
While not everyone was unanimous in their praise for the artist – during the 1980s some criticized her work for being 'antifeminist' – Minter argued that she simply wanted to engage with subject matter that female artists rarely touched. 
Minter's choice, to pay more attention to the erotic impulse than the prevailing ideology of the day, has served her well. Today she is rightly regarded as an artist who continues to engage with the alluring, troubling visions the beauty and pornography industries send our way.
 
Minter received a Guggenheim Fellowship in 1998; in 2005 she was the subject of a solo exhibition at the San Francisco Museum of Modern Art; in 2006 she was included in the Whitney Biennial and today her work can be found in the permanent collections of the Museum of Fine Arts, Boston, the Museum of Contemporary Art, Los Angeles, and the Museum of Modern Art in New York, among other institutions.
 
This week she releases Big Red, 2022 – a limited-edition print with Artspace, proceeds from which will go to Planned Parenthood and the MCA Chicago's Women's Fund.
MCA Pritzker Director Madeleine Grynztein was the woman who gave Minter her first ever gallery show. "Madeleine is close to my heart." Minter tells Artspace. "I got a one person show at SFMOMA when she was a curator. I didn't even have a NY gallery. That's like getting a raise when you didn't have a job."
Minter's Artspace edition, Big Red, 2022 – the first ever limited-edition print to reference one of her iconic paintings – is a perfect example of her oeuvre. Based on a 2010 work, this edition resembles, at least superficially, a perfect beauty shot of a heavily made-up mouth. Yet closer inspection reveals sweat beading on the upper lip and the lipstick 'bleeding'.
Here, Minter tells us about the day of the original shoot with fellow artist Wangechi Mutu that led to the resulting painting and edition; the incredible amount of post-production work that goes into her work, and what she tells the students she still teaches (and why they sometimes react differently now). 
She also offers some good advice for creatives everywhere: "If you listen to your inner vision, and listen to your own voice, and make art from that place, sooner or later the zeitgeist hits you."  
 Marilyn Minter
Tell us why you chose this image for the Artspace edition It's based on a painting I love. The model is Wangechi Mutu. I was making the images for a body of work in collaboration with TAR magazine, edited by the curator Neville Wakefield. I looked through all of the shots to see if I could combine a bunch of different images to make paintings and Big Redbecame one of them. 
How did you come across Wangechi Mutu, how did you find her? She found me. She was working as a model and she wanted to document her pregnancy. I didn't really realise she was going to be so exotic. She styled herself. She put herself together in such an exotic, beautiful way and I just shot all around it. We bought all the stuff in. We did two days of work. She had great shoes on, and feathers and she looked gorgeous, just gorgeous.
I wasn't thinking of Wangechi Mutu as the artist. She was a model who was fearless. She was wearing blue lipstick. I didn't know that when she smiled, her teeth would be gold! We were just playing, fooling around. She called herself a prude, but she posed naked. She said she'd never have done that if she wasn't pregnant. We got some great shots. We were both in the zone. 
We altered it quite a bit to make the painting. With some of them it's really obvious where the image was altered but not this one. Nothing's ever a straight photo. If it's a straight photo I never make a painting of it. If it's a photo I edition it as a photo. This [Artspace edition] is a combo, a print of a painting. The painting that you're looking at in this print took a year to create.
 MARILYN MINTER – Big Red, 2022
Photography Jared Buckhiester
 
Is the gold in any way a religious reference? Actually, there is no gold paint in it whatsoever. It's all illusion. That tells you everything doesn't it? There's no gold paint in the Wangechi Gold paintings! We were just playing around with this cake decoration mix. At one point we had the vodka and cake mixture, she took a gulp of it and let it run down her mouth and I got a whole series of photographs from that.  
 
How much preparation goes into a shoot? Nothing. I don't see it until I look through the lens. I ask models to come, I don't even care how they look. I don't have a look in mind.  I have a general idea. I know I'm going to shoot a human! But I don't know what part of that human I'm going to shoot. I don't know what's going to look really good. I'm a really intuitive artist. I never know what I'm going to do. Everybody brings what they know how to do, and then we just play around in the studio.
 
Do you work quickly? The shoots happen quite quickly. I really just have these ideas and I just start doing them. And then one idea leads to another. I don't know what I'm going to do ahead of time at all. I have a general idea, but everything changes when I look through the lens. It's totally intuitive. I just bring all the elements together and see what happens. And I trust my gut. 
Marilyn Minter signing editions of Big Red, 2022 photographed by Jared Buckhiester
 
How much work is done after the shoot? We're like a renaissance studio – there's layers and layers in there. We build up on top to get really bright colors. To get the red in this image the color behind it is white. The layering in Photoshop can take a week or two, sometimes a month. There are paintings with 80 layers of Photoshop, but most of them are five or six layers. The painting itself takes a year.
Many of your paintings – the one that this edition stems from included – are created using enamel, what do you like about it? Enamel gives you these colors that are very differently rich than oil paint. And I can get layers in enamel that I can't touch with oil. I can approximate digital color. I can tease it differently because it's translucent. Plus, they have a color scheme that also has a neon in there and fluorescents and most fluorescents don't fade.
You're included in the new Phaidon book Great Women Painters. Who do you admire in the book?  Right now, Joan Mitchell for the way she paints, the way she moves, the way she draws with paint and the way she knows where and how to stop. And the same with Mary Heilmann.
Lots of artists don't know when to stop, but both of them do. I really love art that I can't do. I don't have that gestural mark, and I'm in awe of it. I love Carole Walker but she's not a painter! Cindy Sherman's my hero, but she's not a painter. Joan Mitchell and Mary Heilmann are painters. Their work sings to me.
  MARILYN MINTER – Big Red, 2022 (framed)
Photography Jared Buckhiester
Do you still teach? Yes, I love teaching. I say the exact same things as I have since the beginning – 1986 – but now people get hurt and start crying. Even though I say the same things, now they take it to heart, which really shocks me, and so I have to be a lot more conscious of that.
I don't think of myself as any different, but because now I have a reputation, they think I must know something that all the other teachers don't know. I don't know what goes through their heads, but I say the same things and all of a sudden, I have someone crying in class. But the last class nobody cried – maybe because it was on Zoom!
 
Is the advice you give different now? It's the exact same. Everyone comes into grad school, they're talented, and I tell them that what comes easy to them is what they should be working with. I find their gift and I help them develop it. I don't mould them into something else. I feel like I'm a detective and I have to find out where their gifts lie and encourage them. Other teachers will tell them they already know how to do that, and that they have to start challenging themselves. 
I have a way of teaching which I wish someone would have used on me. But half the time, they won't pay attention, I didn't! But I paid attention to my peers. So, I build classes together, so they'll maybe listen to their friends. They might not listen to me but if I say it and their friends say it then they can hear that. Take a closer look at Marilyn Minter's Big Red, 2022 here. And if you'd like to know more about Wangechi Mutu's art take a look at Phaidon's Contemporary Artist Series book here, and keep an eye on Artspace for news of a Wangechi Mutu edition next year.