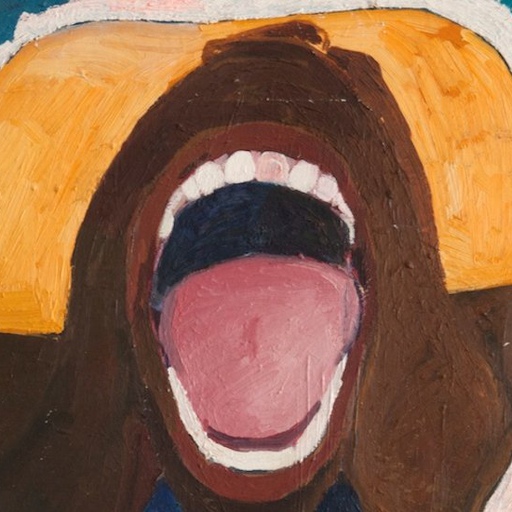 Henry Taylor's studio is in downtown LA, close to Skid Row. Occasionally, the painter will ask homeless people to pose for his pictures. He even has a 2014 painting entitled You Really Gone Pay me to Sit?' However, on one occasion it wasn't the sitting or the payment that bothered one of his subjects; it was the request for identification.
"I asked the last brother that came up to my studio, 'What's your name?' He said, 'No, no, don't put my name!" Taylor recalled recently. "I told him it's about respect, because I respect all these people. It's a two-dimensional surface, but they are really three-dimensional beings."
That loving attention Taylor pays to his subjects – some of whom are also friends and acquaintances, others public figures, others drawn from photographs, books and from history – builds up into something that surpasses the limits of a portrait's frame.
Henry Taylor – Day Hall, 1992
Indeed, while Taylor's work could be classed as portraiture, the painter himself resists the term. In the past Taylor (who also makes assemblage-style sculptures) has even questioned whether he's a figurative painter at all. Perhaps this is because his art captures not only faces, but also expresses some of the wider social forces at work within his subjects' lives.
A native Californian, Taylor was born in 1958 in Ventura, and raised in Oxnard, just up the coast from Los Angeles. His father worked as a commercial painter, mainly for the Government, while his mother was a maid. Taylor recalls the paintings in the houses of his mother's clients providing him with an early exposure to fine art.
Henry Taylor – Split Person, 1992
The youngest of eight children (Taylor sometimes refers to himself as 'Henry the Eighth') the artist studied journalism, anthropology, and set design at Oxnard College, where he befriended the acclaimed southern Californian painter James Jarvaise. Jarvaise was head of Oxnard's Department of Fine and Performing Arts, and instilled a sense of vocation in the younger artist.
Taylor took a job at Camarillo State Mental Hospital, where he worked as psychiatric technician. "I was like a mediator between the client, the patient, and the doctor," he explained to Artspace in 2016. "Normally I administered medication, gave shots, did treatments, charted all the patients." Sometimes, he painted a few of them too.
Obtaining his BFA from the California Institute for the Arts in 1995, Taylor gained a reputation for producing fast, expressive works, often executed in acrylics, and sometimes painted onto whatever came to hand.
Henry Taylor – Screaming Head, 1990
"'Early on, I didn't have any money and I'd look at a box, a cereal box or some kind of little box, a cracker box, a cigarette pack, and I'd say, 'Hey, hell, that's a good enough canvas," he later recalled. "Let me slap some gesso on that!"
Success within the gallery system means Taylor no longer has to gesso up his own cereal boxes. The artist has been the subject of solo exhibitions at Blum & Poe, Hauser & Wirth, the Studio Museum in Harlem, and MoMA PS1. Meanwhile, the Institute of Contemporary Art, Boston, the Hammer Museum, Los Angeles, the Museum of Modern Art in New York, and the Carnegie Museum of Art, Pittsburgh, and Whitney Museum of American Art all have Taylor works in their permanent collections.
Henry Taylor – She Called Me "Bill", 1990
Works such as his 2017 painting, Cicely and Miles Visit the Obamas (a fanciful depiction of Miles Davis's wife Cicely Tyson visiting the Obama-era White House); his 2015-17 canvas Ancestors of Genghis Khan with Black Man on Horse (which alludes to the killing of Taylor's grandfather, a horse trainer and draughtsman, in Texas in 1933); and THE TIMES THAY AIN'T A CHANGING, FAST ENOUGH! also from 2017 (showing the killing of police-shooting victim Philando Castile the year before) are widely regarded as 21st century American masterpieces. The works have led many to liken Taylor's output not only to contemporaries such as Kerry James Marshall and Alex Katz, but also Matisse, Degas, Philip Guston, Cy Twombly, and Alice Neel.
Henry Taylor – Catatonic, 1991
In a way, you could describe Taylor as a history painter, as he often depicts the course of social relations in America. Consider his Jockeys and Caddies series, which the artist began in 2018. Based on archival imagery, they show Black jockeys, caddies, and professional golfers.
 
"I remember when there were a lot of Black caddies," Taylor explains. "My mom cleaned houses for a living and now the maids are Hispanic. Different people disappear. Jockeys disappeared. The caddies disappeared. That was enough reason for me to paint them."

Henry Taylor – The Door, 1994 
The works went on show at a 2021 exhibition called Disappeared, but a tiger showed up, later. It's a smart, funny title that gets to the heart of things, much like the artist does himself. As author Zadie Smith once put it, "Taylor depicts Black history the way many Black people actually experience it: as simultaneous change and stasis, revolution and stagnation, one step forward, two steps back."