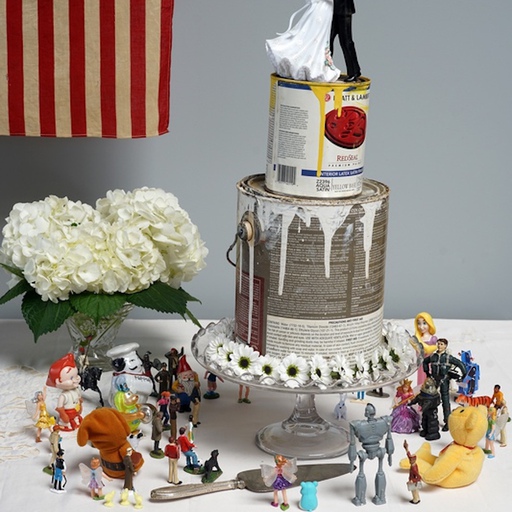 The florists are flourishing; the DJs are filing through their dance floor bangers once again, and proud parents everywhere are wondering how they're going to hold back the tears and get through the speeches. It must be the wedding season!
If you're looking for a work to mark the happy occasion, for a wedding gift to stand out among the usual consumer goods; or simply a piece to remind you of the joy a coupling can bring, then browse through these works, all available right now via Artspace.
Victoria Zhivotneva –Villa Balbianello Wedding, 2020
On the shores of Lake Como, Villa Balbianello is among the most famous, and most popular publicly accessible stately homes in Italy. Even if you haven't visited this 18th century villa, which lies about five hours north of Milan, close to the border with Italy, you perhaps have laid eyes on it via the cinema; scenes from the 2002 Star Wars film, Attack of the Clones, and the 2006 Bond movie, Casino Royale, were shot at Villa Balbianello.
The Switzerland-based artist Victoria Zhivotneva, captures the Villa in its more natural, contemporary setting, as a venue for high-class weddings. Her bright, light, impressionistic 2020 print, Villa Balbianello wedding, is a perfect expression of love on the lake.
Naomi Vona – Wedding Portal 004, 2017
Vona, an Italian-born, London-based artist, combines photography, collage and illustration in her evocative, colorful works. She has drawn material from a wide variety of sources, including record covers, vintage postcards and magazine cuttings. Wedding photography is her chief source of principle imagery for this series, in which Vona takes imagery from happy days gone by, and updates it, in her own, distinctive, contemporary manner.
Amy Hill – Bride and Groom, 2020
The betrothed above may have been painted in 2020, but their creator, the East Coast artist Amy Hill, goes further back into history, drawing from both the Italian and Northern Renaissance, as well as into the annals of early American folk art, to create her flat, clear-lined, cryptic figurative works. The cherubic faces of the happy couple in this picture are offset by the bare trees and migrating birds in the painting's background. Is this a winter wedding? And if so, why the change of season? This barely smiling couple seem to know, but aren't letting on, in this beautiful, enigmatic work.
Tina  Barney – The Bridesmaid, 1994
Are weddings a performative act, or a candid expression of love and fidelity? The answer is that often they're a bit of both, which makes Tina Barney the perfect wedding photographer. For over four decades Barney has documented the lives of the East Coast's upper classes – a caste she was born into, as the great-granddaughter of Lehman Brothers co-founder Emanuel Lehman.
Her large-format photos aren't simple reportage, nor are they plainly staged; instead they occupy an indeterminate position, somewhere between the two. The bridesmaid in this image, from Barney's acclaimed series, Theater of Manners, seems unprepared for her wedding portrait, and instead reveals something deeper about the labor of ceremonies, to Barney's gimlet lens.
Marc Chagall – Wedding Procession, 1999
Wedding bands may have changed a little since Chagall's day, but the act of song and dance, common at marriage ceremonies, as captured by the fiddle player and horn in this delightfully simple screenprint, remains a constant.
Chagall was an early modernist pioneer, who managed to combine the hugely disruptive forces of early 20th century art with a love of Jewish tradition. This print, issued by the Tel Aviv Museum and embossed with its blind stamp, is a delightful work of visual judaica, and a reminder of how deft and lyrical modernism once was. 
Jan Yoors – Untitled (Wedding in Harlem – Hat), 1962
Yoors was no 125th street habitué, having been born in Antwerp, Belgium (far closer to Haarlem, in the Netherlands, than Harlem, NYC). Nevertheless, after a hugely eventful life in continental Europe (aged 12 Yoors befriended a gypsy family, and lived with them during the 1930s; he also fought for the French Resistance, and was tortured by the Nazis), he emigrated, first to London, then to New York, finding fame initially as a weaver and writer. This image, taken the same year Yoors organised a Dizzy Gillespie benefit concert in his Manhattan studio loft, demonstrates how deft a photographer he was, turning from loom to lens with apparent ease.
Robin Moyer – COS Bride Victoria Harbour, 2011
Robin Moyer covered the Vietnam War, as well as conflicts in Lebanon, and current affairs in East Asia, photographing for Time, Paris Match and Life magazine, among other titles. This image, taken beside the harbor in Hong Kong, comes from a series of works shot in China between the years of 1976 and 2018. The 'bride' in the picture isn't actually getting married; instead she's one of many of Hong Kong's cosplay participants, who stage dressy fantasies, as a way to live out their desires. 
Julian Schnabel – My Wife, 1998
At first glance this screenprint of Schnabel's wife, the Spanish-born actress and model Olatz López Garmendia, seems like the fruits of successful marriage and a work of lifelong devotion. Indeed, My Wife, serves as a kind of culmination of a long-running infatuation, which began with Schnabel's scrappy, abstract 'Olatz' works from the early 1990s. Like those images, this print, features the painter's characteristically scrappy script; however this work dates from the late 90s, by which point Schnabel and Garmendia had been married for about five years. Where the earlier Olatz works are filled with yearning, this creation, by a relative newlywed, radiates a sense of satisfaction. 
Julia Jacquette – White on White (Four Sections of Wedding Cake), 2001
The American painter Julia Jacquette created her white paintings series during the early 2000s, focusing on white-wedding aesthetics in a set of works that meshed together details of white floral bouquets, bridal dresses and, in this case, wedding cakes. The lush, photorealistic rendering of these incredibly detailed patches of frosting is thrillingly sumptuous, especially when joined together as they are in this etching. It's a sweet, satisfying reminder of how the rococo and baroque traditions live on in these tiered creations.
Salvador  Dalí – Bridegroom Leaps Upon the Mountains, 1971
The bridegroom in Salvador Dalí's 1971 etching isn't wearing conventional wedding attire, nor conforming to the norms of a standard marriage ceremony. However, Dalí is, actually drawing on a hallowed, religious text for this work. The image comes from a portfolio entitled The Song of Songs of King Solomon, in which the arch surrealist interprets those passages from the Hebrew Bible in his own inimitable way. Clearly, this print is made with reference to the passage 'Listen! My beloved! Behold, he is coming, Climbing on the mountains, Leaping on the hills'; it's a beautifully vigorous image, reflecting the Song of Songs' celebration of romantic love.  
Ross Craig – Wedding Reception, 2019
Is this the kind of wedding reception this model couple had in mind? Californian photographer Ross Craig created this still-life assemblage around these two plastic cake toppers, and shows remarkable sensitivity towards his subjects, in the way he has arranged the flowers, paint cans, flag, display stand, and other toy celebrants in his picture.
It seems to be both happy accident and deft arrangement of diverse objects, with echoes of Robert Rauschenberg, Sara Cwynar, and perhaps even the cover of the 1969 Rolling Stones album, Let It Bleed. It's an odd, but happy marriage. 
Esmeralda Kosmatopoulos – SIRI&me – S01E03 – do you want to get married?, 2013
For all of us unsatisfied with the prospect of dating, proposals, weddings, honeymoons and the prospect of living happily ever after, there's always AI. The Greek-born artist Esmeralda Kosmatopoulos focuses on language and identity in her work. She's almost certainly not the first person to propose to her smartphone's digital assistant, yet her conversations with Siri (this work is one in a series) are among the funniest and most thought-provoking dialogues we've come across.