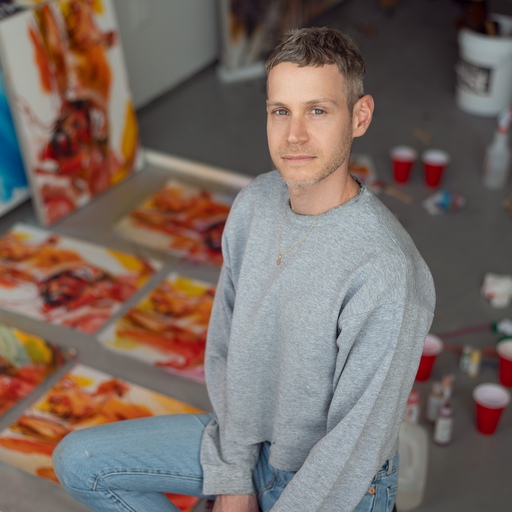 What does queer love look like? Over the past century, that has sometimes been a hard question for both viewers and artists to answer, regardless of whether they're gay or straight. More recently, however, it has become easier for many of us to reply to that kind of inquiry, thanks in part to artists such as Doron Langberg.
This Israel-born painter is still in his thirties, but has contributed enormously towards a public impression of homosexual intimacy that is filled with light, love and warmth. Deeply versed in art history, but also grounded within a community of like minded artists, including Jennifer Packer, Louis Fratino and Salman Toor, Langberg's pictures call to mind bygone masters, while simultaneously expressing the day-to-day experience of millions.
The artist is represented by Victoria Miro; he won the The John Koch Award in Art in 2019; he has had his work exhibited at the Frick; added to the permanent collections of The Rhode Island School of Design Museum and The Pennsylvania Academy of the Fine Arts Museum; and just a few weeks ago he broke his auction record, when his painting Amy in her Studio sold for £163,800 ($215,076) at Phillips in London. Yet, as the artist prepares for the release of his debut Artspace edition Oren and Bennet, 2022, he tells Artspace that such success is largely a distraction. "The goal is to be free and to do what you want," he says. "Otherwise, why do this?"
Proceeds from the sale of this series will be donated to support Visual AIDS, a New York-based nonprofit that utilizes art to fight AIDS by provoking dialogue, supporting HIV+ artists, and preserving a legacy.
 DORON LANGBERG – Oren and Bennet, 2022
Series of 30 unique hand-painted editions. Acrylic and archival pigment print on Hahnemühle Hemp 290 papers. Hand signed, dated by year, numbered, and titled by the artist on the back $3,500 – photograph by Garrett Caroll
Who were the artists that turned you on to art when you were at school? I started painting when I was very young, around six-years-old, and in between paintings of flowers and the Little Mermaid I'd make copies of Rembrandt etchings and Raphael drawings. But my first encounter with something that really resonated with me was Vincent van Gogh when I was about 10. I had this book I was obsessed with.
I think for many people he's their first love, which really speaks to what an incredible artist he was, that he's able to touch so many people. I think it's not just the emotionality of his subjects but also of him as an artist, which comes through even so many years later. This ability of an object to surpass time and space and to feel relevant and personal to someone on the other side of the world, to me, was mind blowing. It was carved in my mind at that age as something to aspire to.
You knew very early on that you wanted to be an artist in New York. How did you picture that, growing up in Israel? As a 12-year-old I fantasized about moving to NYC but of course, had no concrete idea of what it would be like. I just knew that this was the center of the art world, and this was where all the painters lived, and where all the galleries were, and I wanted to be surrounded by it all.
And in a funny way that is still how I view New York. Having been here for a decade now, a lot has shifted for me personally and professionally, but that perception of New York being this beating heart of the artworld continues to be affirmed.
I think it's to do with the density and diversity of artists. There are so many different art worlds within the city. Coming from Israel where the scene felt narrower, even as a high school student – when I was trying to figure out how to become an artist – I couldn't really see myself fitting in there. In New York there's this critical mass of people, an incredible wealth of opportunities, and also a critical mass of money that can support a broad cross section of emerging artists.
Today, you're best-known for depictions of queer sensuality, and you began working with this subject matter as a junior at the Pennsylvania Academy of the Fine Arts. What was that evolution like for you? The first time that I made a body of work that felt like my own was when I graduated high school. I was 17 or so and the works were all naked self-portraits floating in ambiguous spaces, you know, high school work. I was focusing on interiority, using myself as the subject.
It's funny, I was home not long ago, and I came across the little catalog the school produced for our show. In it was the text that I wrote, and it could have been a text I would write today – maybe less articulate – but my interest has remained pretty constant.
As I grew as a person, came out, developed relationships with different people, the meaning of that pursuit grew as well. But I think the core desire to communicate something that's very fundamental to what it means to be a person has always been there.
Doron Langberg, working on Oren and Bennet editions in his Brooklyn studio, March 2022 – photograph by Nir Arieli
Take us through the process by which a work begins for you. My painting ideas emerge when everyday experiences come together in my mind with a process or a color idea – something that has to do with the form of the painting. Seeing certain moments through that material lens is a sign for me that this image has something to offer me, or that I have something to offer in describing it.
The actual painting process starts with collecting reference material in the form of small paintings and photographs. I'd meet up with friends that I want to paint – usually in their apartment or outside – and then paint them from observation. This initial sitting takes maybe an hour or two. I usually make one or two paintings for observation, and then I take them back to the studio and keep working on them. A lot of ideas about what the feeling and mood of the large painting will be, comes through making these smaller works. And then from those smaller paintings I make the bigger paintings. It's quite a traditional process actually.
And the color? Usually with larger paintings it starts out very broadly with mostly transparent colors to get the luminosity that I am looking for in my work, and then I slowly start constructing the figure and the space, and I work up to painting more opaquely.
Once you have the initial idea how do you commit to the form? The particular positions of the figures start out with the smaller observational paintings really, so the image idea itself is set from the beginning. I don't really change it that much. But things can move around to facilitate different formal aspects, there is a lot of leeway when I'm putting down the initial drawing in the larger works. I intentionally leave a lot of room for things to find their place, starting with the initial layer.
I'm working on a painting right now using big calligraphy brushes, knowing that what I'm putting down is going to be loose enough that I can get away with putting limbs wherever I want – a foot here or there – and have them make sense because of the open nature of the painting.
Doron Langberg, working on Oren and Bennet editions in his Brooklyn studio, March 2022 – photograph by Nir Arieli
There's a palpable warmth, sensuality and love and real tactility in the paintings. Does that come off the painting itself, the people in the painting, or you? Thank you! I think it's all of the above. I only paint people that I'm close to, that I have a relationship with, or some sort of connection with. And that's actually what guides the choices in the paintings. If it was someone I didn't know I wouldn't even know how to approach painting them. It would be a blank.
Fundamentally, it's about knowing the person, who they are, and what I want to communicate about or through them. This relationship allows me to judge whether it's happening in the painting. If I'm painting a friend of mine that I know well and I look at the painting and I'm like, oh yeah this has a sense of them, this is how they move, how they rest their arm, an expression they make- that helps me gain specificity. This articulation of a relationship, giving material form to caring about someone, is how I try to generate that feeling you're talking about.
Is your relationship with the sitters changed by painting them? Not to be overly dramatic but I do think it cements my bond with them. Such an integral part of my relationships with people is to paint them. I've painted so many people that I'm close to. In a way it's equivalent to having people over for dinner and cooking for them. It's a way of deepening a relationship.
But despite being so tied to my relationships, that's not really the purpose of the paintings. I'm not interested in autobiography. It's not about a certain friend or who they are. It's about having friendships, having these different connections to people, and how meaningful they are to us. It's a material I use to make the paintings just like paint. I need it in order to make a painting – but it's not the content of the painting.
Tell us about Oren and Bennet, the couple in the Artspace edition. Oren and I have been friends for several years. He's an incredible sculptor, and he's also Israeli. We met 10 years ago when I was graduating Yale, and he was just starting. We've been friends since, but in recent years we've become closer. Bennet is his husband who is a poet and book publisher. I got the idea to paint them a long time ago, while we were hanging out and having dinner together so when the idea for the edition came about it made sense to do it with them.
Doron Langberg, working on Oren and Bennet editions in his Brooklyn studio, March 2022 – photograph by Nir Arieli 
You approached the editions by creating something unique with each numbered print, didn't you? I wanted to make this edition special, and make it relate to my painting process. The idea for this project was to do an inkjet print of the beginning of a painting- the state of a piece when I'm done painting from observation but before I continue to develop it at studio- and then work on top of each of the prints, essentially 'finishing' the piece in a different way each time.
Using an image of an unfinished work gave me a lot of flexibility and freedom. It was really fun. I've never done 30 versions of the same image. And the editions all came out pretty different which I am happy about. I used different techniques of applying paint like big gestural brush strokes or splattering paint with a spray bottle, trying to make it as exciting as possible.
After having experimented with so many variations I'm curious to see what it would be like to work on the unfinished painting. And actually I also just started a large painting of the same image.
When will we get to see the larger painting? I'm still working on it, so not sure. I'm really excited about it though. I've been working on this series of couple paintings and this will be my third in this current series. They are all coming out of the last painting I made for my Victoria Miro show which was a loose, airy, rainbow-colored painting of a sprawled couple. I really wanted to bring that looseness into this current series of work. With the large painting of Oren and Bennett I'm introducing a chromatic density to the color and to the space that I wasn't able to before. l can feel this body of work developing formally and it's very generative, so I try to follow what's exciting.
Doron Langberg, working on Oren and Bennet editions in his Brooklyn studio, March 2022 – photograph by Nir Arieli
Your painting Amy in her Studio tripled its high estimate at Phillips a month ago. How do you get your head around something like that? You kind of don't! Auctions are very fraught for artists, but I'm very fortunate to have such an incredible gallery that could help manage this aspect of my career. I try to just trust them and just think about painting.
Painting is hard enough; I don't need to think about other things. And even if I wanted to, there's no way to cater your process to the market. The market is so unpredictable and it's also not the goal. The goal is to be free and to do what you want. Otherwise, why do this?
Your paintings have a speed to them. How fast do you work? Is there a lot of failed work we don't see? Fairly slowly actually. I make maybe 10 large paintings a year. Over the years I've learned to not fight over paintings. If I feel something is not working, I will abandon it, or change course early on. In the past my attitude was that every painting must come out. But then I ended up wasting months on work that I turned around from not working to mediocre; but it could never be a totally successful painting. So learning to identify that early on has helped me to avoid these 'failures' that could be really devastating.
Do you ever destroy a painting? I have to say that there's no better feeling than destroying your own work. It's so satisfying! I love it. The few paintings that I have destroyed it's almost like magically making a mistake disappear. You just don't get to do that in your everyday life. There is a freedom to it.
Doron Langberg, signing Oren and Bennet editions in his Brooklyn studio, March 2022 – photograph by Nir Arieli
Do you consider yourself as part of the new movement of queer painters? There has definitely been a lot of contextualization through shows and articles of queer artists working with the figure right now, and I feel fortunate to be part of it, and be in conversation with incredible painters like Louis Fratino, Jenna Gribbon, Salman Toor or Jennifer Packer to name a few.
But I also have many painter friends that I'm very close with that aren't part of that context but who very much influence my work and who I see my work in conversation with, such as Sarah Faux, Gaby Collins-Fernandez and Julia Bland. I think for artists it's less about stylistic or subject matter distinctions, and more about sharing a sensibility and learning from each other exactly because of how different the work may be. 
Finally, we always ask our edition artists where they would like their work to be hung. Unsurprisingly my work usually ends up in the bedroom! Given its intimate subject matter it seems to be its natural place. But I'm just excited to collaborate with Artspace and support the incredible work Visual AIDS is doing. As long as it sells hang it wherever you want.
To find out how to buy one of the Oren and Bennet editions go here. 
Visual AIDS utilizes art to fight AIDS by provoking dialogue, supporting HIV+ artists, and preserving a legacy. Visit Visual AIDS here to find our more.