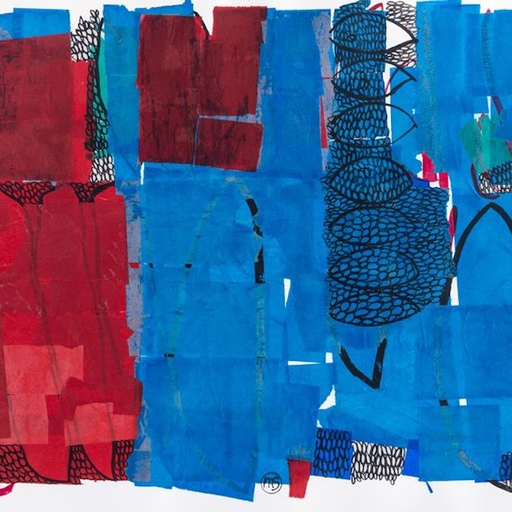 Collage, as a fine art medium, is relatively young. Though the act of cutting and sticking paper and other materials together is centuries old, the practice wasn't really an activity undertaken by artists until more recently.
12th century Japanese calligraphers applied different media to their manuscripts; medieval and Renaissance European bookbinders added similar decorative flourishes; women in 17th century Holland created cut paper silhouettes; mask makers in numerous cultures across the world inlaid their masks with precious metals and stones in a manner akin to collage; and, of course, quilt makers have always paired fabrics together in a collage-like way.
Yet, many trace current, fine art collaging back to scrapbook hobbyists of the 19th century, who took the adding and juxtaposing together of (often discarded) paper on the page to such heights that it subsequently attracted the attention of later generation key modernists such as Hannah Höch, Georges Braque, Matisse and Picasso. So successful was their adoption of the form that the practice continues today, in the work of many of the world's most famous artists, including David Hockney, Gerhard Richter, Yayoi Kusama, Damien Hirst and Mark Bradford.
However, you don't have to gravitate towards familiar names to find beautiful, engaging collage works. Browse, instead, through this hugely varied selection of pieces by artists offering their works directly via Artspace.
Charles Wilkin – A Lullaby For Cristo's Ghost, 2021
This New York artist might be paying tribute to the late great artist and wrapper of the Reichstag, but he certainly doesn't regard his chosen medium as a dead form. As Wilkin told Artspace, collage "has an inherent ability to replicate the frenetic world we live in, with all its cruelty and ugliness."  The artist, who has shown in solo and group shows across the globe, added, "I'm always pushing my work to reconfigure that reality through my use of layering, color, and texture. By finding associations that may seem awkward or unexpected I'm able to reveal the unseen qualities of human nature that lie just beneath the surface, transforming reality into something much more alluring and aspirational." He certainly seems to have achieved his aims in this work.
Marisu Solís – Three Branches in Red, 2019

Solís has more in common with Matisse's colourful, naturalistic approach to collage, than, say Höch's more jarring style of photo juxtaposition.  This Spanish artist is actually better known for her abstract painting, which she tends to execute in acrylics on either wood or linen canvas.
However, in this instance, she has chosen to mix her paint with silk paper, which she has glued on to cardboard. The result seems to echo some of the finer examples of mid-century European abstract art, while clearly retaining signature aspects of the artist's style and gesture.
Italian-born, London-based Vona has no qualms when it comes to taking extant material and working it into her art. She describes herself as an "archival parasite, with no bad intentions", and borrows from magazine cuttings and other sources, to alter both vintage and contemporary images with pens, paper, tape and stickers. This particular piece comes from a series in which Vona used vinyl LP covers as her canvas, applying stickers and pens until the sleeve image was entirely obscured with her new work.
Matthew López-Jensen – Moonlight at the Merced, 2018
López-Jensen is better known as an environmental artist, having undertaken a series of expansive projects, that focus on landscape and place. However, he also developed an interest in antique postcards, especially those that featured a moonlit shot of the landscape – a view that became something of a rarity, following the advent of street lighting. In ordering these cards from collectors, López-Jensen began to appreciate the packing, and occasional collectable extras, such as commemorative stamps, that often arrived with each purchase. Choosing to put this simple, visual bequest to good use, he has produced a series of collages, pairing the cards with the equally engaging ephemera.
John Andrew – Untitled (screenplay), 2016

Brooklyn-based Andrew characterises himself as a sculptor, but in truth he uses a wide variety of media, including collage. The artist, who has shown at a number of galleries including David Zwirner, Greene Exhibitions, Los Angeles and Eli Ping Gallery, New York, among others, poses an almost unanswerable question in this text and collage work. "A Theoretical Earth" reads the words on the right-hand page, "If Sun Ra had been given the attention and opportunity instead of Elvis."
It's hard to compare the long, fruitful and strange life of the jazz musician and afrofuturist with the monumental rise and fall of the King of Rock 'n' Roll. What kind of a world might accommodate this kind of role reversal? As Andrew's sticker says, 'I want to believe'.
Collage played a big part in the development of punk's aesthetic, with artists such as Jamie Reid and Linder Sterling's pioneering of the form in the 1970s. Grun's grungy style of cut and paste seems to draw on this period, though the artist also takes inspiration from New York, her hometown. Executed in 2017, this hand-finished archival print recalls both the political peril of that year, and the dischord of earlier times.