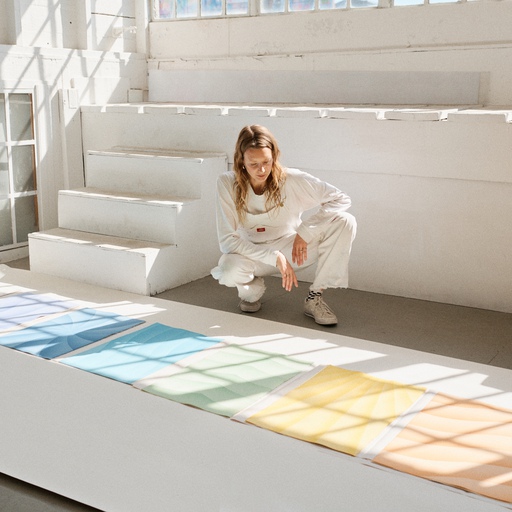 Some artists dream of placing their works into the permanent collections of world-famous museums. The Californian printmaker Cheryl Humphreys has another goal in mind. She hopes the original, framed editions of her meditative, calming abstract prints which were recently on display at the Otra Vox space in Los Angeles might one day find a home in a children's hospital. 
The works, Color: Spectral Meditations for Healing,  are available on Artspace, as a portfolio containing seven full scale reproductions of monoprints. The series presents all seven colors of the visible spectrum as visual aids for meditation.  
 "My favorite reaction to my work is when someone finds it meditative or soothing" the artist tells Artspace.  Humphreys' ambition speaks to her heartfelt interest in the healing, calming power of visual art, as well as her own newfound interest in childhood, following the birth of her son in August 2022. 
Since becoming a mother, the artist, who hails from Ithaca, NY but is now based in Los Angeles, has tried to cut down on the use of synthetic dyes, favoring instead colorants made from plants such as marigold flowers and avocado pits, as well as print-making techniques that use sunlight to color the paper.  
Collectors may detect a distinctly nurturing hand in her imagery, as well as the influence of such storied forebears as Anni and Josef Albers, Mark Rothko fellow West Coast artists such as James Turrell, and other abstract painters and sculptors, including Ruth Asawa, Sonia Delaunay, and Barbara Hepworth.
In this interview, Humphreys discusses her earliest artistic awakenings, explains just how and why her current art is created, expands on the nurturing, healing side of her art, and reveals which bit of stationery she has been saving up for a particularly personal, forthcoming art project.
CHERYL HUMPHREYS – Meditation in Red, 2021
What draws you to the shapes y­­ou create in your work? My background as a designer encouraged a practice in saying a lot  with very little. Relying on simple, geometric shapes allows me to focus on color, material and connection as a way to investigate the simple sensation of seeing. 
We love your titles, where on earth do they come from? Song titles, conversations with friends, funny moments of being dyslexic and saying something wrong, then liking it. Titles can come from anywhere, really. Some are secrets, some are finishing thoughts, some are notes and some are simply describing the shape created, like Grooves, in Peach. Oh ya – that's groovy! Lately they have been future memories with my son, like First Swim or Somersaults. 
CHERYL HUMPHREYS – Meditation in Yellow, 2021
How would you describe your work to someone who has never seen it? Color meditations, quilting with paper.
Texture and a sculpture element plays a big part, what draws you to this tactility in your work? I like that you mention sculpture. That is an important part of my practice, exploring how far I can push my prints past the space of printmaking. 
The tactility is a result of my process. My exploration with natural dyes, handmade papers, collected ephemera and the layering of printmaking techniques yields varying texture and dimension. 
 CHERYL HUMPHREYS – Meditation in Violet, 2021
Can you tell us a little more about your research into color frequency research and what you found? I've always been interested in color so when I was invited to a local residency program, I created a project that required research around the subject. 
Learning that color is vibration, just in the same way that sound is, and that we absorb these vibrations through our environment, our clothes, the food we eat, and even our thoughts got me thinking. 
The result became a series of monoprints presenting all seven colors of the visible spectrum as visual aids for meditation: Red, Orange, Yellow, Green, Blue, Indigo and Violet. 
From these original prints, I created a portfolio containing full scale posters and a key, summarizing how the vibrations of each color can be used to explore our mental, physical and spiritual wellbeing.
I exhibited the original framed prints as the closing exhibition to my residency at Otra Vox. The originals were not for sale, and I hope to show them again somewhere in the future. The dream is that they end up in a children's hospital. Currently, I am working on a version of the portfolio that comes with a coloring book to donate to children's hospitals.
CHERYL HUMPHREYS – Meditation in Green, 2021 
What is currently inspiring you? Well, I just had a baby boy, and he is my biggest inspiration. I made a body of work while he was inside of me. This forced me to rethink my approach to making. I avoided working with the materials I would normally use: inks, solvents, synthetic dyes. Instead, I turned to dyes made from plants and flowers. I used the sun to make prints and grounded myself in a more sustainable practice. Alternative forms of healing and methods for self-soothing and maintaining balance are constant sources of inspiration, as well.
What do people say to you when they buy your work? My favorite reaction to my work is when someone finds it meditative or soothing; I could only hope this is the sentiment that would be shared. 
Where do you fit in? As a new mom, other mother creators come to mind: Ruth Asawa, Louise Bonnet, Sonia Delaunay, Lita Albuquerque, Barbara Hepworth.
Is there a 'typical working day' for you? Considering there is no such thing as a typical day, I will share the things that are typical: A day in the studio always starts with a good cup of coffee and groovy tunes. Current listening includes Charlotte Day Wilson's album Alpha and The Breakfast Show with Flo on NTS. A major part of my process is learning. Whether that is taking a workshop or picking up a book, I am most inspired when I learn and try something new. 
Can you tell us a little about three of your works on Artspace? In Color: Spectral Meditations for Healing is a portfolio containing seven full scale reproductions of monoprints. The series presents all seven colors of the visible spectrum as visual aids for meditation. Created as an experiential guide, the posters come folded with a key, summarizing how each color affects our minds, moods and make-up. Created, printed and assembled by hand in Los Angeles. 10 copies from the First Edition of 300 are available. 
I framed the seven posters from the In Color: Spectral Meditations for Healing portfolio: Red, Orange, Yellow, Green, Blue, Indigo and Violet. Available separately and custom framed in raw maple and plexi.
I created a ghost print from each of the original seven monoprints of the In Color: Spectral Meditations for Healing series, three of which are available on Artspace: Red, Indigo and Violet. A ghost print is made by pulling an additional print with the residual ink left on the plate after the original print has been pulled. When pulled from the press, the traces of ink create a whisper of the initial print. The result is mesmerizing with a texture unique to the process. Each ghost is an original monoprint, signed verso and framed floating in a custom raw bass wood frame with museum glass. 
CHERYL HUMPHREYS – Meditation in Indigo, 2021
What made you want to become an artist? As far back as I can remember, I have always been encouraged by my mom to create. I was very lucky in that way. She would always sign me up for drawing classes after school or clay workshops on the weekends, ensuring I was involved in the art community, beyond what school had to offer. I remember winning a T-shirt contest for the school's spring fair in 5th grade, thinking to myself how cool it was that everyone was wearing something I had made.
Do you collect art yourself or something that you consider to be art? If so, what have you bought lately? Yes, I collect art (mostly my friends art) and other things that inspire me. I would consider collection as a part of my process. 
Recently, I turned my collection of security envelopes (one I had been working on since I was 18) into pieces of art. I had held on to them over the years, knowing I would use them for something at some point. Sifting through them was like flipping through a photo album, reminding me of past homes, responsibilities and progress. I made tapestries from them and called the final pieces Security Blankets.
To see more of Cheryl Humphreys's beautiful color experiments take a look at her artist page on Artspace here. 
 CHERYL HUMPHREYS – Meditation in Violet (Ghost), 2021