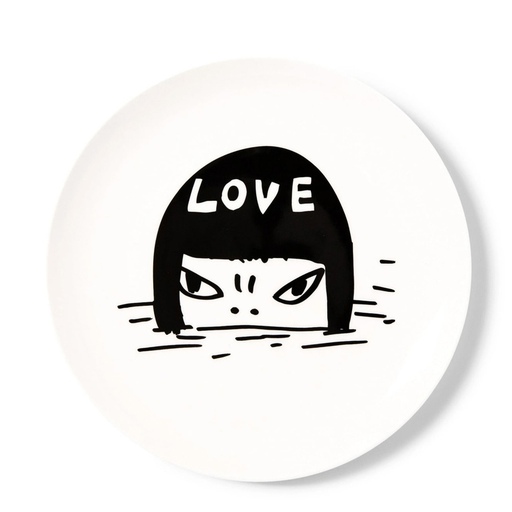 There's a lot of fun to be had in taking art off the wall. While we all enjoy a fine painting, print or framed photograph, there's also a great deal of enjoyment to be had in taking works from the gallery setting and placing them in the domestic space. Whether you've a TV dinner planned with Cindy Sherman or a dinner party appointment with Louise Bourgeois, we're sure these tabletop items will enliven you and your friends' dining experience.
SOL LEWITT – Grey Serving Bowl
The American minimalist and conceptual artist Sol Lewitt first visited the ancient Italian city of Spoleto during the 1970s, and settled there for a time with his family during the 1980s. Working with ceramicists in Deruta – another ancient hill town – Lewitt produced a number of pieces such as this bowl. Its design draws on Lewitt's simple, dispassionate, geometric works, as well as older motifs common in Italian maiolica pottery; just pick the period you want to see in its clear angles and lines.  
WRETCHED – Large Pitcher, 2020
Wretched's founders Loney Abrams and Johnny Stanish create textiles, foraged floral design as well as ceramic works, in an effort to raise questions about ethnobotany and interspecies collaboration.
This NIGHT SHADE pitcher employs a decorative technique known as sgraffito, in which contrasting layers of slip, or clay surly, are applied to a work, before the upper layer is scratched away. The designs on this work draw from both ancient runic symbols and latter day, commercial logos, to give this jug both an antique and a contemporary appeal. 
LOUISE BOURGEOIS – Coasters – set of four, 2012
During the second decade of the 20th century, Louise Bourgeois's family ran a tapestry workshop in the suburbs of Paris. Bourgeois assisted with the restoration of these textile works, often drawing sections of missing cloth, in preparation for the work's repair. The artist, though better known for her monumental spider sculptures, continued to work in textiles for the rest of her life, producing 'fabric drawings', or embroidered wall pieces, during the early 2000s. The coasters are based on those works, and reflect the tensions in Bourgeois's life between the domestic realm and darker places.  
CINDY SHERMAN – Sundance Film Still Tray 1978, 2014
"In a lot of movie photos, the actors look cute, impish, alluring, distraught, frightened, tough," Sherman has said of her late '70s and early '80s series, Untitled Film Stills, "but what I was interested in was when they were almost expressionless." This little-seen image from the series certainly mimics such a moment. Sherman staged the still relatively early in the series, back in 1978, and, a little over 35 years later, she allowed the Sundance Film Festival to reproduce the work on a porcelain tray, as part of its limited editions series. 
Though Sherman is the sole creator of these works, collectors might be intrigued to learn that another successful artist actually held the camera and pushed the shutter button. As Sherman told New York Magazine back in 2008, "I'd throw together a couple of outfits and wigs in a suitcase, and my boyfriend at the time, Robert Longo, drove me around the city in his van and I'd say, 'Oh, let's stop here,' and I'd change in the van and then hand him the camera and hop out and get into position and kind of walk around and say, 'Okay, now shoot me from here, try this angle.'"  
TOILETPAPER – coffee setFar too many coffee sets default to the polite minimalism of plain white china. But for the espresso-lover who wants something a little more eye-catching, this set from Italy is an ideal gift. The six glass cups and saucers (one of which is shown above) are decorated in a variety of playful designs, from perfect pink roses and shining red lipstick, to X-rated mouths and uncoiled snakes. The set is a collaboration between Seletti and Toiletpaper, the art magazine co-founded by Maurizio Cattelan and Pierpaolo Ferrari. The designs represent the magazine's trademark lurid, surrealist style, with the cups and saucers both crafted from Borosilicate glass, dipped in gold around the edges. Fully adaptable for both morning espresso or a late-night macchiato, these vessels give your coffee the presentation that it deserves.
LOIE HOLLOWELL – Recalibrate, 2021
You may have come across this brilliant, young American artist via Yellow Brain, Artspace's recent edition created in conjunction with Hollowell. In that work and in this decorative plate, the artist applied her mandala-like technique, drawing on West Coast schools, such as the Light and Space movement, and the American Transcendental Painting Group, founded in the late 1930s in New Mexico.
Despite these abstract reference points, the title of this work refers to the way in which the artist reacquainted herself with her body following the birth of her first child in 2018, and so the fecund orbs and semicircles can be viewed as partially figurative representations of Hollowell's own form.  
DIESEL LIVING – Lunar Salad Bowl
The Lunar bowl forms part of Diesel Living's Cosmic Diner collection, again produced in conjunction with the Italian design brand Seletti. The set includes a placemat depicting the moon's terrain, a tray decorated with images of interstellar clouds, as well as this semi-spherical, salad Lunar salad bowl. Though it's made for salad leaves, it's equally well suited to a cosmic serving of breakfast cereal, if you want to add a little astral magic to your morning routine.  
DAMIEN HIRST – Opium (Beck's beer glass), 2002
This pilsner glass may be shaped to hold a light beer, but the Hirst painting reproduced on its side refers to another intoxicant. Opium comes from Hirst's Controlled Substances series of spot paintings, which are, in turn, a subset of the artist's larger Pharmaceutical Paintings series.
Hirst took the names for each of the Pharmaceutical Paintings from The Physicians' Desk Reference, a prescription drug textbook. In these clinical, ordered works, the artist attempted to reduce the emotional impulse of painting to a simple science, much like a drug company relies on results-based trials. The piece was printed onto this limited edition glass to honor Beck's beer's ongoing sponsorship of the arts in Great Britain.  
MICHAEL GRAVES – Little Dripper Coffee Set, 1987
The tableware company Swid Powell was founded in New York in 1982 by former Knoll employees Nan Swid and Addie Powell. At Knoll, the pair had enabled architects to produce furniture; at their own practice, they scaled down once more, commissioning such prominent architectural figures as Frank Gehry, Zaha Hadid, Stephen Holl and Richard Meier to produce tabletop items, in silver, glass and ceramics.
This Little Dripper coffee set is by Michael Graves – better known for the creation of Disney's headquarters in Burbank, California – yet he applies the same level of playful, fecund creativity to the porcelain shapes of this creamer, sugar bowl, coffee top and dripper.
 YOSHITOMO NARA – Love from the Sea, 2021
 This 2021 work was produced by Nara for the Artist Plate Project, a fundraising drive to raise money for homeless and at-risk New Yorkers during the pandemic. The plate features one of Nara's hugely popular Girls – defiant, yet vulnerable young women, often – and perhaps also pays tribute to the painter's coastal upbringing in the Aomori Prefecture of northern Japan.