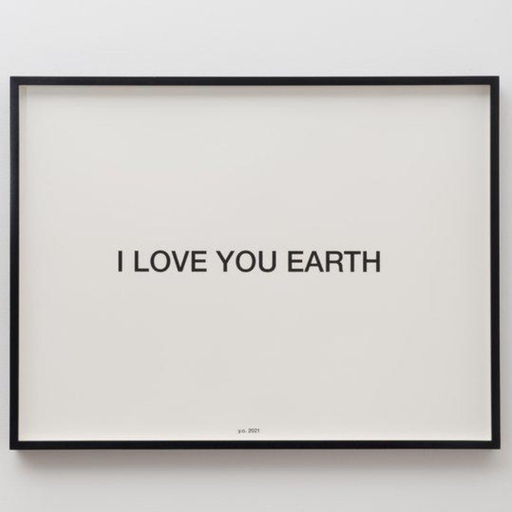 Visual arts have played a key role in the environmental movement since its beginning. Earth Day founder John McConnell, was moved to propose this annual day for the environment after seeing Earthrise, the first color photograph of our planet taken from space, which was printed on the cover of Life magazine's 10 January 1969 edition. McConnell's proposal was adopted by UNESCO later that year, and the first Earth Day was observed in 1970.
Over the following four decades, as the markers of environmental degradation have grown more stark, and the scientific consensus grown more broad, so the number of photographers, painters, sculptors and other artists who've turned to address ecological causes has increased. In this brief overview, there's works by installation, Fluxus and post-conceptual artists, as well as figures better known for their street art. Each piece would improve the life of almost any wall, while also encouraging viewers to consider, just for a moment, how their actions affect the wider world too. Not just something to think about on April 22.
Banksy – Save or Delete (Greenpeace), 2002
Appropriating pop imagery in the 21st century isn't so easy, as Banksy discovered twenty years ago, when he took on a charity commission from the environmental campaign group, Greenpeace. The British graffiti artist reproduced the familiar figures of Shere Khan, Mowgli, Baloo and King Louie from the 1967 Disney film, The Jungle Book, placing them in a far less sylvan setting. Upon discovering the campaign image, Disney threatened Greenpeace with legal action. The work was less widely used than it might have otherwise been, which makes this offset lithograph one of the artist's rarer works.
Rob Pruitt – Giant Pandas Spend About 12 Hours a Day Eating Up to 15 Kilograms of Bamboo. Bamboo is Rich in Protein as Well as Fibre, Which is Why They Poop Up to 50 Times a Day! Sometimes They Eat and Poop at the Same Time, 2019
When Pruitt began to reproduce pandas in his work, the animal was already a widely recognised image, and greatly loved endangered species. The artist does recognise and value the species' fragility; however, rather than feature pandas for their own sake, Pruitt actually picked the animal to save his own skin, after he felt he was rejected by the art world, following a series of controversial shows. The artist told the New York Times in 2001 that "'I see it as a kind of corporate damage control — like trying to market Perrier after they found benzene in it, or Firestone tires after they exploded. I was a reviled figure, but everybody loves a panda. They're the stars of every zoo they're in."
Deidre Murphy –  Europe Light Pollution Map, 2019


We might think of discarded plastic and carbon dioxide emissions as the main ways humankind is degrading planet earth, but Deidre Murphy's work helps us visualize other pollutants. For decades this American artist has worked with scientists and academic institutions to reveal both visible and invisible forces at work in our world. "My interest lies in the interconnected qualities of art and science," she has explained, "specifically the micro / macro patterns that reveal our connectedness; be it migratory avian flight patterns shared commonality with immigration routes, or how light pollution maps mirror viral molecular patterns, or aerial views of watershed systems that reveal vascular patterns." This work forms part of the artist's 2019-20 Oculus series, and draws parallels between the unwanted spillover of artificial light (depicted here), with other natural (and unnatural) phenomena.
Yoko Ono – I LOVE YOU EARTH, 2021
Ono is no longer "the world's most famous unknown artist," as her husband, John Lennon, once claimed. Many casual artworld observers are familiar with her early Fluxus works, her later peace campaigns, and her subsequent environmental activism (in 2013 she became a prominent anti-fracking campaigner). This work was created for Earth Day in 2021, in conjunction with London's Serpentine Gallery, which was also marking its 50th anniversary. Despite its declaratory nature, the piece is intended to raise questions too, such as "do I love the Earth? How am I expressing that love? Could I do more?"
Shepard Fairey – Wake Up Earth, 2020
Shepard Fairey created this letterpress print in 2020 to benefit the Natural Resources Defense Council, a US environmental advocacy non-profit. However, the artist's wake-up call is more wide-ranging. "Disinformation, division, and apathy have led to the weakening of pillars of our democracy, an ineffective response to Covid-19, and a lack of meaningful action on environmental destruction and climate change," he explained. "We accomplish amazing things when we unite and focus on constructive goals, planting seeds, and nurturing them together until they bloom. There are many crucial things going on that demand us to wake up, mobilize, and live with our eyes and minds open!"
Olafur Eliasson – Little Sun Diamond

The original, affordable solar-powered lamp, Little Sun, was created by the Danish-Icelandic artist Olafur Eliasson in 2012, in collaboration with the engineer Frederik Ottesen, specifically to serve off-grid communities in places such as Ethiopia, where locals tend to rely on relatively unsafe and toxic forms of illumination such as kerosene lamps. This newer version, Little Sun Diamond, looks a little different from its predecessor; yet its faceted lens still produces five hours of light, after being charged in the sun for five hours.
Proceeds from sales of Little Sun products make solar energy available to communities without electricity at a locally affordable price. For every Little Sun sold, one goes to the organization's partners in rural Africa, where they train local sales agents and bring solar energy to those who need it most. So far, Little Sun believes they have prevented the release of 1,000,000 metric tons of CO2; these lamps might be small, but it's had a big impact.