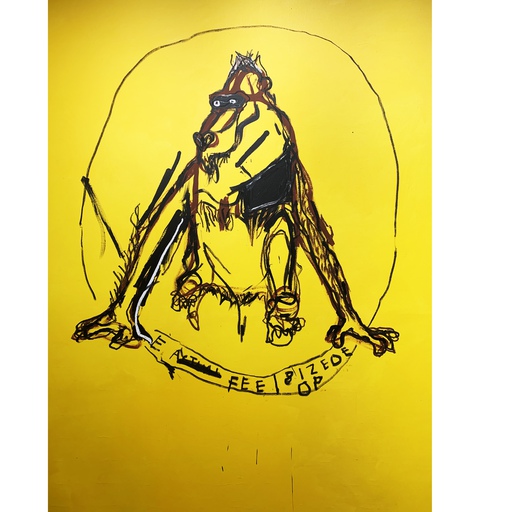 Jean-Michel Basquiat is one of those artists whose work seems both stranger and more prescient the further it recedes into history. Active for less than a decade and associated with the neo-expressionist movement around New York which also produced the likes of Julian Schnabel and Philip Guston, Basquiat created work at a dizzying pace and intensity.  
He swiftly outgrew the graffiti scene in which his first public work appeared, finding critical and commercial success across Europe, the support of major industry figures (Bruno Bischofberger was his worldwide dealer), partnering with Andy Warhol, moving into a studio beneath Larry Gagosian's house, showing up in the video for Blondie's Rapture and dating the pre-fame Madonna. At just 22 his work appeared in the Whitney Biennial, a large-scale mural of his decorated the Palladium nightclub in New York, he modeled for Comme des Garçons and staged his first African exhibition in Ivory Coast's capital, Abidjan.
 JEAN MICHEL BASQUIAT – The Dingoes that Park Their Brain with Their Gum, 2002
Despite developing an increasingly ferocious drug habit through this period, his work rate never slowed, with major exhibitions taking place in Paris, Tokyo and New York and an entire Ferris wheel designed for André Heller's pop-up Luna Luna art amusement park appearing in Hamburg in summer 1987. The following August however, Basquiat died of a heroin overdose at his Manhattan home. He was just 27.
 Jean-Michel Basquiat – Dry Cell, 1988 at King Pleasure, Landmark Starrett-Lehigh Building – 601 West 26th Street, New York, NY 10001
An attempt to impose some kind of order and shape on the chaotic energy of Basquiat's career is found in the current show, King Pleasure now open in New York. Organized by his sisters Heriveaux and Lisane Basquiat, and his stepmother Nora Fitzpatrick, the exhibition brings together more than 200 rarely seen (or, in some instances, never-shown) paintings, drawings and objects from the family's own private archives.
JEAN-MICHEL BASQUIAT – "A-One" All-Over Print Hoodie
As well as his artwork, King Pleasure includes a full-scale model of his childhood kitchen and living room, stacks of his VHS tapes, and the clothes that he wore to paint. There's a recreation of the Palladium Club with its murals reinstated and housing the records that he listened to at home. In its holistic approach to a creative life –showing not just the work, but also the cultural context around it – the show follows a similar model to the vast David Bowie Is exhibition which toured the world from 2013-2018.
 
The show concludes with Dry Cell, the final painting that Basquiat produced before his premature death. This piece was originally painted for his April 29, 1988 exhibition at Vrej Baghoomian Gallery in New York, along with Eroica I and II, Victor 25488 and Riding With Death.  Basquiat's father Gerard has confirmed that Dry Cell was painted after the show's installation as a last-minute addition to the collection. On a deep, mustard-yellow background, a statuesque monkey squats gazing into the middle distance. A crooked ellipse rings the figure, elevating it like a Regency oval portrait, with the primate's clawed hands breaking the line of the frame-within-a-frame.
JEAN-MICHEL BASQUIAT –  "A-One" Single Dec
The figure's shape is sketched out in thin strokes of brown and black, with two thick smears of dense black paint etching out the deep crease of his neck and shoulders, and a thick, sunken brow. Other than a single line bordering an arm, the only white on the canvas is in the monkey's eyes, his stare popping out against the darker background and reaching far beyond the viewer. The lower half of the body is roughly sketched in a few scratched and doodled lines, pushing your attention further up to the face. Dry Cell is created with acrylic painted directly on canvas (in contrast to much of Basquiat's other work from this period which saw him paint on paper on the studio floor, before mounting those sheets onto canvas).
Compared to much of Basquiat's work, Dry Cell is a calm, contemplative piece (some critics have pointed to the significance of the deep ochre yellow as being redolent of the color of monks' robes in Buddhism, and its symbolic properties of rootedness and renunciation). Whenever an artist dies young, there's a temptation to project meaning back onto their work – but at least in this moment, Dry Cell conveys a sense of calm and space that was absent in much of both Basquiat's life and art.
Basquiat's peer Keith Haring wrote his obituary in Vogue, accurately a and ssessing what his friend's posthumous impact would be. 'He truly created a lifetime of works in ten years,' Haring wrote. 'Greedily, we wonder what else he might have created, what masterpieces we have been cheated out of by his death, but the fact is that he has created enough work to intrigue generations to come. Only now will people begin to understand the magnitude of his contribution.' Almost 35 years later, that prophecy is coming true.
King Pleasure is open now at the NYC Landmark Starrett-Lehigh Building – 601 West 26th Street, New York, NY 10001 and is on view to June 30, 2022.
[basquiat-module]