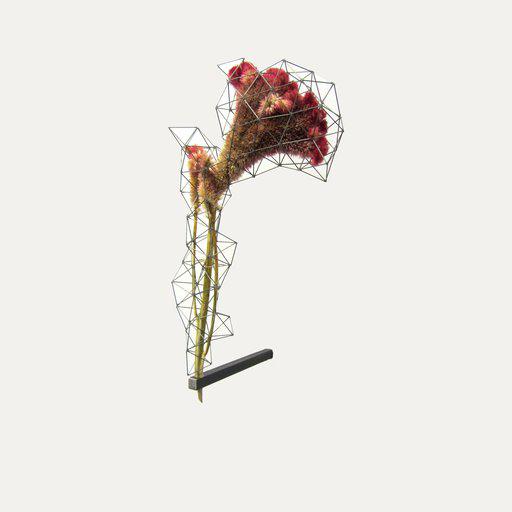 The art world is doing its best to respond to the unusual and frightening times by moving our experience online, inspiring museums, art fair committees, and galleries alike to create high-res, navigable viewing rooms on their respective websites. Artists too, are using Instagram to post project-based studio updates, conversations, and collectivizing incentives, and galleries are making it a point to publicize these updates, creating a surprisingly refreshing, intimate intel-loop for art enthusiasts. Here at Artspace, we've put together a list of 6 artists who are catching our attention in the digital space right now. 
Shotz is a long-established Brooklyn artist whose sumptuous, sensory installations have made her a fixture in outdoor sculpture parks and museum exhibitions all over the world. Her works have been experiencing an uptick in posts and hashtags of late, and it's probably because each beaded entryway, curved wire and twinkling, organic edifice reminds us of all the things we can't do—engage with the beauty of the outdoors in person, explore strange surfaces with our fingertips, take Instagram photos in the wild. Shotz boxes with physics in ways unexpected, refreshing, and disorienting. She has had solo exhibitions at the Indianapolis Museum of Art, The Wexner Center for the Arts, and the Escape Louis Vuitton in Tokyo. 
  of what remains after division, 2019, via Maddux's website
Brooklyn-based artist Maddux draws a fascinating parallel between trans experience and the metamorphic process of photography, bucking the conventional rectangular format of the latter to best explore the psychological, social, and emotional crescendos of the former. By visually problematizing the white wall as a metaphor for the white, cis, male body, Maddux brandishes stylization as both a weapon and a healing tool, upending popular conceptions of aesthetic neutrality's inherent privilege while managing to maintain a playful sense of wonder. Maddux's 2020 turn at SPRINGBREAK Art Fair was a total triumph, and Haul Gallery's updates on his practice are equally inspired. 
 Delivering Gladiolas 2017, oil on canvas, available now for $5,500 at Artspace
Portland-based painter Knecht draws upon the loneliness of painting practice, reflecting the creative mind's vivid interiority through intuitive mark, using the brush as a freeing, therapeutic, and imaginative escape. As her work appears to be unapologetically traditional, the spontaneity in her gestures and the discoveries found in addressing new problems brings in a personal element that still remains true to the medium. Knecht is committed to upholding the medium while exploring themes of loss, suffering, and compassion. Knecht received the Madjaroff Painting award after her graduation from the San Francisco Art Institute. She has exhibited work at Fourteen30 Contemporary in Portland, Oregon, Capital in San Francisco, Either Way in Los Angeles, and Adobe Books and Baer Ridgeway in San Francisco.  
RUTH IGE
 via Ruth Ige's website
Auckland-based artist Ige has the kind of practice that makes painting feel new and necessary, tapping into the medium's penchant for soft, symphonic fluidity without buckling under the weight of the styles preceding her. Gleaning figurative suggestion from abstraction, her pieces literalize the cultural conditions of blackness through color, deploying acrylic in smokey, corporeal swathes and swells. The results are haunting, icy, and liminal, drawing on the push-pull dynamics of Hans Hofmann and the politically minded visual lexis of Kerry James Marshall. Ige has shown her work all over the world, including a booth highlight at Art Basel, Switzerland, and was recently featured on KARMA Gallery's Instagram.  
Kohira's work in situ 
Paris-based Kohira's work is all about carbon, even inspiring him to take a "coal pilgrimage" to a wide swathe of carbon-heavy locations, like the northern mining regions of France, the Wakayama Southern-Central Sacred mountains in Japan, and the East River's Estuary in Brooklyn. Kohira makes work that locates the ache in decay, the sort of capital-R romantic pieces that charge any space, no matter the size. His pieces aestheticize digital mapping as a means of engaging the senses, mimicking bodily sensation in three dimensions. His smaller sculptures feel particularly gut-punching and personal, creating a felt, daring spatial poetics. Ohira has shown his work at a number of prestigious international venues, including the Palais de Tokyo with the Hermès Foundation.  
Eulenshohn, 2017 , oil on wood, available now for $4,900 at Artspace 
Dresden-based Pretzer pulls classic Surrealist standbys into the present day with a heady mixture of arch, cartoonized stylization and rigorous painting chops, introducing viewers to the weird, chimeric world inside his head. Dark humor, contemporary twists, and portentously ambiguous backdrops abound, lending the pieces a haunting flair. Petzer was born in Estonia, and is currently represented by Marc Straus Gallery in New York. He has shown all over the world, including the National Gallery Jakarta in Indonesia, Museum Abtei Liesborn in Germany, and the Hudson Valley Center for Contemporary Art.
[digitalspace-module]
RELATED STORIES 
The Artspace Group Show: The Sun
The Artspace Group Show: Text as Art – Art as Text
The Artspace Group Show: The Contemporary Nude
The Artspace Group Show: The Contemporary Landscape
The Artspace Group Show: The Cat